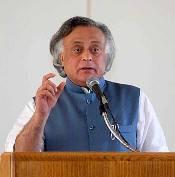 The Environment and Forests Ministry was in news throughout 2010 -- be it for Vedanta Resources, Posco and Lavasa -- or for Jairam Ramesh's aggressive green activism.
While the ministry rejected the green signal to Vedanta for its $1.7 billion project to mine bauxite in the Niyamgiri Hills of Orissa noting that the company violated the environment and forests rules, it put the $12 billion project by South Korean steelmaker Posco under scanner.
The Posco project seeks diversion of 1253.225 hectares of forest land for establishment of Integrated Steel Plant and Captive Port in Orissa's Jagatsinghpur district. The ministry was also in news for holding the Rs 3,000 crore Lavasa project in Maharashtra.
Lavasa has challenged the ministry's directive in the Bombay High Court. Two mega projects which got conditional clearance last year are Navi Mumbai International Airport to handle 60 million passengers annually by 2030 and 10,000 MW Jaitapur nuclear plant in Maharashtra.
The ministry invited the wrath of some other ministries particularly Coal for its objection to mining activities in forest areas. Ramesh was forced to agree to increase the "go zone" for coal mining in forest areas, following intervention by the Prime Minister's Office after Coal Minister Sriprakash Jaiswal expressed his unhappiness at Environment Ministry's decision to declare 40 coal blocks under nine collieries as "no go area" where no mining will be allowed.
"Go areas" are the designated zones in forest areas where coal mining is allowed in case they meet the environment clearance. Jaiswal had complained to the PMO that dividing coal fields into "go" and "no go" area would result in a massive 600 million tonne annual shortfall in production.
At the intervention of PMO, a joint survey was conducted wherein the ministries agreed to settle on 3.8 lakh hectares.
The Environment Ministry had proposed to put 3.49 lakh hectares into the "go" zone. But the Coal Ministry had demanded 4.5 lakh hectares. Planning Commission Deputy Chairman Montek Singh Ahluwalia also criticised Ramesh's approach, saying there should be a "sensible" definition of 'no-go' areas where mining activities are prohibited.
The Ministry, which is increasingly getting more teeth under Ramesh, has issued showcause notice to two more mega projects -- Jindal Steel and Power in Orissa and Mundra Port & SEZ Limited in Gujarat -- for their alleged violation of green rules.
While giving conditional clearance to Jaitapur nuclear plant, to be developed by Nuclear Power Corporation of India Ltd (NPCIL), the ministry directed it to obey 35 environmental conditions including preservation of the marine biodiversity of the sea near the plant.
The ministry also laid out conditions to the City and Industrial Development Corporation of Maharashtra (CIDCO) and the Civil Aviation Ministry on issues like replanting of mangroves and rehabilitation of around 3,000 families to be affected by the proposed Navi Mumbai airport and diversion of one of the two rivers.
Ramesh, who termed as "criminal" the luxurious growth of Sports Utility Vehicles (SUVs) in India, also hit the headlines for his remarks that India will win Nobel prize for dirt.
However, his remarks against SUVs did not go down well with the SUV manufacturing nations with Germany issuing a statement saying that German auto technology was far advanced in reducing fuel consumption and emissions.
Ramesh also invited wrath of the green lobby and Opposition parties for his statement in the UN Climate Summit in Cancun that "all countries must take on a binding commitment under an appropriate legal form".
Both the BJP and Left parties along with the green lobby attacked the minister accusing him of a "sell out" on the issue of accepting globally legally binding emission cuts by deviating from India's position that it will not agree to any such pact.
The parties charged that Ramesh has acted unilaterally in Cancun and asked the government to come clean on the matter alleging that the 'shift' in stance was done under pressure from the developed nations particularly the US.
Ramesh, however, stood by what he said. "Everything is being done transparently. This is being done to strengthen India's stance as it was being isolated. India at Cancun has come out looking more proactive," was his refrain. Later, he wrote a letter to MPs saying his effort was to ensure a balance between safeguarding the country's position and showing sensitivity to a majority view on the issue.
However, the green activists said that it will remove the distinction between developing and developed countries. The minister was also pulled up by Prime Minister Manmohan Singh and his own Congress party for his criticism of Home Minister P Chidamabaram for being tough on China's telecom operators.