Given Snapdeal shifted its business model several times in its initial years, the founders lay stress on the need to be patient.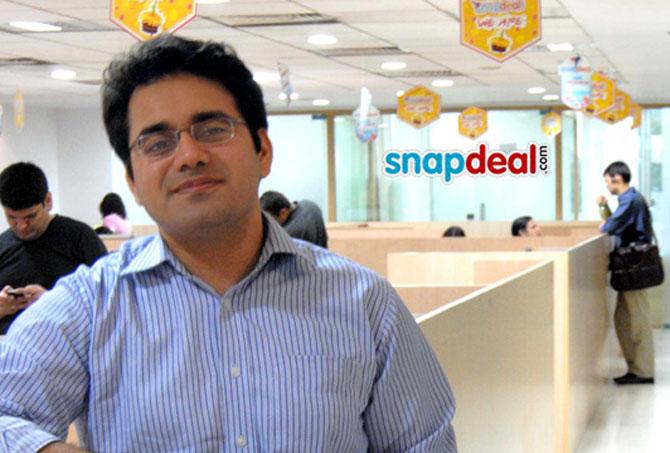 Image: Kunal Bahl, co-founder and CEO of Snapdeal. Photograph: Courtesy, bofsource dot com
Even as their venture Snapdeal is clocking rapid growth, Kunal Bahl and Rohit Bansal are mentoring young entrepreneurs, not only by investing in various start-ups but by helping them find solutions to several business-related challenges.
While the duo isn't involved in the day-to-day functioning of any start-up in which it has invested from personal wealth, it is actively in touch with these companies and guides these on issues like improving platforms, scaling businesses and hiring.
The founders of most start-ups in which Bahl and Bansal have invested say the two are just a phone call away, despite their busy schedule.
They add the most important lesson they have received from Bahl and Bansal is to "never be afraid".
"They (Bahl and Bansal) are in active advisory roles at our company," said Atit Jain, founder of Delhi-based Gigstart.com, a marketplace for entertainers and party planners.
The venture raised angel funding of $210,000 from various sources, including the Snapdeal founders. "I go to them once in two to three weeks, or as and when I need their guidance.
There's much more than money they are helping me with. When we think of issues and plans around the internet and productising the e-commerce online users, we go to Kunal and Rohit."
In recent years, Bahl and Bansal, who founded Snapdeal in 2010, have invested in several early-stage start-ups. Earlier this year, they, along with others, invested an undisclosed amount in apparel start-up Bewakoof.
In November last year, they had participated in a $400,000 seed-funding round for travel community Tripoto, along with a slew of other investors.
The duo has also invested in Mumbai-based food ordering app Tiny Owl.
The start-ups Bahl and Bansal have invested in are in several ways aligned with Snapdeal.
For instance, in line with the online sale of merchandise by Snapdeal, Gigstart.com sells services through the internet. Tiny Owl is a player in the mobile app segment, a focus area for Snapdeal, while Bewakoof is an apparel store, one of the fastest-growing categories for Snapdeal.
For most of these start-ups, Bahl and Bansal were initially mentors who shared their experience and helped make connections over "friendly conversations".
Harshvardhan Mandad, co-founder of Tiny Owl, says he was in touch with the duo for several months before receiving funding.
"I have known them from much before the funding. They have helped me in many ways, right from the time my start-up was just an idea," Mandad said.
In most cases, entrepreneurs say investment decisions were taken in "just a few hours". Gigstart.com's Jain recalls the Snapdeal founders had committed to funding his venture in only half an hour.
These entrepreneurs say Bahl and Bansal ask them to be "focused on business".
Jain says: "One thing Rohit (Bansal) told me, which has stayed with me, is not to focus solely on the noise around funding and attention, to remember I am here to build a business and that's the most important thing."
Given how Snapdeal shifted its business model several times in the initial years, entrepreneurs say another aspect the founders stress on is the need to be patient.
"They are very brave entrepreneurs," says Michael Lyngdoh, co-founder of Tripoto.
"While they don't control our day-to-day functioning, they give us the confidence to do whatever we want to, without being afraid."