More than 40% of the companies surveyed showed job contraction in FY18, says a report by CARE Ratings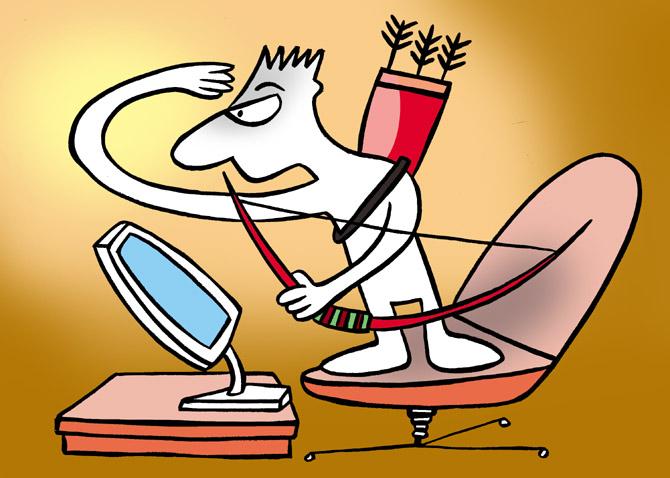 For two consecutive years, smaller companies have cut jobs, while bigger companies have added job-seekers at the fastest rate, a recent study has shown.
In the 1,610 companies studied, jobs grew by 3.8 per cent in 2017-18, slower than 4.2 per cent growth achieved in 2016-17, but faster than 2.5 per cent in 2015-16.
The growth in salary bills for those companies has been fairly constant near 8-8.5 per cent for the last three years.
However, the average salary per employee is growing slower and slower.
It grew by 4.3 per cent in 2017-18, dropping from 4.8 per cent in 2016-17 and 5.8 per cent in 2015-16.
These are the findings presented in the report on employment in the corporate sector by CARE Ratings, by analysing the annual reports of 1,610 companies in India covering major sectors.
The net sales of these companies form about 60 per cent of net sales of a sample of more than 12,000 companies representative of the corporate sector.
Among economic sectors, retail and financial services recorded double-digit employment growth of about 13 per cent, while construction and infrastructure sectors grew jobs at above 9 per cent, bettering the average of 3.8 per cent.
Telecom showed a job contraction of 7.6 per cent, but the sample excludes Reliance Jio, skewing the number given that Jio's entry rattled the incumbents in the telecom sector.
Among the sectors that are the biggest employers, the crude oil industry, which includes refineries and oil marketing companies like Indian Oil Corporation and Hindustan Petroleum, showed employment growth of 1.8 per cent in 2017-18, plummeting from 26.8 per cent in 2016-17.
Banking and auto sector showed a 10 per cent growth.
Small isn't beautiful
Of the 1,610 companies, 705, or more than 40 per cent, have shown job contraction.
Smallest of them, with net sales less than Rs 50 crore, showed a 3.9 per cent contraction in their payroll in 2017-18, after a 7.3 per cent contraction in 2016-17.
The biggest in the lot, those with sales above Rs 10,000 crore, witnessed a 4 per cent growth in jobs in 2017-18, improving from a 3 per cent growth in 2016-17.
This has not been the natural trend in India, but has surfaced only after the industry went through demonetisation, followed by the implementation of the Goods and Services Tax (GST).
"Smaller companies were actually the ones consistently adding the jobs, but job contraction in small companies is a recent trend.
"As the small and medium enterprises were the most affected during demonetisation and GST, the companies in the top line got affected," said Madan Sabnavis, chief economist at CARE Ratings, and the lead author of the report.
Job growth in companies that employ 5,000-10,000 people has slowed down from 15.4 per cent to 2.3 per cent.
In absolute numbers, the number of employees in these 1,610 companies grew from 5.4 million to 6 million in three years to 2017-18.
Smaller companies are at a greater loss when the economy is facing a credit crunch, said former chief statistician of India, Pronab Sen.
"On the one hand, banks tend to protect large exposures due to the scale of finance, while they may send back the small-ticket customers in times of distress.
"On the other, big corporates have access to multiple financial instruments such as commercial paper and raising funds through equities, which the smaller ones do not have," he said.
It must be noted that the study includes only permanent jobs of employees who are on the payroll.
Contractual jobs, which were rising in proportion in the employment universe, are not considered in this study.
There was an increase in the share of contractual jobs after demonetisation and GST implementation, the quarterly employment surveys of the labour bureau have shown previously.
Agriculture, education and jewellery sectors worst hit
The report juxtaposes the growth in company sales with the growth in number of people they have employed.
Education is one sector which has witnessed negative sales growth as well as negative jobs growth.
Jewellery, agriculture, and hospitality sectors have registered negative growth in one of the indicators.
All other sectors have shown positive growth in both.
This means that while employment is rising across most of the sectors, the contraction of jobs is a phenomenon experienced by smaller companies.
People employed in traditional and labour intensive sectors such as agriculture and textiles are paid the least, below Rs 250,000 per year.
Those in the oil, power, and aviation sectors are the best paid, with average salary above Rs 12.5 lakh a year.
Financial sector, which added jobs the fastest, has shown a contraction in sales.