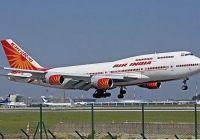 Four years after the erstwhile Indian Airlines merged with Air India, the national carrier will now have single code for all its domestic and international flights from Sunday.
"February 27 will be a great day in the history of aviation industry in India; when flight and IATA ticket codes of Air India (098) and erstwhile Indian Airlines (058) will be merged together and all Air India domestic and International flights will operate as a single airlines with AI (098) ticket code," an Air India spokesperson said.
The merger of erstwhile Indian Airlines with Air India took place in May 2007.
The codes of all 'IC' coded flights have been changed to 'AI' and the airline has made arrangements to inform passengers about revised flight numbers through short message service, telephone calls to individuals and through travel agents.
The airline has also advised passengers to contact its toll free number 18001801407 to check their revised flight number.
"Air India has selected SITA to provide passenger service system, which would be at par with industry standards and will conform to the requirements of an airlines alliance," the spokesperson said.
In addition to the core PSS Module, SITA also provided various modules like revenue management system, revenue accounting system, IOCC and hub control, internet booking engine and loyalty plus etc.
Having two separate flight and IATA codes, post amalgamation, was the biggest hindrance for the national carrier to become a STAR alliance member, which has Lufthansa, Continental Airlines, Austrian Airlines, Swiss Air, Singapore Airlines, Air China, Air Canada, Air New Zealand, South Africa Airways and others having 21,000 daily departures at 1160 airports in 181 countries.
"This amalgamation will be a major step in Air India becoming an active partner of STAR alliance which has the most respected member airlines," the spokesperson said.