The underperforming metal for 2017 expected to return 17-20%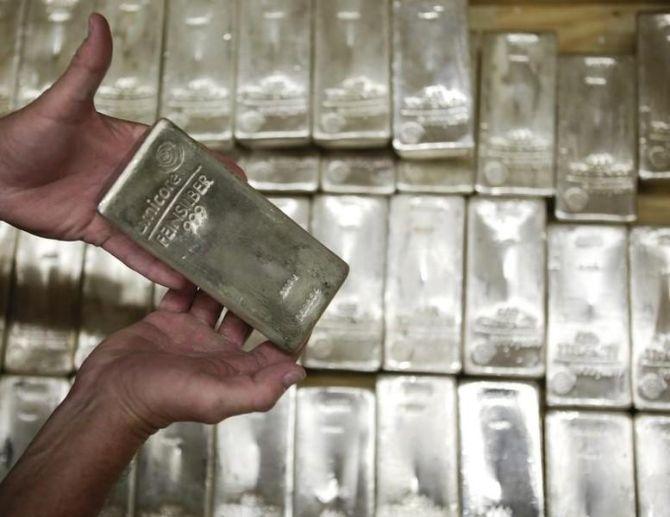 Investors have started betting big on silver amid hopes of a sharp upswing in its prices in calendar year 2018 (CY18).
Despite immense potential for an increase, following the improvement in industrial commodities' prices, silver remained an underperformer in CY17, with a mere 6.3 per cent of returns in dollar terms, and nearly 4 per cent loss in value in rupee terms.
By contrast, all asset classes in commodities segments, such as base metals, crude oil, etc, yielded returns of up to 30 per cent.
Considering silver was a weak performer in 2017, leading global investment bank Goldman Sachs forecasts silver to fare better than gold in 2018.
"Typically, silver tends to outperform gold at the current state of the business cycle, as it is more strongly leveraged to global growth, given its significant industry use.
"However, the relationship broke down post-2011, as price induced silver industrial demand to diverge from the growth of the business cycle.
"Now, we are finally beginning to see evidence of silver industrial demand picking up with strong global growth.
"Therefore, strong global growth should lead silver to outperform gold, as it has in the next expansion phase," said Goldman Sachs in its report released recently.
Echoing similar expectations, the Bank of America Merrill Lynch (BofAML) predicted silver price to average $17.41/lb for 2018, up more than 8 per cent from the current price level.
BofAML's Head of Commodity and Derivatives Fransicso Blanch cautioned investors from precious metals for 2018 by saying the real US Federal Reserve interest rates would rise, resulting into renewed strength in the US dollar.
While inflation should rebound slightly, the macroeconomic backdrop remains challenging for silver to beat gold in terms of returns.
The Bank of Nova Scotia in its latest report said that momentum indicators are bullish, as silver appears poised to target the November high of $17.38/lb in the near term.
Silver has underperformed gold by 8 per cent in CY17.
The investment bank has forecast silver price to average $17.2/oz in global markets for 2018, after falling a bit on profit booking in initial months of the current year.
"Silver prices are likely to move up by 17-20 per cent in CY18 due to rising industrial demand.
"Since global industrial growth is looking to remain extremely positive, we believe the silver consumption to go up this year.
"This gives us reason to believe that silver prices would move up from here," said Jayant Manglik, president, Religare Securities.
Globally, silver demand is directly linked with industrial growth due to two-thirds of this metal consumed in industries.
Photograph: Leonhard Foeger/Reuters