Demonetisation and GST are the main reasons for the job losses.
T E Narasimhan and Gireesh Babu report.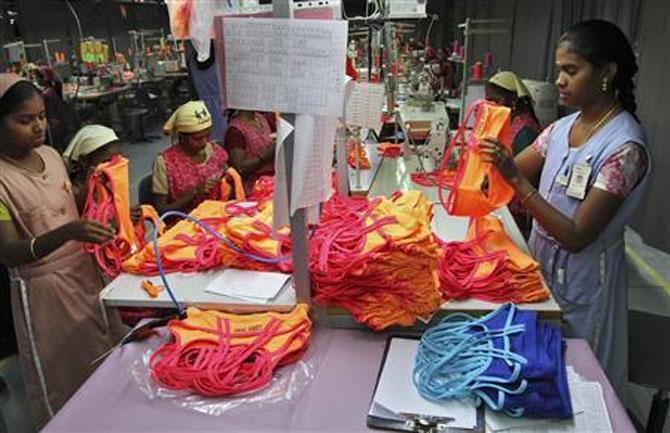 Traders as well as micro, small and medium enterprises (MSMEs) cut workforce by 3.5 million in the past four-and-a-half years, according to a survey by the All India Manufacturers' Organisation (AIMO).
It has identified the ban on high-value currency notes in 2016 and the roll-out of the goods and services tax in 2017 as the main reasons for retrenchment.
Another factor is expanding e-commerce that has also taken a toll on these businesses.
According to the survey, job loss for the trader segment was 43 per cent, for micro was 32 per cent, for small enterprises it was 35 per cent, and for medium businesses it was 24 per cent.
The survey also said most popular government schemes such as Make in India, Digital India, Skill India, and Startup India have not been of much use to these segments.
Medium enterprises seem to have benefitted from Digital India though.
Participants in the survey, however, credited the government for checking corruption and increasing transparency, mostly with online transactions.
About 34,000 traders and MSMEs from across India took part in the survey.
Some self-employed categories that were worst hit in this period were tailors, cobblers, barbers, plumbers, masons, and electricians.
Many traders were closing down because of stiff competition from e-commerce firms offering high discounts.
This resulted in loss of revenue from rents for middle-income families.
The sectors worst hit were plastic, matches, crackers, dyeing units, stitching units, stone units, tanneries, job-working units, and printing, said the report.
These are also sectors that provide employment.
'In the financial year 2015-2016, growth was high across sectors because of high expectations from the new government. However, thanks to demonetisation and the GST implementations, growth fell the next year,' said the report.
Lack of liquidity, higher outstanding government payments, and compliance issues worsened the situation.
"Our survey is a clear indicator that TMSME (traders and MSME) is in a critical condition at this moment... we feel the Government of India needs to address the issue with a lot more seriousness and urgency," said K E Raghunathan, national president, AIMO.
AIMO also provided a list of suggestions to create job opportunities based on the results of the survey.
These range from providing a salary subsidy to MSMEs for employing fresh engineers and National Skill Development Corporation-trained personnel for the first six months.
Also, lowering minimum wages for TMSME and start-ups will also create new jobs.
TMSMEs must be allowed to use 50 per cent of their work force as apprentice as this will also enhance skill development in the country, said AIMO.
Companies that were making profit in FY15 were not making the same kind of profit anymore, Raghunathan added.
For example, if 100 traders were making a profit in FY15, now only 30 are in the black.
For micro enterprises, it had come down to 47, for small industries to 65 and for medium one to 76.
To improve this, AIMO suggested supply of raw materials such as steel and aluminium at subsidised prices to MSMEs, reduced interest rate for short-term and long-term loans, and higher reservation in procurement of government purchases from MSMEs.
According to the survey, sectors requiring immediate help are housing, textiles, automobiles, power, matchstick making, plastic, tannery, and consumer products.
The government should expedite refunds of GST deducted at source, said the report.