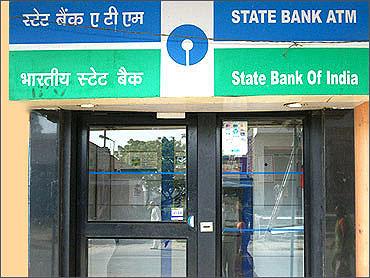 5 associate banks, BMB will merge with SBI by March 2017
The State Bank of India on Thursday approved the share swap ratios for the merger of five associate banks and Bharatiya Mahila Bank with itself.
The bank's board had approved the scheme of acquisition, SBI informed stock exchanges in a notice.
SBI will issue 28 shares of Rs 1 each for 10 shares of Rs 10 each for the State Bank of Bikaner and Jaipur, and 22 shares for 10 shares of the State Bank of Mysore.
Likewise, shareholders of State Bank of Travancore will also get 22 shares in SBI for every 10 shares held by them in SBT.
SBI will also issue 44.2 million shares to the government for one billion shares of Bharatiya Mahila Bank, a Delhi-based bank started in 2013 and wholly-owned by the government.
As for the unlisted State Bank of Patiala and State Bank of Hyderabad, in which SBI holds 99 per cent each, it would be a line-by-line merger, SBI's Chief Financial Officer and Deputy Managing Director Anshula Kant said.
All shares held by SBI in the five associate banks will stand cancelled after merger.
Kant said the bank would send the merger scheme to the Reserve Bank of India for approval.
After scrutiny, the RBI will forward the proposal to the government. SBI is planning to consolidate operations and balance sheets by March 2017.
EY advised SBI for finalising the share swap, while JM Financial Services advised on fairness of merger swap ratios.
Most analysts believe the swap ratios are fair and expect the stocks to rise, except for State Bank of Mysore.
Brokerage Religare said, in a note, the share swap ratio was broadly even for all shareholders, barring those of the State Bank of Mysore.
Even if the swap ratio is unfavourable for shareholders of an associate bank, it is unlikely to make any difference because SBI holds an overwhelming majority in each of them.
"While the market was expecting this merger in FY17, since it is happening sooner than expected the stocks will react positively to the swap ratio", says Siddharth Purohit of Angel Broking.
SBI's asset quality is better than its associate banks and there is unlikely to be any material improvement in SBI's asset quality after the merger, according to Religare.
The clean-up exercise will continue for the associate banks in 2016-17, which will deteriorate their asset quality.
According to Bloomberg's list of the world's top 50 banks by assets, SBI's $550 billion, after consolidation, will move it six notches to 44th slot. At the top of the heap is Chinese bank ICBC with $3,423 billion in assets.
SBI has maintained, besides making the group more efficient, the consolidation will be of huge value.
The associate banks have fixed assets of around Rs 4,000 crore (Rs 40 billion), which will add to the bank's capital.
After the merger, SBI's cost-to-income ratio will come down by one percentage point in a year.
The SBI Group controls 22 per cent of the Indian banking system.
The five associate banks have a market share 5.30 per cent in deposits and 5.33 per cent in advances.
Their cumulative net profit was Rs 1, 368.7 crore (Rs 13.68 billion) at end of March.
SBI will face challenges in rationalising branches and in integrating employees from the associate banks.
The bank will prepare a plan on rationalising the retail banking network.
The SBI Group has 22,000 branches, of which SBI has 16,800.
Corporate finance branches of the associate banks will be absorbed by SBI because 60-70 per cent accounts are common.