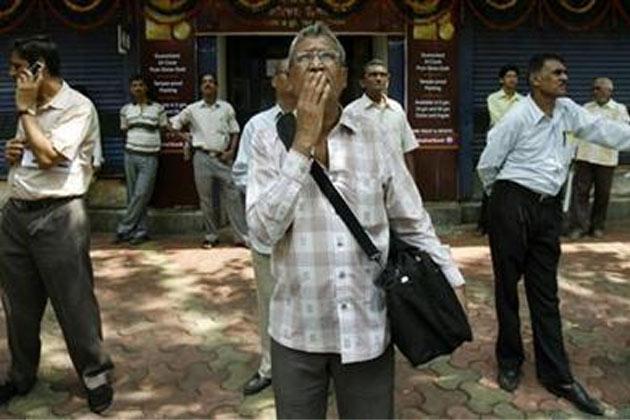 Nearly a year into Narendra Modi's rein, the Indian equity market is no longer the story it was.
The benchmark S&P Sensex, up as much as eight per cent at one point during the year, has seen its entire 2015 gains erased. After two weeks of losses, the 30-share index on Friday ended at 27,437.94, slightly below 27,499.42, where it started the year.
The index had risen as high as 29,681.77, an all-time closing high, on January 29. With the economy showing little sign of acceleration, the monsoon likely to remain deficient and corporate earnings expected to stay subdued for some more quarters, analysts fear the Indian market could slip further. Worryingly, foreign institutional investor (FII) sentiment towards the market has turned negative over tax uncertainties.
Excluding inflows on account of the $3-billion Sun Pharma share sale, FIIs have been net sellers by almost $400 million so far this month.
Since 2014, monthly investments by foreign investors have been negative only on two occasions. Also, India is the only major market to have slipped into negative territory in terms of year to date returns.
Meanwhile, most European markets are up 20 per cent, China is up 30 per cent and the US market is up about two per cent. "The factors responsible are all local," said G Chokkalingam, founder, Equinomics Research & Advisory.
"Selling by foreign investors, weak monsoon forecast, the retrospective tax issue, poor corporate earnings—all are together hurting the market."
Experts said investor sentiment has been hurt by notices served by the income tax department, demanding payment of Minimum Alternate Tax (MAT) on investment by FIIs in the past few years. Nirmal Jain, chairman, IIFL Group, said investors want the tax uncertainty to end and the government should act swiftly in resolving the MAT issue.
"We need foreign investment, so we need to boost their sentiment and create an easy, welcoming and participatory environment for them," he said.
The other major stock benchmark, the 50-share Nifty on the National Stock Exchange, after dropping close to 3.5 per cent, ended at 8,305, the lowest since January 2014. "So far almost eight of 10 companies have posted disappointing results.
This has been another key issue weighing on the market," said Chokkalingam. Investors have been spooked as several blue-chip stocks — including ICICI Bank, State Bank of India, Sun Pharma and Hero MotoCorp are down as much as 20 per cent from their 2015 peak. "We see potential correction (fall) in the high-growth quality stocks if investors start questioning the Street's earnings assumptions.
Even with a 15-20 per cent correction, valuations would remain heady," wrote Sanjeev Prasad, senior executive director & co-head, Kotak Institutional Equities, in a recent note.
After the recent fall, the Nifty trades at around 15 times its estimated one-year forward earnings.
The valuation is still above its five-year trading average of 14.3 times and also is expensive when compared to the trading multiple of around 13 times for the MSCI Emerging Markets Index.
Recently, foreign brokerage UBS cut its year-end price target for the Nifty by four per cent to 9,200 for the Indian market, citing slower than expected recovery in corporate earnings.
Image: Stock investors and traders watching the Sensex movement on the screen displayed outside the BSE building. Photograph: Reuters