Delhi brokers under SEBI's glare for drawing investors through ads promising unrealistic returns.
Shrimi Choudhary reports.
Illustration: Uttam Ghosh/ Rediff.com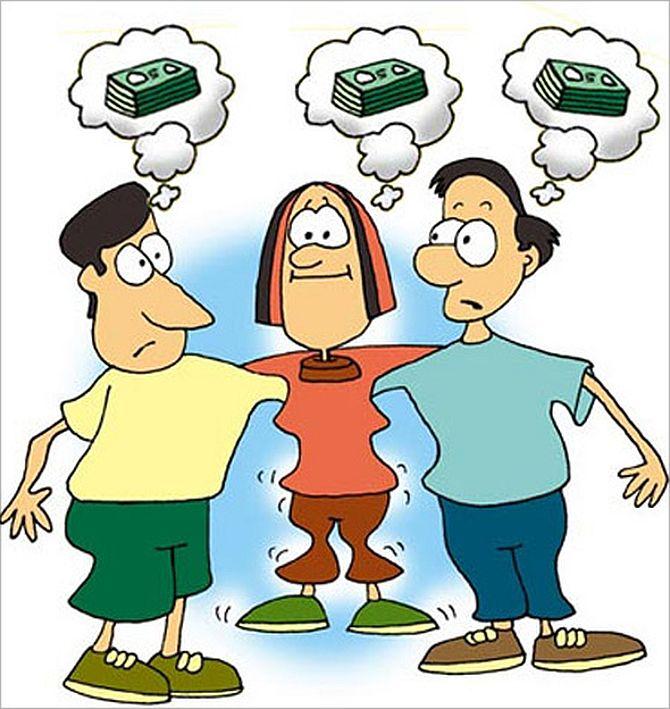 The Securities and Exchange Board of India has started cracking down on a fraud scheme promising unreasonable returns from the stock market in a short span of time.
The move comes after dozens of investors complained to the regulator at its New Delhi office against a scheme promising high returns.
Calling it a business offer, scrupulous entities lured investors through advertisements in local and national dailies in New Delhi.
'Invest Rs 12 lakh, earn Rs 3 lakh weekly approximately,' the ad claimed.
'Open online trading account and deposit money in your own name with any NSE discount broker', the ad further said.
Sources say Sebi has begun to round up brokers who are suspected to be facilitating such trades in the market.
The market regulator has also shared this information with the economic offence wing of the Delhi police.
"The regulator has approached the Delhi police following the complaint against unknown entities. More information is being collected and action will accordingly be taken," said a person privy to the development.
The advertisement claimed that the scheme has 481 clients on board.
WHAT THE SCHEME PROMISED
Invest Rs 1,200,000, earn Rs 300,000 weekly
Invest Rs 500,000, earn returns of 12% monthly
Invest Rs 1 million, earn returns of 15% monthly
WHAT CLIENTS HAVE TO DO
Open Online-trading account
Share log-in ID and password
Operators will trade on behalf of clients
The scheme also promised 12 per cent monthly return on an investment of Rs 500,000 and 15 per cent monthly return on investment of Rs 1 million.
Under the plan, a client has to open online trading account and share the login and password with this operator.
The ad mentions the name, address and the WhatsApp details to start the business.
"Unsolicited advice is rampant on television shows, print media and social media. These exploit the basic human greed. Sebi has already initiated action against crimes, which are similar in nature. Supply has to be stopped; demand will automatically go away," said Prithvi Haldea, founder, Prime Database.
The brokers association says it has received several such complaints and are constantly warning their members about such schemes and companies.
"None of these so-called acclaimed brokers/intermediaries are registered with Sebi. However, we keep encouraging our members to report such instances to the regulator. We observe that several such schemes are being operated by various small and unknown entities, and their network is spread across the country," said Rajesh Baheti, president, Association of National Members of India.
However, some of these entities are registered under the Companies Act, but in most of the cases, they do not have any approval from any authority.
Sources say for such operators have widespread network and it is difficult for authorities to trace them. The police's economic offence wing is mostly relying on depositor legislation formed by various states which deals with both civil and criminal remedies.
In recent years, a number of such schemes have been busted by the authorities. Some of them include Singapore based-Speak Asia, City Limousine and PACL.