Of the 3.9 million the sector employs, HR experts say at least 100,000 are likely to lose their jobs by the end of this financial year. Ayan Pramanik and Raghu Krishnan report.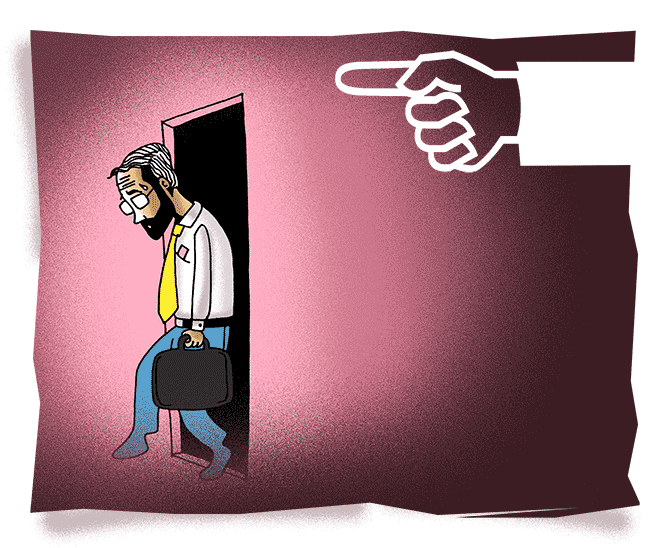 Illustration: Dominic Xavier/Rediff.com
An audio clip of a Mumbai-based employee at Capgemini, the French information technology (IT) services entity, fighting with the personnel officer to retain her is an indicator of the human cost of the changes under way in the sector.
The clip has gone viral on social media. One can hear the employee, with experience of over eight years on manually fixing bugs in codes written by her colleagues, contesting her termination order, in vain.
Many like her in other companies who have been laid off have approached the labour department for help.
Of the 3.9 million the sector employs, human resource experts say at least 100,000 are likely to lose their jobs by the end of this financial year.
Automation is eliminating jobs such as testing and first-level maintenance that typically do not require a high level of skill. And, there is backlash in the United States and Britain over the sending of engineers from India.
The gloom is widespread.
In 2016-17, India's IT sector grew in single digit. This year looks worse, and sectoral body Nasscom has refrained from projecting growth numbers.
The industry has, expectedly, responded by stepping up scrutiny on productivity, efficiency and the ability of employees to learn new skills.
And, shifted focus to local hiring for combating protectionist headwinds in their main markets of the US, Europe and Australia.
---
Also Read: India's jobs crisis
---
However, amid the turmoil, many also see opportunity for Indian IT to reinvent and prepare for the future.
The big change underway is a shift from "scale to skill", said Nasscom.
V Balakrishnan, former board member at Infosys Technologies and a sector veteran, sees this phase as a "time to reinvent the business model". "The immigration issue in the US, appreciation of the rupee and disruption due to emergence of digital technology and automation are changing the dynamics," he added.
These changes are forcing a step-up on digital technology and a drive to automate lower-end jobs, to manage the overall cost better.
More US-based customers of these IT vendors look at a "completely different model" of services, said Rajesh Gupta, partner (India operations) at ISG: "Clients in the US are going to shift from the traditional model of outsourcing. They seek more of an out-of-the-box solution, where the service provider can offer solutions on-site, through a captive-like model. In short, outsourcing will reduce sharply."
Cost rationalisation is inevitable.
"These companies used to hire a lot of people at the bottom of the pyramid, who were freshers. That kept the average employee cost low. But, when they are expecting average growth of [only] 6 to 8 per cent annually, the pyramid is skewed and very fat in the middle. Naturally, some of the mid-level managers will be removed to maintain the average employee cost. Otherwise, it will hit the margins," added Balakrishnan.
While more companies are focusing on higher utilisation, many are not bringing in replacements for the mid-level managers that have been let go, said Malay Shah, senior director (high tech), Alvarez & Marsal India.
What they've done is to sharpen the focus on new deals in digital, cloud and analytics. And, pushing for use of artificial intelligence and machine learning, to remove the dependence on people for delivery of services.
It's too early to say if their efforts will pay off in the longer run.
"Cost savings play a small role. The larger issue is about IT vendors being able to penetrate accounts with more services, go beyond BPO [business process outsourcing] and infrastructure. Can they win consulting, design, app development? And, grow those accounts in total account value?" asked Ray Wang, founder and chairman of Constellation Research Inc, a Silicon Valley technology research entity.
The industry will have to reorient its model, from billing of services to manning the small pay-as-you-use contracts. Customers are looking at short-term service contracts. Some even look at doing a digital transformation of their own, with service vendors as partners.
Shah said IT companies should look at better integration between client demand and workforce management.
"There should be proper demand supply planning, be it short-term or long-term. While we see trimming of workforce, companies are not able to staff some niche projects," he added.
Notwithstanding the shift, what worries Balakrishnan and others is the lack of an alternative industry that can employ hundreds of thousands of people a year. Reskilling is crucial.