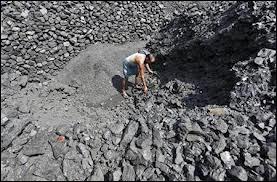 The recent cancellation of coal block allocations by the Supreme Court provides an opportunity for the government to reform the process of awarding coal mines in the country, S&P said on Wednesday.
"Standard & Poor's believes a transparent allocation policy will play an important role in determining the profitability and strategy of coal consuming companies," the global credit ratings agency said.
"This, combined with a streamlined process for getting environmental clearances and approvals for land acquisition, would give these companies the confidence to invest and revive their long-pending projects," it said in a report - 'Supreme Court Ruling Could Ignite Reforms In India's Coal Sector'.
The ruling could lead to an improved process for allocating coal mines and boosting the supply of coal in a country that faces a severe shortage of the fuel, S&P credit analyst Mehul Sukkawala said.
Last week, the apex court cancelled all but four of the 218 coal blocks that the government had allocated between 1993 and 2010.
The apex court had observed that the allocation was arbitrary, illegal, and resulted in unfair distribution of national wealth.
"We believe the cancellation of coal blocks increases near-term uncertainty for the operations and investment plans of companies that were either allocated the mines or were expecting to source coal from them," said Sukkawala.
He added that it could also hurt the significantly improved investor sentiment in India following the change in the government earlier this year.
The S&P report published on Wednesday also said a transparent process to allocate coal mines is likely to involve an auction, just as the government did for telecom spectrum.
The government could also extend the solution for coal miners to the mining of iron ore, bauxite, and other minerals, it said, adding that doing so can help the country take a big step toward resolving issues plaguing the mining sector for the past few years.