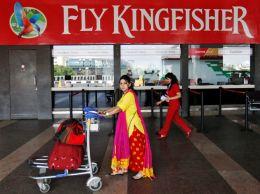 Hours after the Supreme Court refused to entertain a petition filed by Kingfisher Airlines against being declared wilful defaulter by United Bank of India (UBI), the airline on Tuesday said it would "vigorously challenge" the bank's decision.
In a statement, the Vijay Mallya-owned company said, "KFA and its directors will vigorously challenge the decision of UBI" and they "strongly deny the allegations of wilful default for alleged non-payment of Rs 7.5 crore (Rs 75 million) to UBI."
"KFA and its directors have not been given any opportunity to present their case through lawyers of their choice before UBI who have come to a wrongful ex-parte decision in great haste when the question of legal representation was under challenge," Prakash Mirpuri, Vice President (Corporate Communications) of the UB Group, said.
The airline had on Monday too accused the UBI of having proceeded post haste to "declare KFA and its directors or erstwhile directors as wilful defaulters in respect of an overdraft facility of Rs 7.5 crore (Rs 75 million)."
It had also said that "KFA intends to pursue all available legal remedies". State-run UBI had on Monday become the first lender to declare the debt-ridden airline and its promoter Vijay Mallya as wilful defaulters.
Image: A passenger walks with her luggage in front of a Kingfisher Airlines reservation office at the domestic airport in Mumbai.
Photograph: Danish Siddiqui/Reuters