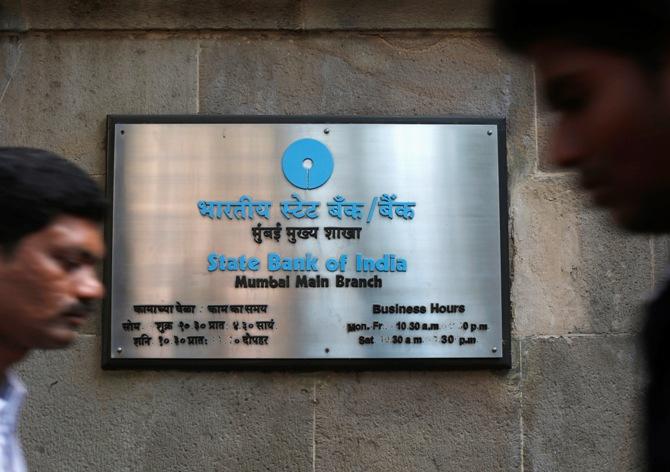 The State Bank of India (SBI) on Tuesday said it does not have a magic wand to deal with non-performing assets (NPAs), which rose to 4.95 per cent of advances at the end of 2013-14 on a gross basis.
Pinning hopes on the economic recovery, SBI Chairperson Arundhati Bhattacharya said, "We are seeing some lessening of stress but there is no magic wand, we have to work through our way. As the GDP goes up, demand goes up, the capital market will begin to respond, people are able to raise equity, we will see things becoming better."
Please click here for the Complete Coverage of Budget 2014 -15
She was talking to reporters on the sidelines of the inauguration of SBI's six digital branches across the country by Finance Minister Arun Jaitley.
SBI's gross NPAs rose to Rs 61,605.35 crore (Rs 616.05 billion), constituting 4.95 per cent of total advances, at the end of March 2013-14 from Rs 51,189.39 crore (Rs 511.89 billion), accounting for 4.75 per cent of credit in 2012-13.
The bank's net profit tanked to Rs10,891.17 crore in 2013-14 from Rs 14,104.98 crore (Rs 141.04 billion) in the previous financial year.
"We are very much in control. We understand the challenges. We are working on various solutions," she said.
On the interest rate, Bhattacharya said it is stable at this point.
Asked about fund-raising plans, she said, "I don't need it. I will have to check credit growth and then decide, (in) another four months. We would need it should there be lot of demand for credit."
Once credit demand picks up, she said, "We have a lot of options, including rights, QIP (qualified institutional placement) and FPO (follow on public offer), so everything is on the table. At this point of time, we have not finalised anything."
SBI raised Rs 8,032 crore (Rs 80.32 billion selling 5.13 crore shares through a QIP in January.
Non-food bank credit of scheduled commercial banks increased by 13 per cent in May this year compared to 15.3 per cent a year ago, according to Reserve Bank of India (RBI) data.
A day after official data showed the Centre's fiscal deficit in just two months touched 46 per cent of the interim Budget estimates for the entire financial year, Bhattacharya said, "Please don't have such a short-span view. You are only looking at April and May."
April and May are when the expenditure occurs, it's not when revenue accrues. "Taking a very short-span view...is not very good," she said.
Please click here for the Complete Coverage of Budget 2014 -15