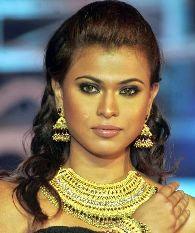 This Vikram Samvat year 2070, ending on Thursday, has proved the worst in 17 years in terms of return on investment in gold.
The price of gold is 8.8 per cent less than at the year's start, the biggest such slide since Samvat 2053 ending October 29, 1997, when gold that year closed 17.3 per cent lower at Rs 4,250 per 10g.

Last year around this time, gold was above Rs 30,000 per 10g and the premium for spot delivery was $100 an ounce.
The reason is the global shift away from gold as an asset class, in favour of alternatives such as equities and the dollar. The fall has been less in India, as conventional buying for occasions such as marriage or festivals hasn't changed by much. However, investment demand has fallen.
Last year around this time, given the price, buyers had been avoiding gold. According to Sudheesh Nambiath, senior analyst, Thomson Reuters GFMC, "Demand is definitely turning to be better than last year's Diwali but has to be viewed in the context of higher prices, higher premium and the investor attraction towards equity markets in the last quarter of 2013."
At the present lower levels, investors have lately entered the market. Recently, the price in the Mumbai spot market fell to Rs 26,500 per 10g, at which investors were seen buying bars and coins. Sudheesh says, "We expect gold to peak near $1,300 an ounce by the end of this year (December, from the current $1,250) and then continue with its downtrend into next year. We continue to maintain our forecast for 2015 at $1,175. In rupee terms, gold should top near Rs 28,900 (for 10g) and by next year, head lower towards Rs 25,500."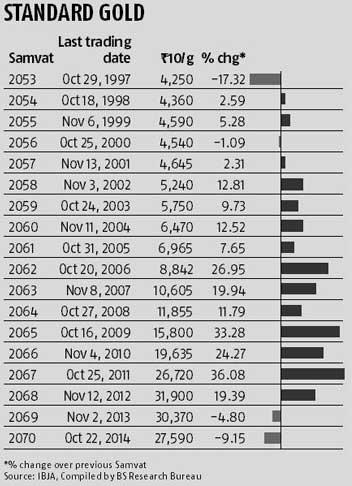 The biggest risk for the price is a possible cut in import duty, which traders expect could happen in the February 2015 Union budget. The expectation is a duty cut of two to three per cent, which could bring down the price by Rs 600-900 per 10g.
Another variable is premiums charged for physical delivery. Last Diwali, premiums in India were $100 an ounce. It is now $25 but that is much higher than in the recent past. They're at a six-month high, suggesting there is demand.
Chirag Mehta, fund manager, commodities, Quantum AMC, said: "We do recommend an allocation of 10-15 per cent of one's portfolio and if investors do not have the desired allocation, can build it over the next 12-24 months."

Investors can buy on a decline or again start investing in gold through a systematic investment plan.