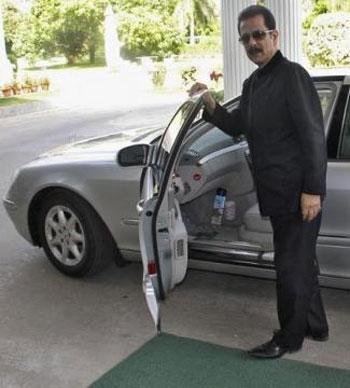 Facing tough times in its attempt to get its chief Subrata Roy out of jail, Sahara Group on Tuesday landed in a soup again as the Supreme Court asked it to explain how it encashed securities, deposited with RBI, and diverted them to pay depositors to the tune of Rs 484 crore (Rs 4.84 billion) without the court's nod.
The apex court also allowed Reserve Bank of India (RBI) to initiate action against Sahara India Financial Corporation Ltd (SIFCL), a non-banking financial firm, for allegedly "breaching" the central bank norms by encashing securities and diverting them to Sahara India, a partnership firm, for paying the depositors instead of depositing the amount in the SEBI-Sahara refund account as directed by it.
A bench headed by Justice T S Thakur, which restrained the group from further alienating and transferring remaining "directed securities" of SIFCL, sought a response as to how they diverted the money to the tune of Rs 484.67 crore despite a specific direction against it by the court on July 4, 2014.
Budget 2015: Complete Coverage
"We never allowed you to encash the securities and to pay the amount to the depositors. Rather, you should have deposited them into the SEBI-Sahara account," the bench, also comprising justices A R Dave and A K Sikri, said.
This has been specifically mentioned in the auditor's report of the firm, the court said but senior advocate S Ganesh, appearing for Sahara, disputed the auditors' findings.
The bench took serious note of the diversion of funds saying, "how could you sell the identified securities? How can you touch these securities?...You should have come to us seeking permission to pay to the depositors.
"We had vacated the order to enable you to deposit the money in the SEBI-Sahara account. You should have come clean on that."
The court further asked the counsel for Sahara to file an additional affidavit indicating as to how the disbursements of the money to the depositors have been made and what was the mode of payment--cheque or cash--and the company will also disclose the identity of the recipients.
The details have to provided by the Sahara Group in the form of compact discs to the court, SEBI, RBI and senior advocate Shekhar Naphade who is amicus curiae in the matter.
The bench, which asked RBI to pass an order after hearing the Sahara Group, however, did not give any relief to Roy for further using Tihar jail's conference room and facilities for negotiating deals with prospective buyers of the group's properties for raising money to the tune of Rs 10,000 crore (Rs 100 billion) to ensure his release.