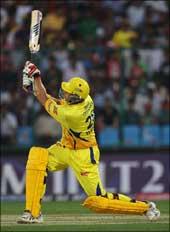 As the Indian Premier League frenzy catches up with cricket fanatics, action elsewhere (behind closed doors) is churning out big money as well -- with some estimates pegging the amount at around Rs 5,000 crore (Rs 50 billion) per match.
According to sources, the bookies have changed the way they operate. Given the large number of games being played, the operators are opting for weekly settlement with punters, instead of the daily system preferred earlier.
The settlement cycle also depends on a punter's credit worthiness. But bookies say that on days when two games are being played it becomes very difficult to find time. So, they opted for a longer settlement cycle.
Betting being illegal in India, most of the bookies are using the confines of their cars, instead of operating from hideouts in buildings, as they are mobile and can evade the police easily.
Giving them company are mobile phones, with some meant for outgoing calls only, and laptops to keep track of scores and other developments on the field.
There is more to it. Traditionally, punters used to organise bets on who would win. Now, there are several options: If you go for a 'session', you have to put your money on number of runs scored in a session (innings).
For example, if a team scores between, say, 150 and 180 runs, the punter will make money. If a team falls short of the 150-run mark, or manages to go past 180, the bookie takes the cash.
The other option is 'gala' in bookie-speak. This form of betting typically starts from the 12th over and requires people to predict how many runs would be scored over the next few overs.
If, say, someone bets on a team scoring 19 runs in three overs and the batting team manages to score up to 19 runs, the punter makes the money. In case the team scores 20 or more runs, the bookie walks away with the cash.
There is a third variation -- khadda -- where no one is willing to take a bet since the outcome is hard to predict. Here, it is the bookies who are involved and it's the 'insiders' who decide. "This is more of an exception and not the rule as no one wants to lose money," said a bookie.
The betting odds are decided by a ring of leading bookies who decide the rates, which is then communicated to the others over the phone.
For those looking to play straight, there is the traditional form of betting as well. Bookies said Mumbai Indians, Delhi Daredevils, Chennai Super Kings and Kolkata Knight Riders are seen as the hot favourites in IPL-3.
As a result, someone betting one rupee on these four teams will get less in return. In contrast, the odds on a Rajasthan Royals win are 1:2.
Similarly, betting on Sachin Tendulkar, Virendra Sehwag and Adam Gilchrist is considered to be less rewarding as these players are seen to be match winners.