Analysts say Bajaj's move to correct prices can potentially disrupt the market.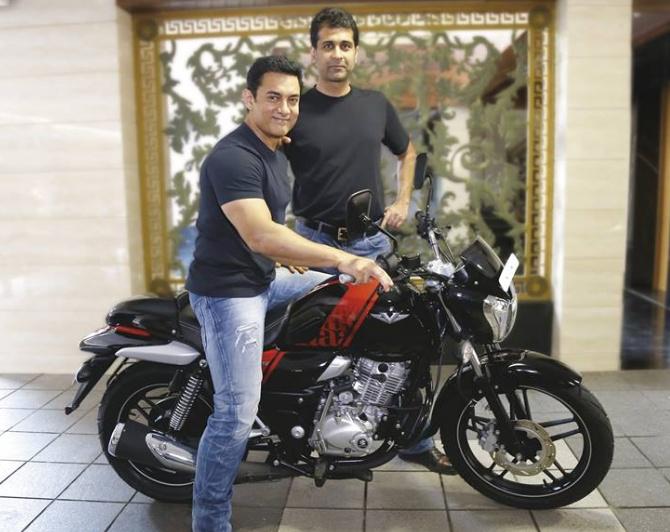 Even as rivals in the motorcycle market are not likely to enter the price war unleashed by Bajaj Auto, analysts are of the opinion that a sustainable volume and market share gain by the Pune-based company will force others to follow suit.
Bajaj Auto's motorcycle volumes jumped 32 per cent to 1.14 million units in the domestic market in the first five months of the ongoing fiscal compared to the figure in the same period during the previous year.
Its market share rose to 16.87 per cent from 14.56 per cent in the same period of the previous year, according to the Society of Indian Automobile Manufacturers (Siam).
To ramp up volumes, Honda Motorcycle and Scooter India (HMSI), on September 17, announced a cash-back scheme called "Shagun cashback" of Rs 1,100 across all its models with the exception of the Activa SG. The scheme is valid till September 30.
Setting the stage for a potential price war which analysts said is akin to the one in 2007, Bajaj Auto cut prices in six of its models, including the entry level CT100 model, in March.
Since the price reduction in CT100, which competes with the Hero Splendor and Passion, its monthly volume run rate increased from 20,000 to 75,000.
Earlier this month, Yadvinder Singh Guleria, senior vice-president, sales and marketing, at HMSI had denied any competitive pressures from Bajaj. The current volume surge, seen in the motorcycle market, has been led by the entry level 100cc to 110cc segment where Honda doesn't have a strong presence.
Moreover, scooters still account for 68 per cent of sales in India. Therefore, Bajaj's move will not have an impact on HMSI, he said.
"Anybody knows that such a direction is not a sustainable one even it may give a company some gains in the short-term," said Guleria.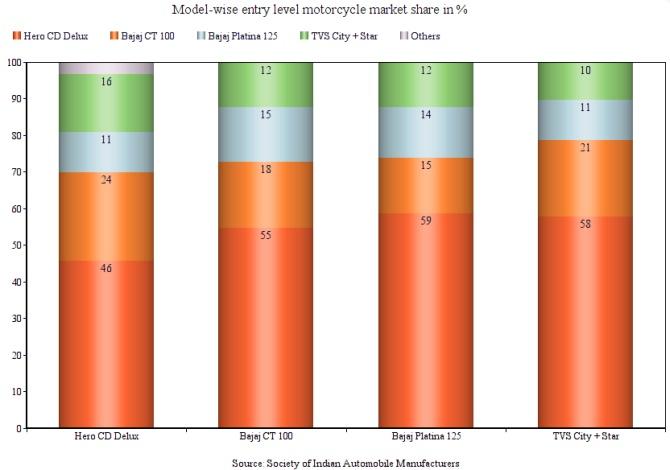 Rakesh Sharma, chief commercial officer at Bajaj Auto, said the price correction in some of its models is part of a strategy to focus and sharply target selected segments for driving up its market share.
"We have made relevant brands more potent by adding variants which are cheaper as well as more expensive. This combination should serve our intent of managing the balance between growth and profitability," Sharma said.
Bajaj's price aggression in the domestic market comes on the back of a volume and market share decline in a year when the broader market touched a record high.
In the year that ended in March 2018, Bajaj sold 1.9 million motorcycles, a drop of 1.3 per cent over a year ago while its share shrunk to 15.7 per cent from 18 per cent a year ago.
The motorcycle market in the same period grew by a brisk 13.7 per cent.
Analysts said Bajaj's move to correct prices can potentially disrupt the market.
"If the brisk volume gain reported by Bajaj Auto over the last five months continues for a couple of more months, its rivals will come under pressure," said Mitul Shah, vice-president research at Reliance Securities.
Others agreed. "Price aggression by Bajaj after continuous loss in the domestic share to sustain dealer viability is likely to impact the equilibrium in entry-level motorcycles with Bajaj gaining at the expense of others leading to a decline in segment profitability," wrote analysts Priya Ranjan, Apoorva Patil and Vikrant Gupta from Antique Broking in a September 12 report.
"It (Bajaj) has laid a honey-trap. At this point, I don't see others getting into it as they will lose a lot if they do," said a Hero dealer.
On its part, Bajaj is firm in its resolve to gain volumes and marketshare.
"We are aiming to better the market share each month and each quarter. We have been crossing the volume of 4 lakh units every month and we intend to keep the tempo going," said Sharma.