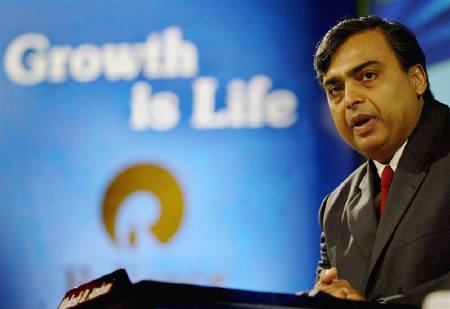 Reliance Industries' December quarter net profit dipped by 4.5 per cent to Rs 5,256 crore (Rs 52.56 billion), its first profit decline in nine quarters, after a steep fall in crude oil prices hurt core refining business and margins.
The net profit in October-December 2013 quarter stood at Rs 5,502 crore (Rs 55.02 billion), or Rs 18.7 a share while profit was Rs 5,972 crore (Rs 59.72 billion), or Rs 20.3 per share, in June-September 2014 quarter.
RIL, the operator of world's biggest oil-refinery complex, earned $7.3 for turning every barrel of crude oil into fuel in third quarter as compared to $7.6 a barrel gross refining margin (GRM) a year ago.

The GRM in December 2014 quarter was also lower than $8.3 per barrel in the previous July-September quarter.
"The quarter witnessed heightened volatility across the hydrocarbon business. Benchmark crude oil prices declined by around 40 per cent through the quarter, with consequent impact on petrochemical feedstock and product prices," the company said in a statement.
Declining feedstock prices impacted buying sentiment across product categories, it said.
Commenting on the results, Mukesh D Ambani, Chairman and Managing Director, RIL said: "Our focus on operational efficiency and the superior configuration of assets helped us deliver an industry-leading performance in the refining and petrochemicals business despite sharp decline in crude and feedstock prices."
RIL, he said, continued to advance margin adding refining and petrochemicals business capital investments, which will come to fruition over the next 4-6 quarters. "These investments demonstrate our commitment to creating value through the business cycle," he said.
Turnover dipped 20.4 per cent to Rs 96,330 crore (Rs 963.30 billion) in the December 2014 quarter. Exports also declined by 21.5 per cent to Rs 58,507 crore (Rs 585.07 billion).
While debt rose to Rs 150,007 crore (Rs 1.50 trillion) from Rs 142,084 crore (Rs 1.42 trillion) as on September 30, 2014, cash-in-hand fell to Rs 78,691 crore (Rs 786.91 billion) as on December 31 from Rs 83,456 crore (Rs 834.56 billion) at the end of previous first quarter.