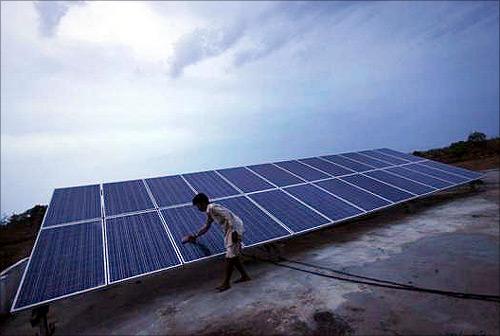 Anil Ambani-led Reliance Power commissioned its 100-megawatt concentrated solar power (CSP) project at Jaisalmer, Rajasthan, on Tuesday.
This is the biggest CSP in the world.
Built at a cost of Rs 2,100 crore (Rs 21 billion), the project has 25 per cent reserve margin to meet 25-year power purchase agreement obligations.
Rajasthan Sun Technique Energy, a subsidiary of Reliance Power, was awarded the project in December 2010, based on international competitive bidding conducted by Vidyut Vyapar Nigam (a subsidiary of NTPC) under the Jawaharlal Nehru National Solar Mission of the Centre.
The project is the largest investment undertaken by any private sector entity in CSP in India.
It is financed through debt from multilateral agencies such as Asian Development Bank, Export-Import Bank of the United States, Financerings Maatschappu Voor Ontwikkelingslanden NV and Axis Bank.
With this project, Reliance Power's generation capacity has increased to 5,285 Mw, which includes 5,100 Mw of thermal capacity and 185 Mw of renewable energy-based capacity.
Image: A man cleans panels installed at a solar plant at Meerwada village of Guna district in the central Indian state of Madhya Pradesh.
Photograph: Adnan Abidi/Reuters