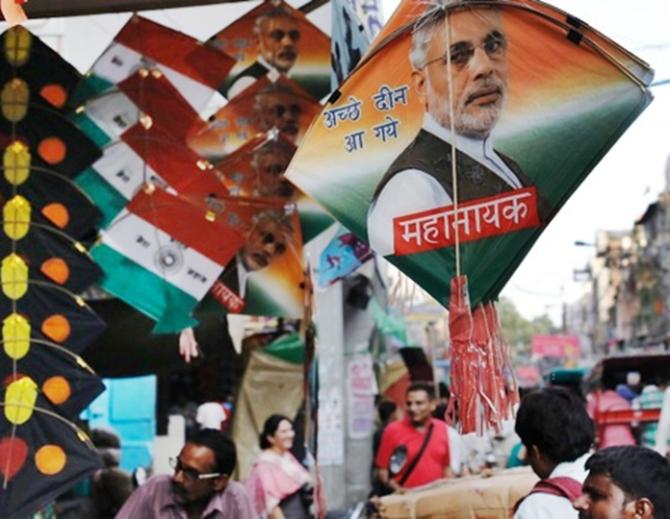 'The goal of reform is not better headlines in the big papers but better lives for our people.'
Prime Minister Narendra Modi on Friday said the economy has performed better on all parameters, including inflation and foreign investment in the past 17 months, and stressed on inclusive reforms that improve people's lives and not just grab headlines.
He also said the government's efforts to bring back black money stashed abroad have detected as much as Rs 10,500 crore (Rs 105 billion).
"India is doing better than when we took office 17 months ago.
"Gross domestic product growth is up and inflation is down, foreign investment is up and current account deficit is down, revenues are up. . .the fiscal deficit is down and the rupee is stable.
"Obviously this did not happen by accident. . .
"This success is a result of a series of well thought policies," he said.
Terming reforms to transform India as 'a marathon and not a sprint', Modi said such measures should aim at improving the lives of people.
"My appeal to all of you is to think beyond conventional remedies.
"We should not limit our ideas of reforms to few standard notions.
"Our idea of reform should be inclusive and broad based.
"The goal of reform is not better headlines in the big papers but better lives for our people," he said while inaugurating the Delhi Economics Conclave 2015, which is being attended by economists from India and abroad.
The Prime Minister further said government's Jandhan, Aadhar and Mudra initiatives were all about 'achieving maximum values for every rupee spent, maximum empowerment and maximum technology penetration among the masses.
On the various macro-economic initiatives of the government, Modi said, "We have embarked on a course of fiscal consolidation.
"We have entered for the first time into a monetary framework agreement with the Reserve Bank to curb inflation."
As regards the corruption issue, the Prime Minister said the government has taken "decisive steps" to curb the menace that constrains growth.
These initiatives include reforms in the working of the state-owned banks, removal of discretion in allocation of key resources like coal, spectrum, FM radio etc, doing away with the interviews for lower-level jobs and introduction of electronic filing and scrutiny of tax returns, he said.
Talking about the illicit funds stashed abroad, Modi said, "Our campaign against tax evasion and money laundering is well known.
"Rs 6,500 crore (Rs 65 billion) was assessed before the new black money act implemented. Additionally, over Rs 4,000 crore (Rs 40 billion) has been declared under the new Act. Thus over Rs 10,500 crore (Rs 105 billion) of black money from abroad has been detected and assessed."
Modi further said the tax department took steps to facilitate electronic return filing which presently covers 85 per cent of assessees.
"Earlier electronic returns had to be followed by paper verification which used to take weeks to be processed. This year we introduced e-verification using Aadhaar and over 4 million taxpayers used this facility," he said, adding 91 per cent of electronic returns were processed and 90 per cent of the refunds were issued within 90 days.
"I have asked the IT department to move to a system where not only returns but also scrutiny is done without having to go to the office.
Queries to be raised and answered on line or by email. There should a visible electronic trail of what is pending with whom, where and for how long.
"This is being piloted in five big cities," he said.
Modi said the government has reduced wasteful expenditure through innovative methods like the use of technology.
"Some of the methods are part of your agenda, such as using Aadhaar to target subsidies to the deserving.
"These are reforms that you are probably aware of. But our reforms are far broader and far deeper than generally recognised," he said.
He said the government has carried out financial, structural and institutional reforms.
About the financial reforms, Modi said in the last 17 months, the government has brought 190 million people into the banking system.
"This is more than the population of most of the countries in the world. Now these millions are part of our banking system, and words like 'interest rate' have a meaning for them," he said.
These people have been brought into the system and they have shown that there is a great strength at the bottom of the pyramid, he said.
Accounts opened under the Jan Dhan Yojana today have a total balance of almost Rs 26,000 crore or nearly $4 billion, he said adding "clearly our financial inclusion reform has been transformational.
"And yet this quiet revolution has hardly been noticed".
He also said the government has introduced healthy competition in the debit and credit card space.
"This has traditionally been dominated by a few international players. . .Today 36 per cent of debit cards in India are Ru-Pay cards," he added.
On the formation of Niti Aayog, Modi said: "My vision of NITI is very different from the Planning Commission.
"It is to be a collaborative forum for ideas and action where states are full partners and where the Centre and states meet in a spirit of co-operative federalism," he said.
Modi said India has tremendous entrepreneurial energy and this needs to be harnessed so that India becomes a nation of 'job creators' rather than 'job seekers'.
The Prime Minister said while the Jan Dhan Yojana was to bring banking to the unbanked, the second reform Mudra Yojana was to bring funding to the unfunded.
Under the Pradhan Mantri Mudra Yojana, banks have provided more than six million loans to small businesses for a total value of nearly Rs 38,000 crore or $6 billion.
"If one conservatively estimates that each loan creates 2 jobs we have laid the foundation for 12 million new jobs.
"Even Rs 2,00,000 crore (Rs 2,000 billion) invested in the corporate sector would not produce this many jobs," he said.
He said that for many of the reforms to be successful, there is a need for a strong banking system.
"We inherited a system where cronyism and corruption were believed to be rampant in banking decisions and in appointments to public sector banks," he said, adding interference in banking decisions has ended.
Further, the Prime Minister said, there is a whole eco-system focused on alleviating poverty.
"...empowering the poor is far more effective than empowering the poverty alleviation industry," he said.
On structural reforms, Modi said a series of reforms are introduced in the agriculture sector.
"There was a tendency to divert subsidised fertiliser for the production of chemicals.
"A simple but very effective solution is neem-coating of fertiliser which makes it unsuitable for diversion...We are now moving towards universal neem-coating of urea," he said.
On transport sector reforms, the Prime Minister said the country's major ports have seen a 5 per cent growth in traffic and an 11 per cent increase in operating income in 2014-15 despite a global contraction in trade volume.
"The pace of award of new highway works has increased from 5.2 km per day in 2012-13 and 8.7 km per day in 2013-14 to 23.4 km per day currently," he said.
The government is involving states even in foreign policies, Modi said, adding "making the states think globally is yet another reform with potential to transform".
He also said that an important governance issue is the mutual trust between citizens and the state.
"We made a beginning in trusting citizens by abolishing many requirements for attestation of signatures... We introduced the 'Give-it-up' campaign seeking cooperation from the public in voluntarily giving up cooking gas subsidies.
...within a few months, over four million Indians have given up their cooking gas subsidies," Modi said.
"We are also taking several steps to serve the honest taxpayers better.
"Electronic filing of returns now covers 85 per cent of all tax returns...I have also instructed that the performance appraisal system, for Income Tax Officers be changed.
"The appraisal should reflect, whether or not the officer's orders and assessments have been upheld on appeal. This will deter corruption and also motivate officers to pass correct orders," he said.
Image: Kites carrying pictures of Prime Minister Narendra Modi. Photograph: Anindito Mukherjee/Reuters