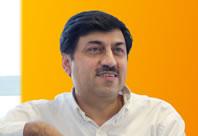 Leading global consumer goods firm Reckitt Benckiser Group plc announced appointment of India-born Rakesh Kapoor as the Chief Executive Officer designate of the company.
Kapoor will take over as RB's CEO with effect from September 1, 2011, from Bart Becht, who has held the post for 16 years.
"The Board of Reckitt Benckiser Group plc today announces the retirement of Bart Becht as CEO and is pleased to announce the appointment of Rakesh Kapoor as CEO designate," the company said in a statement.
Kapoor, who joined RB in India in 1987, is currently the Executive Vice-President global category development at RB and an Executive Committee member.
"Rakesh Kapoor becomes CEO effective September 1, 2011, with Bart Becht staying on as part-time adviser to Rakesh and the Board until September 2012 to ensure a smooth transition," the statement said.
Commenting on Kapoor's appointment, RB Chairman Adrian Bellamy said: "The Board is delighted that someone of Rakesh Kapoor's calibre is able to step
into the role of CEO.
"His close involvement in the drivers of success at RB and significant achievements to date are reassurance that the excellent performance for which RB has become renowned is set to continue."
Kapoor was appointed to the Executive Committee in 2006. Prior to this he had a successful career in RB.
"Having led the pan-European and largest health care business in RB, when also leading Northern Europe, he was one of the architects of the Boots Healthcare International acquisition in 2006 which transformed RB into a global consumer health care company," the statement said.
He has been equally involved in the recent SSL and Paras India acquisitions," Bellamy added.
Prior to joining RB in India, Kapoor worked with an IT start up, Hindustan Computers Ltd.
He is an MBA from XLRI, Jamshedpur, and has a Chemical Engineering degree from BITS, Pilani.
Commenting on his appointment Kapoor said: "I am delighted to take on this role and very much look forward to leading the business to its next stage of growth and performance, supported by an excellent senior management team."