The total wealth of top 100 real estate barons accounted for Rs 2.37 trillion ($32.7 billion) in 2018, up 27 per cent against 2017's cumulative wealth of Rs 1.87 trillion ($28.6 billion).

Raghavendra Kamath reports.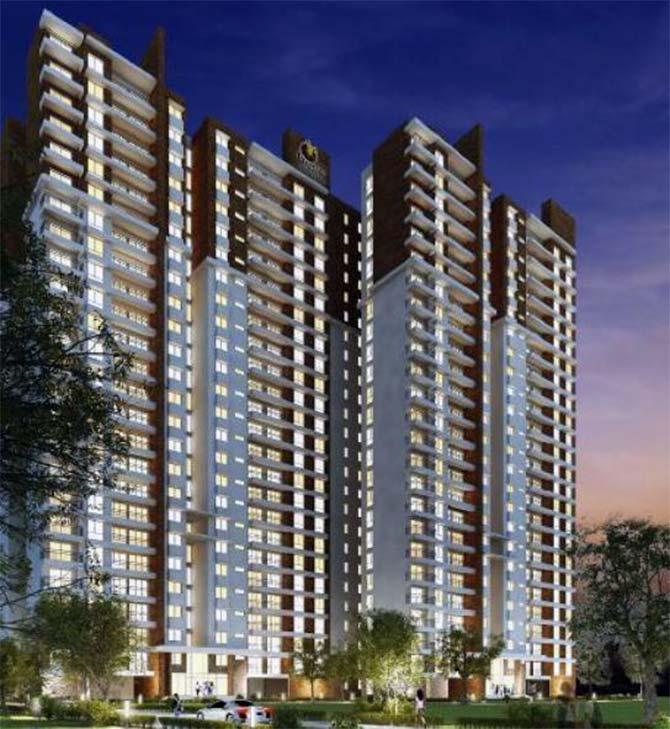 The net worth of top real estate barons (see chart) continues to rise even as the property sector is facing one of its most turbulent periods.
The sector is battling the challenges posed by the Real Estate (Regulation and Development) Act, the goods and services tax regime and, more recently, the liquidity tightening at non-banking financial companies.
The total wealth of top 100 real estate barons featured on the list accounted for Rs 2.37 trillion ($32.7 billion) in 2018, up 27 per cent against the 2017 edition's cumulative wealth of Rs 1.87 trillion ($28.6 billion).
"Some of the top companies are consolidating their position. Companies such as Lodha, Embassy, and Oberoi are doing better than others," said Anas Rahman Junaid, managing director and chief researcher, Hurun Report India.
This is the reason some of these promoters saw a jump in their net worth as their companies become bigger and stronger.
Vikas Oberoi, chairman and managing director of Mumbai-based Oberoi Realty, who is fifth on the list, said only developers with a strong brand and reputation, financial stability and the aptitude to adapt to market sentiments were thriving.
"Developers with repute, who stayed firm to their core values, have restored customer confidence in the real estate sector and this has helped them increase their market share," he said.
Amit Goenka, managing director of Mumbai-based investment firm Nisus Finance, said monetisation of commercial properties by developers, increase in permissible construction, developers' rush to build large-scale projects due to various schemes, large-scale foreign capital inflows led to rise in wealth of real estate billionaires.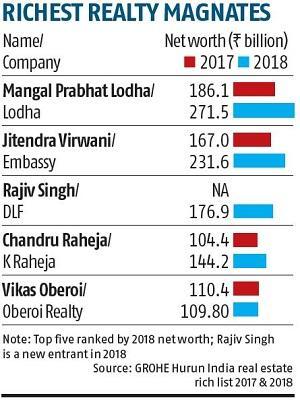 Goenka said the floor space index (FSI), permissible construction on a plot of land, had been increased in various micromarkets from 50 per cent to 200 per cent in the last three years.
The FSI for residential properties in the island city of Mumbai increased from 1.33 to 3 earlier this year.
"This helped them get better valuations for land parcels for same piece of land. What was Rs 50 became Rs 75 to Rs 200 due to this," he said.
He added that schemes such as the Pradhan Mantri Awas Yojana (PMAY) of the current government, interest subvention and low interest rate regime helped developers to launch large-scale projects and sell in huge volumes.
Anuj Puri, chairman of Anarock Property Consultants, said many of the successful real estate brands in India today did not rely solely on residential project sales but were invariably diversified across other property typologies and even businesses.
"Let's examine this a bit further. If a residential developer is also active in high-grade commercial real estate such as Grade A office complexes or shopping malls, he's likely to do very well for himself. Likewise, if he's successfully and sufficiently invested in other business lines such as power, fossil fuels, telecommunications, electronics, high-level KPO services, e-commerce or fast-moving consumer goods and other retail verticals, his account books are apt to be squarely in the green," he said.
Puri said this not only ensured successful business operations all around but also translated into a high credibility quotient as such a developer can tap into his other businesses for capital to finish ongoing housing projects.
"This can be a distinct differentiator for a real estate player in the current times, and will invariably translate into overall success," he said.