Reserve Bank of India Governor D Subbarao, who was the finance secretary when 2G licences were allocated, will appear before the Joint Parliamentary Committee examining the issue as a witness on September 18.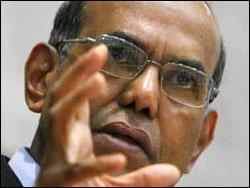 He was the finance secretary between April, 2007 and September, 2008. The controversial 2G radiowave licences were allocated in January, 2008. 
Sources said the meeting of the committee slated for September 14, in which former Cabinet Secretary K M Chandrasekhar was to appear, has been rescheduled. A fresh date will be decided to call Chandrasekhar, who was the top bureaucrat between June, 2007 and June, 2011.
The JPC meeting on September 18 is taking place after a gap of nearly a month. BJP members had stormed out of the proceedings on August 22 insisting on calling Prime Minister Manmohan Singh and Finance Minister P Chidambaram as witnesses before the panel.
Sources said besides the former Cabinet Secretary, the other "essential witnesses" the committee seeks to examine before drafting the report are the Telecom and Finance Secretaries, former Law Secretary, the present incumbent and the Attorney General.
It is not yet clear whether the six BJP members on the panel will attend the next meeting.
Amid growing bitterness between ruling and opposition sides in the 30-member JPC, five out of the six BJP members present at the meeting had walked out, claiming that Congress members had used foul language when they pressed for calling Singh and Chidambaram. Congress had refuted the allegation.