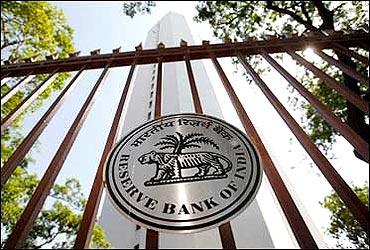 The Reserve Bank of India (RBI) has refused to share its banks' inspection reports on alleged money laundering laws and other violations with Central Economic Intelligence Bureau (CEIB), citing legal hurdles.
The RBI was required to share relevant extracts of inspection reports with law enforcement agencies and CEIB, an apex intelligence agency under the Finance Ministry, to check black money and other financial crimes where gross violations of Know Your Customer (KYC) guidelines and Prevention of Money Laundering Act (PMLA) are noticed, official sources said.
It had earlier given assurance about sharing of information relating to Foreign Exchange Management Act (FEMA) violations with CEIB, which they share with Enforcement Directorate (ED), they said.
But the central bank has not been sharing such information, the sources said. The matter of non-sharing of inspection reports by RBI with CEIB was discussed during a recent meeting of the Economic Intelligence Council (EIC) headed by Finance Minister Arun Jaitley.
At the meeting, it was highlighted by the CEIB chief that while initially RBI had agreed to share the extracts of inspection reports with it but, later on, they changed their stand.
RBI has cited "legal impediments" in sharing the reports with CEIB as it is not a statutory body, the sources said quoting minutes of the meeting.
The Central Board of Direct Taxes (CBDT) has also highlighted the issue of "non-cooperation" by RBI in sharing the information sought by the income tax department under it.
RBI had reportedly refused to share the inspection reports of a few banks, which were penalised by it, on non-compliance of KYC norms.
The CBDT representative at the meeting said that the same information was available in the public domain, but was refused by the central bank, they said.
RBI, in its response, has said that the issue of sharing such information pertains to violation of its guidelines. Hence, they could not be shared, the sources said.
Finance Ministry officials emphasised that the CBDT and CEIB are interested only in relevant extracts like KYC violations and other such contraventions and not detailed objection on the working of banks and, therefore, the information sought by them should be made available by RBI.
At the meeting, the Finance Minister said that there are many government bodies which are not created by statutes.
"If RBI can share information with Intelligence Bureau (IB), which is also not a statutory body, then what is the impediment in sharing (it) with CEIB," according to the minutes of the meeting.
It was decided that the matter regarding sharing of information by RBI with non-statutory bodies (like CEIB, IB, FIU, etc.) shall be referred to the Law Ministry for its advice, the sources said.
According to CEIB officials, the matter remains unresolved so far. The CEIB can help in checking money laundering and other financial crimes if such inspection reports are shared by RBI in time, they said.