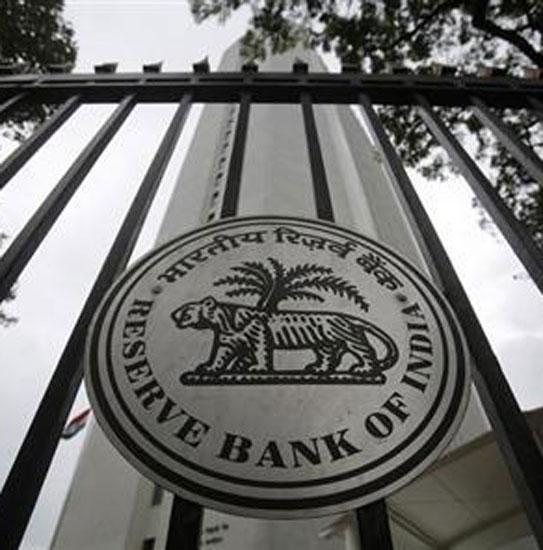 Reserve Bank Governor Raghuram Rajan on Tuesday kept policy rate unchanged awaiting clarity on impact of unseasonal rains on food inflation even as he wanted banks to pass on benefits of previous two rate cuts.
The repo rate, at which RBI lends to the banking system, will continue to be at 7.5 per cent and the cash reserve ratio, which is the amount of deposits parked with the central bank, will remain at 4 per cent.
"Transmission of policy rates to lending rates has not taken place so far despite weak credit off take and front loading of two rate cuts. With little transmission, and the possibility that incoming data will provide more clarity on the balance of risks on inflation, the Reserve Bank will maintain status quo," he said in the first bi-monthly policy review for 2015-16.
Unseasonal rains and hailstorm have impacted rabi crops across North and Western India, raising fears of spike in food prices.
Rajan, who has surprised with two rate cuts of 0.25 per cent each outside the scheduled review meetings this year, however, affirmed his commitment to the accommodative stance, but added that policy moves will be shaped by incoming data and added that transmission of rate cuts by banks will be his top-most priority.
Apart from the transmission, other factors like food prices will also be monitored closely, he said, adding that the impact of the recent unseasonal rains will also be monitored closely.
"Reserve Bank stays vigilant to any threats to the disinflation that is underway," he said, expecting that the price rise situation has so far faired according to its estimates.
On the transmission mechanism, the RBI said it will encourage banks to move to the marginal-cost-of-funds-based determination, which is "more sensitive to changes in the policy rates".
Only a few banks namely Union Bank of India and State Bank of Travancore have cut their base rates in the last four months by 0.10 per cent each, as against the 0.50 per cent cuts by RBI.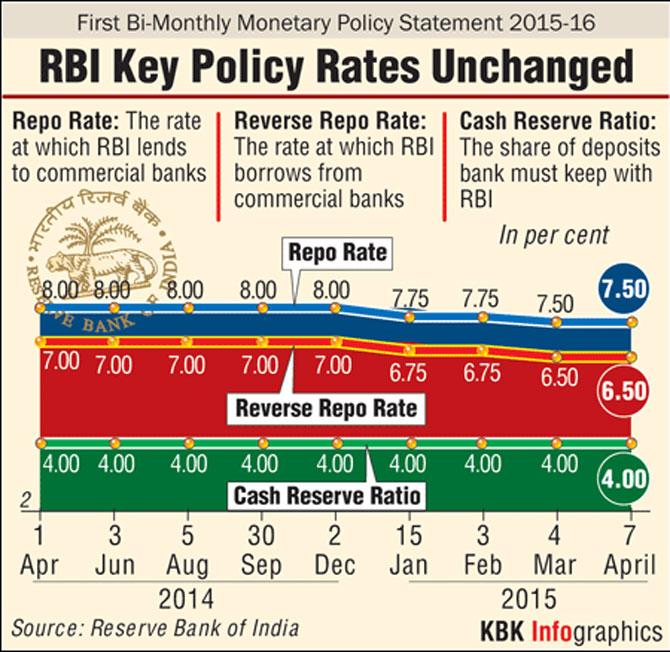 The banks have held on to the elevated rates even in the face of one of the lowest credit growths in recent years, which is hovering under the 10 per cent mark till now.
On the GDP growth, RBI estimated a 7.8 per cent expansion in the current fiscal, stating that uncertainties on the arrival of monsoon and unanticipated global developments are major risk areas.
On the external front, it said a moderate and uneven recovery is emerging, and flagged the slowdown in China, geopolitical tensions in the Middle East as downside risks.
With speculation rife about a shift in US Fed's stance to one of hiking rates, which can impact capital flows to the country, RBI said it will "watch for signs of normalisation of the US monetary policy", but added that the country is better placed to fight any impact with its over $343 billion in reserves.
Retail inflation increased to 5.37 per cent in February from the 5.19 per cent for previous month, but many analysts expect it to continue much below the RBI's January 2016 target of 6 per cent range.
Another factor which was supporting a rate cut included the range-bound core inflation, which is price rise without the food and oil components. The latest survey of household expectations may also be pointing towards a lower inflation, some watchers said.
However, the impact of factors like unseasonal rains on food inflation was a key impediment to the expectations of a rate cut.