After a tumultuous past few days that almost halved value of the Adani group, embattled tycoon Gautam Adani-led conglomerate had some pressure eased on Friday as two global rating firms stuck with their calls on its credit profile and its French partner backed its investments in the group firms.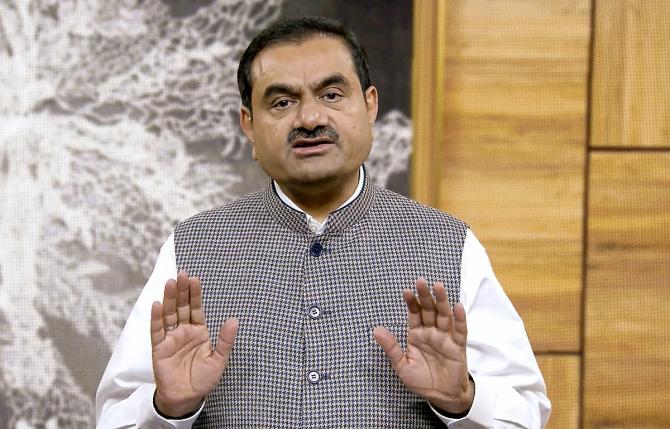 Also for the first time since January 24, shares of the group's flagship firm Adani Enterprises ended in positive territory after erasing an intraday loss of 35 per cent. Adani Ports and SEZ also ended 8 per cent higher.
This is after a over $100-billion rout in value of group stock since the US short seller Hindenburg Research accused Adani group of stock manipulation and accounting fraud.
Adani Group has repeatedly denied any wrongdoing and has threatened to sue Hindenburg.
Six other group stocks however finished lower.
Also, both Houses of Parliament were adjourned for the second straight day without transacting any official business as opposition parties demanded a probe by a joint parliamentary committee in the stock rout in Adani companies and Hindenburg allegations.
The government on its part dismissed concerns of any systematic failure while the central bank said the country's banking sector was resilient and stable, and that it maintains constant vigil on the lenders.
Reserve Bank of India (RBI) issued a statement that did not name Adani but said as a regulator and supervisor, the central bank maintains a constant vigil on the banking sector and on individual banks with a view to maintain financial stability.
"The banking sector remains resilient and stable.
"Various parameters relating to capital adequacy, asset quality, liquidity, provision coverage and profitability are healthy," it said.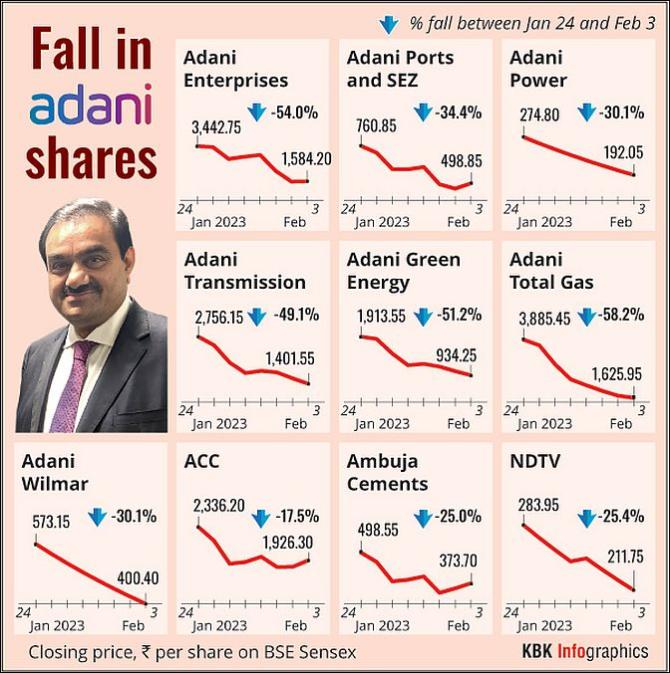 Finance Minister Nirmala Sitharaman told News18 that the Adani saga was not indicative of the Indian regulatory system and that financial markets were well-governed and in prime condition.
In an interview to PTI, finance secretary T V Somanathan said the stock market turmoil created by rout in Adani group shares is a "storm in a teacup" from a macroeconomic point of view and that India's public financial system is robust.
Separately, Fitch Ratings said there's no immediate impact on the credit profile of the Adani companies it rates following the Hindenburg report and that it doesn't expect material changes to the forecast cash flow.
Its peer Moody's Investors Service warned that the rout in Adani Group shares could hurt the conglomerate's ability to raise capital to fund committed capex or refinance maturing debt over the next 1-2 years.
S&P Global Ratings, however, revised outlook on Adani Ports and Adani Electricity to negative from stable while affirming the rating.
"There is a risk that investor concerns about the group's governance and disclosures are larger than we have currently factored into our ratings, or that new investigations and negative market sentiment may lead to increased cost of capital and reduce funding access for rated entities," S&P said adding short-term liquidity is adequate, and debt maturities in the next 12 months are manageable.
Adani Group got a vote of confidence from its French partner. TotalEnergies SE said it invested in two Adani Group companies in full compliance with Indian laws and no re-evaluation has been performed.
It said its exposure to Adani Group companies was USD 3.1 billion of capital employed at the end of December, a small fraction of the energy giant's globe-spanning interests.
State-owned lenders too said their exposure to Adani group was well within limits.
State Bank of India (SBI) said its total exposure to Adani Group was 0.88 per cent of the book or about Rs 27,000 crore, and that it does not envisage any setback on its bets.
Bank of Baroda said it has reduced exposure to the ports-to-energy conglomerate over the last two years, and has no concerns on asset quality issues with the conglomerate.
But politically, opposition parties are using the saga to mount pressure on Modi government.
Congress MP Shashi Tharoor said the government has been stalling the Opposition's demand for discussions on every issue which it feels would embarrass it.
"All the opposition parties unitedly want to discuss this (Adani Group issue) extremely important issue as it affects the citizens of this country.
"They believe that this is a matter of sufficient importance that the government should permit," Tharoor told PTI.
But the government doesn't want to discuss any issue that it thinks would embarrass it, he alleged.