Ratan Tata has invested an undisclosed amount in an entity catering to pet care.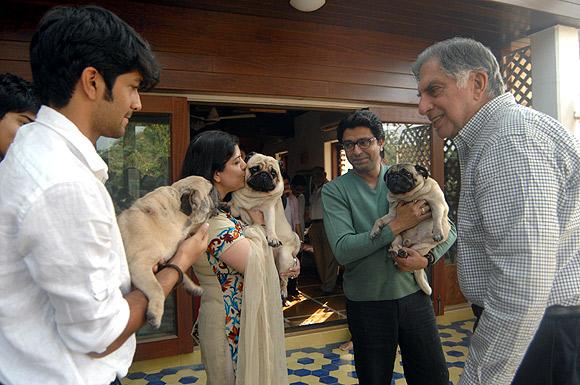 Ratan Tata's fondness for dogs is known. It is common to find dogs at the reception of Bombay House, headquarters of the $110-billion Tata Group in Mumbai.
Veterans there share the story of how Ratan Tata ordered that strays be allowed to take shelter at Bombay House, after he saw them getting wet outside on a monsoon evening.
This story had certainly reached Rana Atheya, chief executive officer of DogSpot.in.

"I reached him for funds as I knew that he is passionate about dogs," says Atheya, in the business for four years. Tata obliged and has apparently invested an amount which hasn't been disclosed.
India has an estimated four million pet dogs, smaller in comparison to nine million in Britain and 83 million in America.

However, the number of pet dogs in these developed countries has plateaued but is growing at 15 per cent a year here.
At an average of Rs 50 a day on pet dogs, the Indian market is worth Rs 7,300 crore ($1.1 billion). This is much smaller compared to the US, which spends about $30 billion a year on pet dogs.
As disposable income grows, expenditure on pets should see a rising trend.

Bengaluru has seen about 50 dog spas coming in the past three years, where owners bring their pet for a bath and grooming. DogSpot.in sells grooming items such as combs, shampoos and deodorants for dogs, beside food and accessories under its private label.
The sector is largely unorganised and Atheya sees an opportunity in organising it by providing the convenience of online shopping.

He also plans to sell his private label products through more traditional retail outlets.
"Ratan Tata is passionate about developing an entrepreneurial culture and ecosystem in the country, which saw him investing in about 20 start-ups in the past decade," says serial entrepreneur K Ganesh, also an investor in DogSpot and in another Ratan Tata investee company, Bluestone.

"He clearly sees an opportunity for the category and wants to support it." DogSpot has gone beyond offering products and plans to engage dog lovers through on-line community building and providing useful content.
"With more people living in cities, and also frequently alone, traditional social networks have broken down and are creating more social isolation and alienation. Some consumers are turning to pets to help fill this void," says London-based market intelligence firm Euromonitor International, on how urbanisation is driving the spending on pets.

"Urbanisation can drive the pet care market because city-dwellers are more likely to give their pets prepared food then their rural counterparts, mainly due to the fact that they tend to lead faster-paced, convenience-driven lifestyles."