'I would say restore the banks to health, get active board composed of professionals, then there will be an ideal situation for merger.'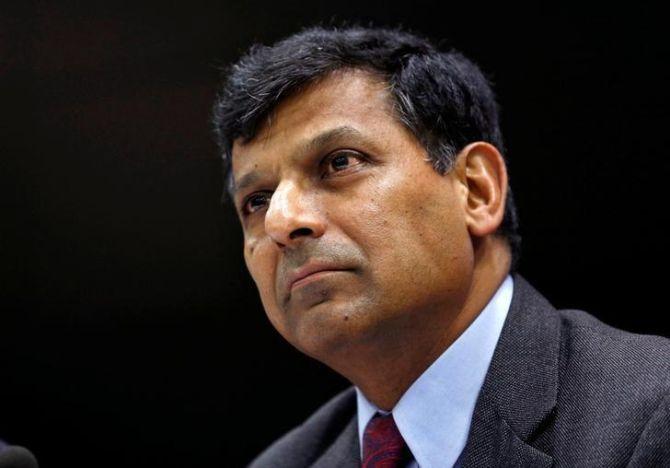 Mergers of PSU banks should be done only after balancesheets are cleaned up and these are nursed back to health with adequate capitalisation, said former RBI governor Raghuram Rajan.
"I would say restore the banks to health, get active board composed of professionals.
There has been a steady attempt to professionalise banks and remove political hacks.
Once we have done that, I think there will be an ideal situation for merger," he said in an interview to PTI.
He was responding to a question on the government's push for consolidating public sector banks with an aim to create fewer and larger banks.
Rajan also suggested that decisions need to be made by those who understand the banking system rather than necessarily by bureaucrats.
"It seems to me that cleaning up has been postponed for one reason or the other. We are in a reasonable position to do it. We need to actually achieve it and put the capital that is necessary to recapitalise the banks where it is needed and after it seems that some of the (merger) decisions can be made," he added.
The statement assumes significance as the government recently initiated the process of second round of consolidation in public sector banks by constituting an Alternative Mechanism to oversee proposals of amalgamation.
Pointing out that going forward, the merger would not be as easy as SBI that had few teething issues, Rajan said "you would be merging banks with fairly different culture, fairly different orientation, system and region".
"To that extent, you have to be careful about time it will take and what the merger would add in terms of value.
Merger requires a fair amount of cultural focus because you are merging banks which have different cultures," he said.
"There are personnel problems like who becomes the boss, who becomes the subordinates. For example, if you are merging two forex units, then who becomes the boss? So, all these issues come to the fore. It occupies enormous amount of the management's time," the ex-governor pointed out.
Talking about Asset Quality Review (AQR) initiated during his regime to clean up banking, Rajan said what was unique about the exercise was that for the first time, the regulator went across the banks to see if they were classifying the same promoter and the loan the same way.
The RBI had embarked on the AQR journey from December 2015 and asked banks to recognise some top defaulting accounts as NPAs and make provisions for them. This has had a debilitating impact on banks' numbers.
Almost all lenders in the system have reported a sharp increase in asset quality stress and heightened provisioning as a result of the AQR, under which banks have been reportedly asked to recognise stressed accounts by March 2017.
Photograph: Danish Siddiqui/Reuters