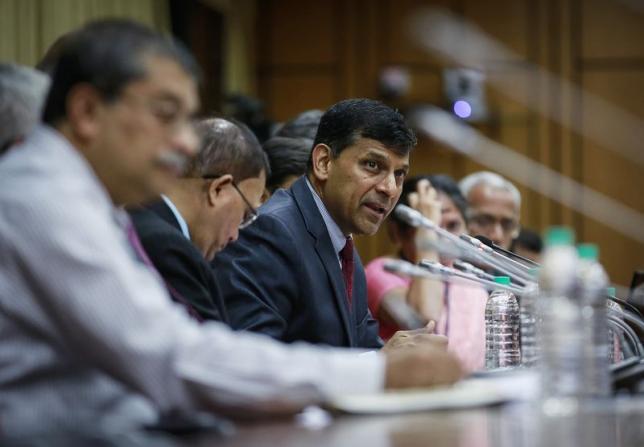 The Reserve Bank of India (RBI) Governor Raghuram Rajan speaks during a news conference in Mumbai. Photograph: Danish Siddiqui/Reuters
Reserve Bank Governor Raghuram Rajan kept the policy rate unchanged earlier this month, despite a majority of seven external advisors to the RBI board favouring a cut of up to 0.5 per cent, the central bank said on Wednesday.
Four members recommended reduction in the policy repo rate, RBI said while releasing summary of Technical Advisory Committee on Monetary Policy.
Out of these four, two members of the Technical Advisory Committee pitched for a 0.50 per cent rate cut along with a forward guidance of no further reduction, Two members suggested 0.25 per cent cut in the policy rate as food inflation wa still high.
"Three members recommended no change in the policy repo rate. They were of the view that until the two 25 basis points cuts in the repo rate, in January and March 2015 are transmitted into lending rates, no further cut is desirable," the minutes of the meeting showed.
RBI went with the minority view by keeping the policy rate unchanged at 7.5 per cent while unveiling its first bi-monthly monetary policy for the current fiscal on April 7.
The members who pitched for 0.50 per cent rate cut were of the view that the prevailing monetary policy stance was tight, causing deceleration in real private consumption demand.
Indicators such as weak IIP growth, low capacity utilisation and stressed profitability of the corporate sector indicate that high interest rates are choking demand in interest-sensitive sectors such as automobiles and housing.
"They were of the view that a decrease in interest rates would stimulate the interest-sensitive sectors of the economy and enable depreciation of the exchange rate, thereby helping the globally connected sectors," it said. The two members who recommended a cut in the policy repo rate by 25 basis points felt that the inflation excluding food and fuel has declined.
"However, given the uncertainties regarding the path of the fiscal deficit, the monsoon, and the way the US Fed will announce increases in its policy rate, the policy rate reduction ought to be by 25 basis points and not 50 basis points," as per minutes of the meeting.
"They were of the opinion that front-loading of policy rate cuts would remove some of the expected asset appreciation that is driving in large debt flows," it added.
Those who recommended no change emphasised that simultaneous monetary and fiscal easing was a major risk and found the desire of some members to front-load cuts rather puzzling.
The third cut in the interest rate may wait at least till August after the monsoon impact is known," it said.
External members who attended meeting were Y H Malegam, Shankar Acharya, Arvind Virmani, Indira Rajaraman, Errol D'Souza, Ashima Goyal, and Chetan Ghate.