Acceleration in demand, together with marginal price hikes of about 2-3 per cent by cement companies in the October-December quarter (third quarter, or Q3) of 2022-23, may not be enough to cushion the impact of high input costs on the bottom line, reveal Bloomberg consensus estimates for the quarter.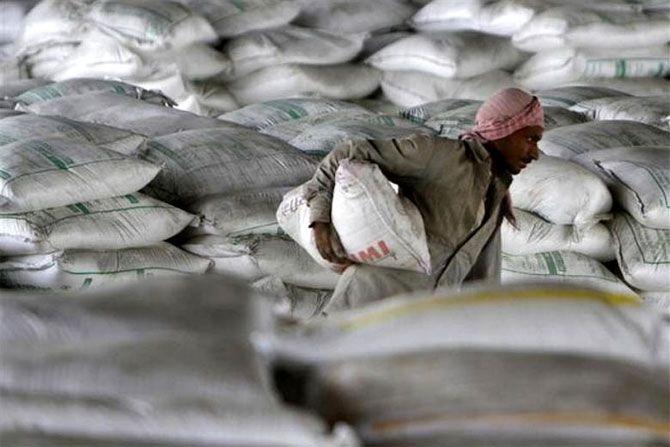 Year-on-year (YoY) net sales growth in Q3 will come in at nearly 7 per cent, shows Bloomberg data, while bottom-line growth will show a sharp decline of 25 per cent from a year ago.
The earnings before interest, tax, depreciation, and amortisation (Ebitda) will likely decline by nearly 5 per cent versus a year ago, shows data.
Sector experts say while prices of imported thermal coal and petroleum coke (petcoke) have fallen nearly 45 per cent and 25 per cent each from their peaks in June-July 2022, power and fuel costs have fallen only marginally in Q3, as companies are still carrying high-cost inventory.
Both thermal coal and petcoke are sources of energy for cement companies.
As a whole, power and fuel costs constitute 30-40 per cent of the cost of production for cement firms, observe sector experts.
Companies like UltraTech, ACC, Shree Cement, and Dalmia Bharat, for instance, are likely to report YoY net sales growth of 17.1 per cent, 9.6 per cent, 20.5 per cent, and 21.4 per cent each, shows Bloomberg data.
While YoY net profit growth for UltraTech and Shree Cement will likely decline by 35 per cent each, ACC may decline by 22.3 per cent.
"The reversal of rail freight discount after monsoon should also lead to an increase in freight cost in Q3, thereby partly offsetting the reduction in power and fuel costs," say analysts Amit Murarka, Jayant Gautam, and Darshan Mehta of brokerage Axis Capital, in their report on the cement sector (dated January 6).
Compared to the second quarter, volatility in most commodities is down, say analysts, bringing respite in Q3 from input cost pressures.
This reflects in the quarter-on-quarter Ebitda and profit growth for cement companies, which, according to Bloomberg consensus estimates, show a growth of 47.4 cent and 52.8 per cent each in Q3.
"But the full impact of low-cost inventory will show up in the fourth quarter (Q4)," say analysts Dharmesh Shah and Harshal Milan Mehta of brokerage Emkay Global.
"We estimate margin recovery to further accelerate in Q4, owing to a major benefit of the inventory lag from the recent weakness in input prices and better operating leverage.
"International petcoke prices are down sharply. With a 10-15 per cent correction in crude oil prices recently, an increase in diesel price has also been ruled out for the near term," they say.
From a demand perspective, the outlook remains firm as construction activity in housing and infrastructure remains strong, say company and sector analysts.
This augurs well from a pricing point of view, which can absorb small hikes for now.
"Demand has grown from sectors such as infrastructure and construction.
"Moreover, the market can absorb price hikes of about 3-4 per cent," says H M Bangur, chairman, Shree Cement.
"Sales volume growth for cement is in the region of 10-11 per cent in Q3 due to recovery in rural demand and pick-up in construction activity. South and east regions, in particular, have led growth during the quarter.
"The outlook remains strong for the future," say analysts Rashesh Shah and Debroto Sinha at brokerage ICICIdirect.
Volume growth is expected to be highest for Shree Cement and Dalmia Bharat at 23 per cent and 15 per cent each in Q3, say analysts.
UltraTech may clock volume growth of about 9-10 per cent, while ACC and Ambuja are likely to register weak volume growth.