HDFC Bank managing director Aditya Puri, ICICI Bank MD and CEO Chanda Kochhar, and Axis Bank MD and CEO Shikha Sharma did not receive their bonuses in full for financial year 2016-17
Illustration: Dominic Xavier/Rediff.com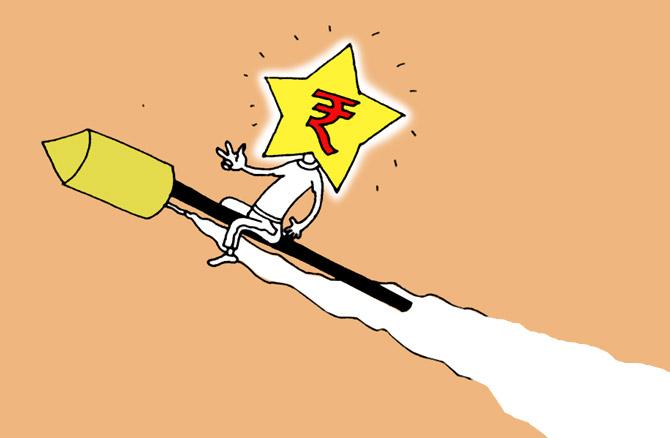 Top private bank chief executive officers (CEOs) are yet to see their full bonuses for 2016-17 ring into their bank accounts, 2017-18 annual reports show.
The bonus or variable pay paid to the top management is approved by the bank's board and sent to the Reserve Bank of India (RBI) for approval.
The banking regulator did not clear past bonuses of top private banks till the banks published their annual reports.
Once the central bank approves the bonus, it is paid to the management in instalments.
HDFC Bank managing director (MD) Aditya Puri, ICICI Bank MD and CEO Chanda Kochhar, and Axis Bank MD and CEO Shikha Sharma did not receive their bonuses in full for financial year 2016-17, reveal their annual reports.
Both the ICICI and Axis Bank annual reports are silent about their CEOs' bonus for 2017-18 unlike in the past year's annual report.
HDFC Bank discloses the bonus for earlier years only after it has been awarded to its MD.
Other banks do not clearly disclose the bonus, variable pay or incentive component of CEOs' compensation and include it in the overall salary.
But those that clearly declare bonus in their annual reports - ICICI Bank, Axis Bank, and HDFC Bank - showed that the CEOs received deferred bonuses of previous years, but the bonus for 2016-17, if at all, was minimal or missing.
Unlike in the past years, the ICICI Bank and Axis Bank were silent about the 2017-18 bonus, since approval for the previous year did not come from the RBI.
HDFC Bank said in its 2017-18 annual report that "bonus pertaining to the year 2016-17 proposed to be paid out in 2017-18 is pending RBI approval".
Interestingly, both ICICI Bank and Axis Bank, which have both been beleaguered for various reasons, have seen a rise in the basic pay and allowances of their MDs.
In 2017-18, ICICI Bank's Kochhar was paid a bonus of Rs 21 lakh, including "deferred portion of bonus approved in earlier years that was paid during 2017-18".
The bonus paid to Kochhar during 2016-17 was Rs 45 lakh (including deferred payment).
For 2016-17, Kochhar was also awarded a bonus of Rs 2.2 crore by the bank board (which was subject to RBI approval).
Sharma received a deferred variable pay of Rs 44 lakh during 2017-18, relating to the 2014 and 2015 fiscal years, according to the 2018 annual report.
According to the 2017 annual report, Sharma was supposed to be getting Rs 1.35 crore for the fiscal year.
However, the RBI has still not approved her 2016-17 bonus, said the bank's latest annual report.
Emails sent to ICICI Bank, Axis Bank, and HDFC Bank went unanswered.
Kochhar's basis pay rose 15 per cent to Rs 3.07 crore, while Sharma's grew 7 per cent to Rs 2.9 crore.
Perquisites and allowances and retiral benefits also rose for both.
Not only did both ICICI Bank and Axis Bank see poor performance in 2017-18, Kochhar and Sharma have been under scrutiny.
Kochhar is being investigated on conflict of interest charges in a loan given to the Videocon group.
In Sharma's case, the RBI had raised questions over her reappointment by the board, and Sharma then decided to resign in December 2018.
Besides bad loans like ICICI Bank, Axis Bank is also facing inquiries into earnings leaks over WhatsApp.
Both Axis and ICICI Bank were also found to be under-reporting their bad debts.
The divergence between what Axis Bank reported and what RBI auditors found was to the tune of Rs 5,632 crore in 2016-17 and Rs 9,478 crore in 2015-16.
For ICICI Bank, the divergence for 2015-16 was Rs 5,100 crore and there was no divergence in 2016-17.
Experts say that not all private sector chiefs get compensated based on their performance alone.
"It should be performance-linked, which is not the case currently," said Anil Singhvi, chairman of Ican Investment Advisors.
Bank CEOs continue to earn hefty compensation by way of stock options.
There was no reduction in Kochhar's stock options over previous year at 15 lakh shares, while Sharma's reduced from 900,000 in 2016-17 to 540,000 in 2017-18.
According to Singhvi, there has not been paring down of financial incentives to bank executives so far, and it is still early days for activist shareholders and a unified platform where the external stakeholder can be heard.
"In the future, however, when the going gets tough and numbers start to falter there are no doubts the questions are going to start to get louder and harder," he adds.