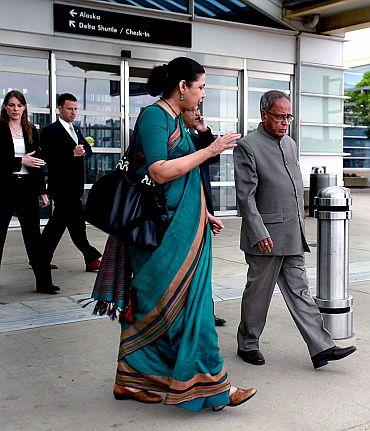 Union Finance Minister Pranab Mukherjee arrived in Washington, DC on Monday to participate in the India-US economic partnership dialogue, during which he is expected to meet US Secretary of State Hillary Clinton.
Being billed as highest economic meeting between the two largest democratic countries of the world, senior economic and regulatory officials from India and the US will join the US Treasury Secretary Timothy Geithner and Mukherjee for the second annual meeting of the US-India Economic and Financial Partnership.
The meeting is focused on expanding opportunities and addressing key economic challenges in the US and India.
The Obama administration has thrown out a red carpet welcome for the finance minister, who is not only the senior most political leader of the country, but being considered here as one of the most influential Cabinet Ministers of the UPA government led by Prime Minister Manmohan Singh.
Geithner is hosting a dinner for Mukherjee later in the evening, on the eve of the talks. Soon after his arrival, both the leaders are scheduled to join a panel discussion on US-India Economic and Financial Partnership organised jointly by the Confederation of Indian Industry and the Brookings Institute, a Washington-based think tank.
On Tuesday, Mukherjee is scheduled to meet Hillary Clinton at the Foggy Bottom headquarters of the State Department; wherein the two leaders are expected to discuss a wide range of bilateral and regional issues.
Ahead of the meeting, the US Under Secretary of Treasury for International Affairs Lael Brainard told a group of Indian reporters that the objective of the meeting is to move the two countries closure to realising the full potentials of this economic relationship.
Besides the reform, the US would take up with India the reforms of financial sector, development of the bond market, potentials of infrastructure financing.
"Finally we are going to deepen cooperation in the area of anti-money laundering and counter terrorist financing. So that's another area that we think has a lot of potentials," Brainard said.
Image: Indian Ambassador to US Meera Shankar escorts Union Finance Minister Pranab Mukherjee as he arrives in US on Monday
Photograph: Jay Mandal/On Assignment