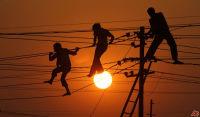 Power Ministry has opposed Environment Ministry's conditional clearance to the 4,000 MW ultra mega power project in Orissa and expressed concern over delay in approvals.
Three projects, including one UMPP, are proposed in Orissa and the Environment Ministry is of the view that coal reserves were sufficient only for developing one project, a proposal rejected by the Power Ministry.
It is feared that the Environment Ministry will draw limits as far as coal mining in that areas is concerned that could affect supply for other projects.
If required, the power ministry would challenge the Jairam Ramesh-led Environment Ministry, sources in the know said.
It (Ministry of Power) is of the view that "there should be no need to forgo any project to develop another one".
"We want all the three projects in that vicinity to come up and not only the UMPP," a senior Ministry official said.
State-owned NTPC and Orissa government are also constructing thermal power projects in that vicinity.
Environment Ministry had said that the coal from the three coal blocks allotted to the UMPP -
Meenakshi, Meenakshi B and the dipside of Meenakshi can be utilised for only one power project.
Power Finance Corp, the nodal agency for implementation of ultra-mega power projects in the country, has already postponed the process of inviting preliminary bids for the Orissa UMPP to May, 2011.
The MoEF had put three coal blocks allotted to the project in "no-go" areas, which means mining cannot take place in these areas, as it may cause damage to the environment.
This had resulted in delaying the bidding process for the project, as developers are shying away from committing their investment in the absence of such clearances.
The government has so far allotted four UMPPs, of which three - Sasan (Madhya Pradesh), Krishnapatnam (Andhra Pradesh) and Tilaiya (Jharkhand) - have been bagged by Reliance Power and the one at Mundra in Gujarat by Tata Power.
These UMPPs are expected to contribute significantly towards the government's ambitious plans of adding about 1,00,000 MW of electricity in the next Five-Year Plan (2012-17).