Pollution and overheating have topped the list of seven deadly stress factors which effect Mumbai commuters the most, a survey has revealed.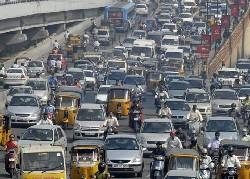 Road rage, rash and dangerous driving, loud mobile conversations, delays and service interruptions and bad odour from other commuters are the other major stress factors, the survey, conducted by workspace solutions provider, Regus, further revealed.

In Mumbai, the average one-way commute is 41 minutes, although 41 per cent of Mumbai commuters have to travel over three quarters of an hour each way.

Yet, the time taken to commute is less of an issue than the commuting experience, Regus said in a release here.

No business organisation wants employees to come to work already exhausted and stressed out and unable to function properly.

The findings of the Regus survey help to identify the major causes of commuting stress across drivers and users of public transport, the release said.

Over 10,000 business respondents from the Regus global contacts database were interviewed during August and September 2010.

Respondents were asked about their commuting time and their major source of stress whilst commuting.

The research was managed and administered by the independent organisation, Marketing UK. The sample size in the India was 174 small, medium and large companies.

The release quoted Madhusudan Thakur, Country Head, Regus India, saying "We can recognise our own worst experiences in the findings of this survey. Road rage and dangerous driving is a real concern for drivers and pedestrians alike, hence their top billing."