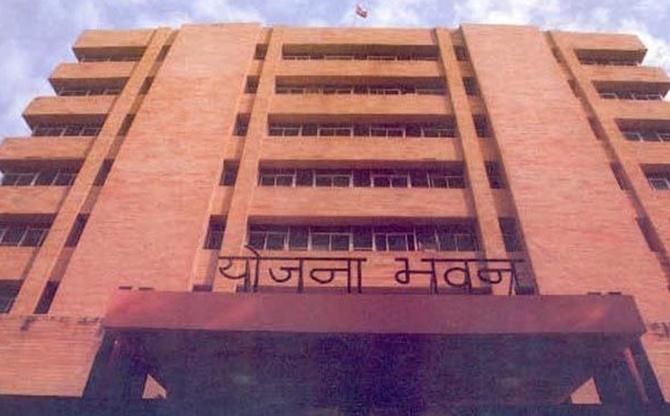 The 65-year-old Planning Commission was on Thursday replaced by a new body, NITI Aayog or National Institution for Transforming India, which will serve as a policy think-tank for the central as well as state governments and have Prime Minister Narendra Modi as its Chairperson.
The NITI Aayog will have a governing council comprising of all state Chief Ministers and Lt Governors and will work towards fostering a 'co-operative federalism' for providing a "national agenda" to the centre and states.
The body will have a CEO and a vice chairperson, to be appointed by the Prime Minister, in addition to some full-time members and two part-time members, while four union ministers would serve as ex-officio members.
The Planning Commission, known as a socialist era institution, instead had a Deputy Chairperson.
Besides, there would be specific regional councils, while experts and specialists from various fields would be there as "special invitees nominated by the Prime Minister".
NITI Aayog will serve as a 'Think Tank' of the government as "a directional and policy dynamo" and would provide the governments at the Centre and in states with strategic and technical advice on key policy matters including economic issues of national and international importance, an official statement said.
NITI Aayog follows Prime Minister Narendra Modi's announcement in his Independence Day speech in August 2014 that there is a need for replacing the Planning Commission by a new body keeping in view the changed economic scenario.
The government has set up the new body through a Cabinet Resolution, wherein it has invoked words of leaders like Mahatma Gandhi, B R Ambedkar, Swami Vivekanand and Deen Dayal Upadhyaya.
While the two part-time members would be from leading universities and research organisations, the number of full time members has not been specified as yet.
As per the Resolution, the NITI Aayog will provide a 'national agenda' for the Prime Minister and Chief Ministers to foster cooperative federalism while recognising that "strong states make a strong nation".
It will also interact with other national and international Think Tanks, as also with educational and policy research institutions. The NITI Aayog has been set up after intensive consultations with stakeholders across the spectrum including states, domain experts and institutions.
The new body has been set up by a resolution of Union Cabinet as was done in case of Planning Commission which was established on March 15, 1950.
NITI Aayog will provide a critical directional and strategic input into the governance process by engaging citizens, providing "egalitarian access to opportunity", and increasing the use of technology, said the statement.
Being the incubator of ideas for effective governance, will be the core mission of NITI Aayog, it added. The objective of the new body is to evolve a shared vision of national development priorities, sectors and strategies with the active involvement of states.
It will develop mechanisms to formulate credible plans at the village level and aggregate these progressively at higher levels of government.
The body will ensure, on areas that are specifically referred to it, that the interests of national security are incorporated in economic strategy and policy. It will pay special attention to the sections of our society that may be at risk of not benefiting adequately from economic progress.
The Aayog will design strategic and long term policy and programme frameworks and initiatives, and monitor their progress and their efficacy.
Photograph: PTI