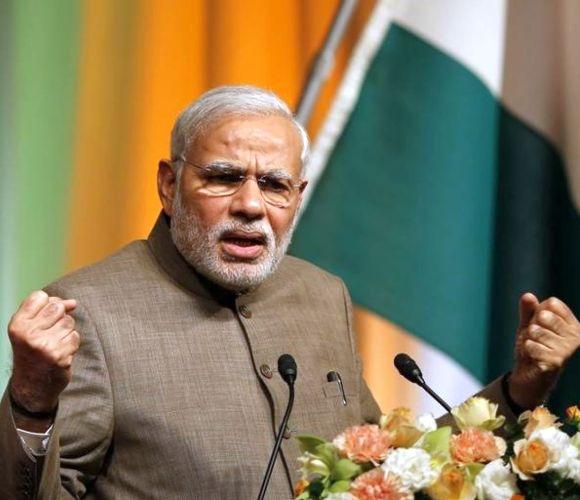 Prime Minister Narendra Modi gestures during a speech. Photograph: Toru Hanai/Reuters
Ahead of a reception for Prime Minister Narendra Modi at Madison Square Garden in New York City on Sunday (US time), Indian-American business leaders are meeting on Saturday (US time) to discuss ways to make the ambitious 'Make in India' mission a success.
"Come, Make in India", is how organisers and the US India Political Action Committee (USINPAC) are hard-selling Modi's manufacturing pitch at the networking session.
On Thursday, Modi had launched the Make in India initiative, in the presence of industrialists such as Mukesh Ambani, Cyrus Mistry and Kumar Mangalam Birla, just a couple of hours before leaving for the US.
Though he didn't announce any incentives for industry to invest in manufacturing, the PM stressed along with its 'Look East' policy, India must "Link West", sending a message to international businesses, especially those in the US.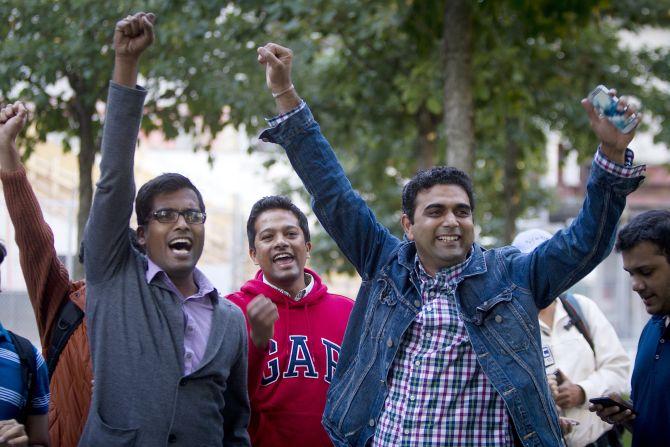 Supporters of India's Prime Minister Narendra Modi cheer after he unveiled a commemorative wreath at the site of the 9/11 Memorial in the lower Manhattan borough of New York.. Photograph: Carlo Allegri/Reuters
The networking session is aimed at prodding businesses to look at opportunities in high-tech manufacturing in India, in sectors such as defence, medical devices, computer parts/chips and phones, according to a USINPAC representative.
"So far, the feedback has been mixed: people are largely interested, but some are still sceptical," he said.
Among those attending Saturday's event in New York are Sumit Handa, chief investment officer, Philadelphia Board of Pensions and Retirement, and Mahesh Kalva, chief technology officer of Lockheed Martin, which has established a joint venture with the Tata group.
Despite many international businesses recently complaining about gaps in Indian policies and its taxation structure, as well as lack of substantial infrastructure here, it was felt business leaders in the US were enthusiastic and some announcements on manufacturing and infrastructure were expected, said a person associated with the 'Come, Make in India' session.
"India needs $1 trillion of investment in infrastructure. So, the need is large. And, right now, private equity companies are sitting on a lot of money, which they are looking to deploy."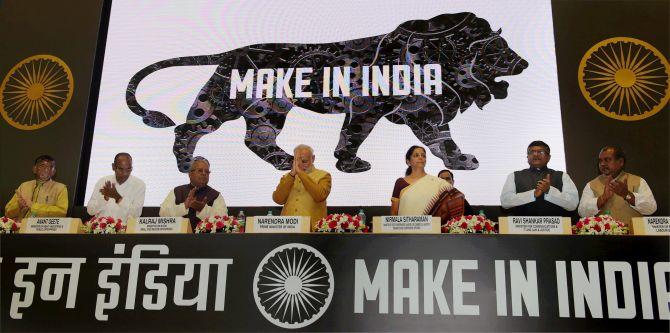 PM Modi at the 'Make in India' event. Photograph: PTI
A person invited to the event, expected to be attended by an elite club of 80-100, including prominent US lawmakers and political and business delegates from India and the Indo-American community, said, "As India takes giant strides towards digitisation and transforms into a financially inclusive and a skilled nation, the dream of 100 smart cities and the metamorphosis into a manufacturing hub in the next few years is the current buzzword."
The idea was to discuss opportunities to "make in India, and to make a new India", said an associate.
Pointing out senior officials of the biggest defence firms, prominent American pension funds and investment banks would attend the session, USINPAC Chairman Sanjay Puri said, "These are the kind of people who provide the building blocks of 'Make in India'."
In the US, Modi has several interactions lined up with chiefs of major businesses, including Ginni Rometty of IBM, Jeff Immelt of GE and Marilyn Hewson of Lockheed Martin.
Though he hasn't taken any Indian industry delegation along, prominent Indian industrialists such as Reliance Industries Chairman Mukesh Ambani and Adani Group Chairman Gautam Adani will attend some of the receptions being hosted for the PM.
At a US India Business Council reception on September 30, a seat around Modi's table fetched as much as $100,000 in sponsorship money.
At the launch of his 'Make in India' initiative, Modi had said incentives couldn't attract businesses; rather, it was important to create an environment of trust and confidence.
He also coined a new definition of FDI - first develop India. Addressing Indian and foreign industrialists, ambassadors and high commissioners and senior government officials, Modi had said his government would ensure there was sufficient investment in manufacturing in India.
"You cannot attract investment just by an invitation…The most essential factor is trust. Let's start with trust and the government will intervene only if it sees any deficiencies," he had said.
The PM intends to increase the share of the manufacturing. Modi is planning to increase the share of manufacturing in India's gross domestic product from 15 to 25 per cent.