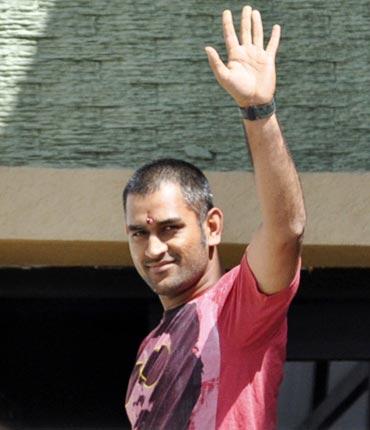 Mahendra Singh Dhoni dropped a bombshell on Tuesday by announcing his retirement from Test cricket with immediate effect, but Brand Dhoni will continue to play a long innings.
For one, he will continue to play for India in One-Day Internationals and Twenty20 matches.
Second, with the World Cup in Australia and New Zealand coming up, his brand image will get a huge facelift.
Experts say Brand Dhoni has acquired a universal appeal that isn't dependent on cricket alone. Currently, the cricketer endorses 20 brands and is in the final stages of negotiations to sign a couple more in the first quarter of 2015.
Typically, his endorsements are for three to five years, but brands rarely let go of the man once they sign him. Dhoni endorses brands across sectors from telecom (Aircel) to automobiles (TVS Motor), fast-moving consumer goods (Pepsi), consumer durables (Orient PSPO and Videocon), sportswear/footwear (Reebok) and sports accessories (Australia-based Spartan Sports).
Not only does he endorse the highest number of brands, he is also the highest paid in this segment.
According to estimates, Dhoni's annual fees stand at Rs 12 crore a brand. His closest competitor, cricketer Virat Kohli, charges about Rs 10 crore a brand, a year. Forbes magazine had ranked Dhoni 31st on its list of richest sportspersons, ahead of Usain Bolt, Novak Djokovic, Wayne Rooney, etc.
Those rankings were, however, for the year ended June 2012. Since then, Dhoni has signed many other deals.
Arun Pandey, Dhoni's manager and chairperson of Rhiti Sports Management, the company that manages his brand endorsements and communication, says, "I do not see any impact on Dhoni's brand in the foreseeable future.
First, what he has done for the team and the nation will stay in the minds of people for a long time.
So, his visibility will not be affected.More importantly, India won't be playing much Test cricket after the Australia series for about a year."
Another sports management professional, who manages endorsements and publicity for a few cricketers of the Indian national team, said earlier, people associated Dhoni with rustic and second-rung brands but today, he had endorsements across the table.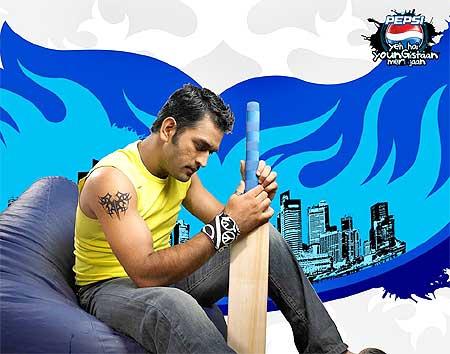 "I think a big contributor to this is the fact that he represents India as team India captain; Ranchi, as that is his hometown; and Chennai, thanks to his association with Chennai Super Kings.
Rarely does a cricketer or any sportsman have a strong presence across three levels," he said.
Dhoni is also in the thick of things in terms of other sports.
The Rajiv Gandhi Khel Ratna awardee has interests in two sports teams - he has acquired sweat equity in Hero Hockey India League's Ranchi franchise, as well as Hero Indian Super League's Chennaiyin FC (co-owned by actor Abhishek Bachchan and Vita Dani).
On the field
90: Number of Tests
144: Innings
4,876 Runs
scored Source: Cricinfo dot com
Brands endorsed: Aircel, Pepsi, Orient PSPO, Spartan Sports, Reebok, Boost, Amity University, Gulf Oil, Amrapali Group, Ashok Leyland, McDowell's Soda, Big Bazaar, Exide Batteries, TVS Motor, Sony Bravia, Sonata Watches, Dabur Chyawanprash, Lays Wafers, Lafarge Customer Service and Maxx Mobile
Average endorsement fee per year: Rs 12 crore
Interest in sports team: Chennaiyin FC (Hero ISL), Ranchi Raws (Hero Hockey India League) and Mahi Racing Team India (Supersport World Championship)
Co-branded fitness ventures
SportsFit (gyms), 7 by MSD (men's fragrance), FitSoul dot com (online fitness portal)
Industry estimates Dhoni is also the face of Bike Festival India, the inaugural season of which was held in January this year. Besides, he is co-owner of Mahi Racing Team India (motorbike team), along with actor Nagarjuna.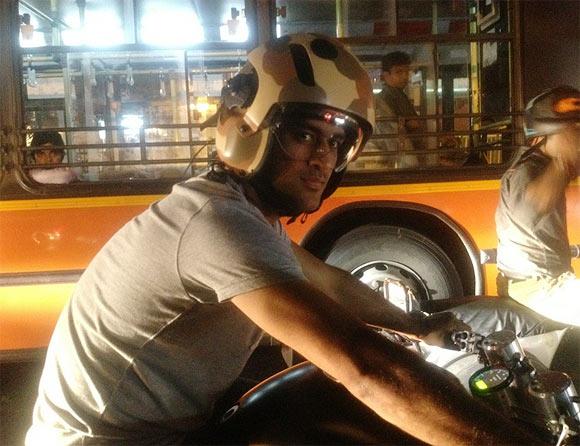 Image: MS Dhoni has endorsed powerful brands in the past two years. Photograph: Courtesy, Sakshi Singh Dhoni/Twitter
"He (Dhoni) and others such as Kohli have realised cricket will not last forever. Dhoni has made some smart investments, which he can pursue after retirement," says another brand manager. Pandey says Dhoni has revenue-share deals with some brands he endorses.
Through the past two years, the team handling Dhoni's endorsements and business ventures has been busy striking deals through which the cricketer can acquire sweat equity.
Under such deals, the cricketer has lent his face and presence to SportsFit (a gymnasium chain), FitSoul dot com (online portal on fitness) and 7 by MSD (a men's fragrance range), in association with Dubai-based Beauty Contact. All these ventures have a profit-sharing clause.
Meanwhile, Rhiti Entertainment, part of Rhiti Sports, has tied up with Inspired Media and Adarsh Telemedia to produce the biopic 'MSD- The Untold Story'. Dhoni, who will get royalty from this, has lent inputs for the film, which will star Sushant Singh Rajput in the lead role.
To be directed by Neeraj Pandey (director of Special 26 and A Wednesday), the film is set to be for release next year