The catchwords today are digital, analytics, robotics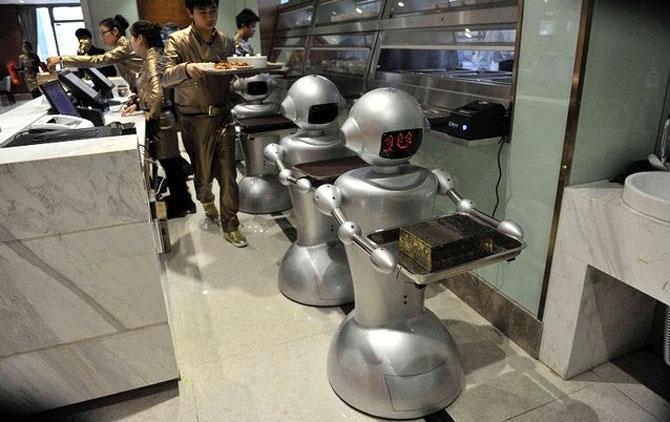 Image: A man puts dishes on robots for delivery at a restaurant in Hefei, Anhui province, China. Photograph: Reuters.
After decades of low-margin work like server maintenance, India's information technology services firms are moving upscale in search of lucrative contracts for driverless cars and other advanced projects as online innovation changes clients' needs.
Companies from Tata Consultancy Services Ltd to Wipro Ltd are all joining Infosys Ltd in investing in new, high-end technology, industry watchers say. Earlier this week Infosys bought US automation specialist Panaya Inc for $200 million.
Budget 2015: Complete Coverage
Triggering change is a wave of invention allowing machines to talk to each other online, dubbed 'the Internet of things'. Customers are ramping up: from about 5 percent now, strategy advisor Offshore Insights estimates automation and artificial intelligence work will grow to 25 to 30 percent of an IT outsourcing market seen by the national industry association as worth $300 billion by 2020.
"We're in the midst of a new wave of software, and IT services companies really don't have a choice," said R Ray Wang, principal analyst and founder of Silicon Valley-based Constellation Research.
As well as deals, the prospect is spurring heavy investment. Third-largest IT services exporter Wipro is building computing systems designed to mimic human decision-making abilities, where machines can understand and react to what human beings say to them. HCL Technologies, meanwhile, is using robotics to do away with manual testing of hardware.
Image: An LS 3 (Legged Squad Support System) robot demonstrates its movement, showing it is designed to accompany soldiers and Marines any place they go on foot, helping to carry their gear, during a demonstration in Homestead, Florida. Photograph: Andrew Innerarity/Reuters.
Though carrying higher profit margins, the new business lines are not as big-ticket as traditional large-scale outsourcing projects, meaning revenue may be reduced in the short term, analysts say.
Infosys and peers may also find themselves competing in some cases with global majors such as Google Inc, now developing artificial intelligence business and working on projects including self-driving cars.
But industry watchers see plenty of business openings for players like Tech Mahindra. Its engineers are busy testing consoles for cars that can monitor driver fatigue and predict signs of heart attacks, as well as working on a technology for driverless cars.
"The larger point here is Internet of things," said KS Viswanathan, vice president of industry initiatives at the National Association of Software and Service Companies. "If you look at any automobile today, 25-30 per cent of what goes in is electronics."
"Tech Mahindra will take (its technology) to its global clients...A Volkswagen cannot suddenly change all cars to be software-driven like a Google car is, they have to work with what they have and use technology that fits."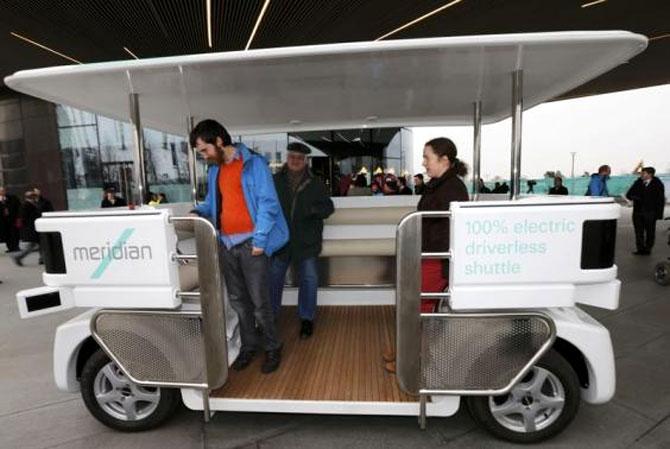 Indian companies are looking to collaborate with startups to jointly develop solutions for clients and in some cases are also eyeing takeover opportunities to get access to skills needed to wins these contracts, said industry officials.
"The catchwords today are digital, analytics, robotics," C P Gurnani, chief executive of Tech Mahindra said. "It is a small part of business, we are still not at the inflection point. But we are laying down the roadmap."