By scaling slowly, keeping a close tab on quality, EduBridge is emerging as a strong player in training unemployed youth, finds Anjuli Bhargava.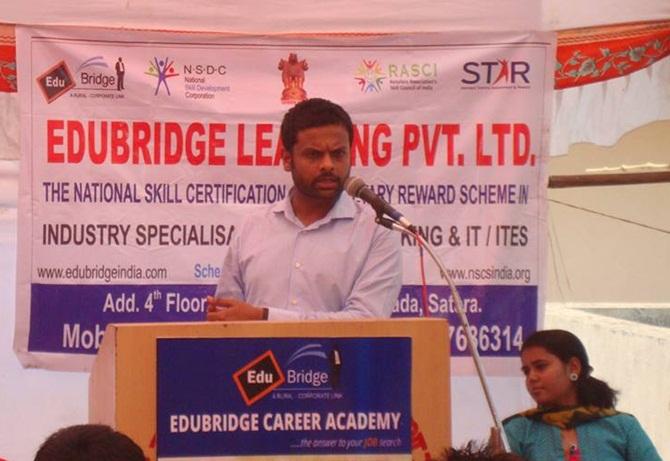 IMAGE: Big challenge for Girish Singhania to train unemployed youth .
Photographs, kind courtesy: Edubridge
When Girish Singhania, 33, was working with Procter & Gamble (P&G), he noticed a wide gap in what the company needed for its sales force in rural areas.
There were hundreds of unemployed youth willing to work for the company, but they were not suitable as they had no soft skills or training.
Even if they found suitable persons for the job, retaining them was a huge challenge.
Singhania, an Indian Institute of Management Bangalore (IIM-B), alumnus, worked with P&G for two years before moving to investment banking in Edelweiss in Mumbai, but the idea and his experience stayed with him.
His job at Edelweiss required him to talk to investors in various countries and discussions with them made him see that they were looking for investment opportunities in the education sector.
The second year of his work at Edelweiss made him travel to almost 100 villages across India in four states (in connection with some offerings from Edelweiss).
In October 2009, Singhania – then 25 - decided to set up EduBridge, a company that would be socially relevant but would also make money. Operations started in July 2010.

The idea was to train the unemployed youth in semi -urban and rural areas and train them well.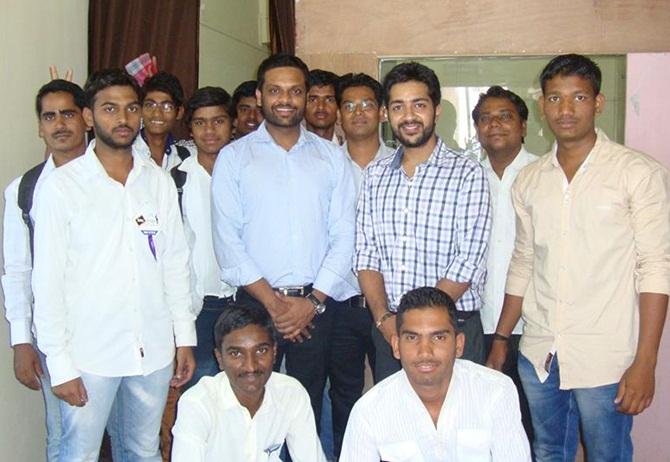 IMAGE: Average salaries are typically Rs 10,000 a month for students.
The model
The training is for entry-level service-sector jobs, which typically last one to three months, after which 300-350 recruiters hire them.
The cost of the training - which is between Rs 10,000 and Rs 15,000 - is paid partly by the student and partly by government-funded skill development programmes or companies' corproate social responsibility schemes.
It focuses on spoken English, computer basics, soft skills, and personality development. Then, there is a module that trains them for specific jobs.
They are placed at call centres, food and coffee chains, hospitality (hotels and restaurants) and banking.
Average salaries are typically Rs 10,000 a month for students whose average family income is Rs 6,500 a month.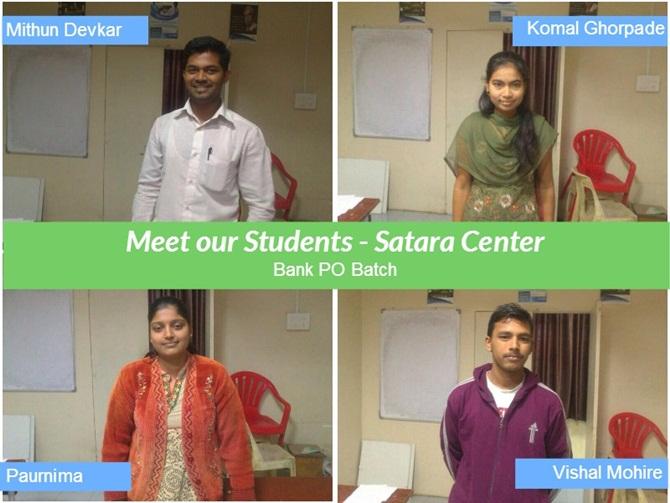 Funding and future plans
In the initial years, the company raised debt funding (Rs 3.5 crore) from National Skill Development Corporation (NSDC) in 2011 and it raised equity funding through Acumen in 2012.
The company has been profitable three years in a row since 2013-14 although the numbers are not public.
Six months ago, the first big breakthrough came in funding when it raised $2.5 million (global funding companies like Insitor and Acumen have both invested).
The money has helped Singhania invest in technology and grow faster.
It is adding 25 new employees and four-five centres every month.
The goal is to reach 100 centres by December 2016 with a total employee strength of 500.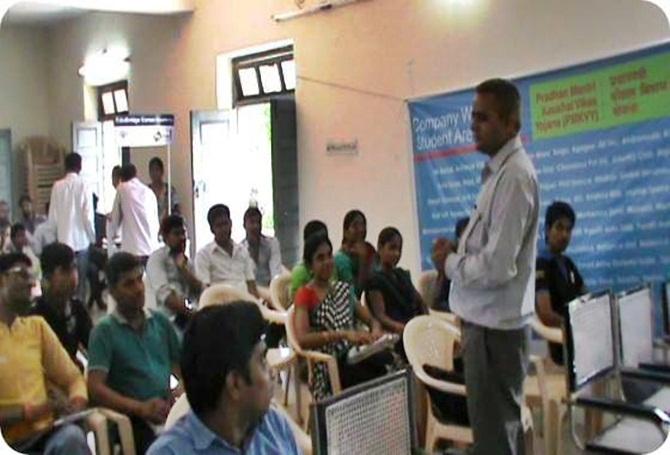 Doing it differently
EduBridge is not the only company in this space. It is competing with large players such as Teamlease, ILFS, NIIT, etc, but Acumen India head Ajit Mahadevan says the problem with companies in the ed-tech space is that as they scale, their quality suffers.
EduBridge has scaled very slowly. In the first five years, the company had 20 centres.
It is only in the past year and a half - and after its latest round of funding - that it is growing at a much faster pace.
By the year-end, it expects to touch 100 centres and will have 500 employees on board, several of whom are graduates of IIMs and Indian School of Business, Hyderabad.
Second, the company has managed to keep a strict check on quality by keeping all its 150 trainers on the rolls.
"We use our franchises only for infrastructure and their ability to mobilise the unemployed youth at the centre," explains Singhania, arguing that keeping the training entirely under their control ensures quality. This is unlike many competitors who outsource trainers.
A third factor that distinguishes EduBridge is that it works almost as hard to retain its trainees as in training them.
For every hundred people trained, only around 50 stay on the job.
Realising this, the company started a helpline for its trainees – especially those who leave the jobs but at a later stage want to join again.
Singhania says the training they give now works just as much on "mind sets as skill sets" since retaining those trained is critical.
NSDC's Jaikant Singh, head for partnerships and state engagement, says he sees no comparison between EduBridge and its present rivals.
"Comparing EduBridge to ILFS or Teamlease is like comparing Aam Aadmi Party to Bharatiya Janata Party or Congress, which have been around for a long time."
He says unlike others who do training along with "whatever else they do", EduBridge's bread and butter is training.
EXPERT TAKE: V Gayathri
It's been a consistent journey for EduBridge, going by its achievements in training and placement in different sectors.
The leadership team is quite focused on making a social impact combined with profitability that can be sustained.
Though they have been cautious, it's time for them to speed up and explore the growing market in the business-to-government segment, particularly with the Pradhan Mantri Kaushal Vikas Yojana and the Skill India Mission.
This will strengthen EduBridge's presence in the market through a variety of training programmes linked with employment.
To grow further, it is also important that it execute the projects with utmost quality and meet standards such as The National Skills Qualification Framework.
Another challenge it needs to overcome is that its training results in appropriate placement and the candidates become its ambassadors to spread the positive results.
And, instead of limiting to entry level skill-based training, it can also explore other sources of revenue by addressing the needs for higher order skills meant for career progression.
I'm confident its model can be scaled to accommodate the emerging needs from the industry and the job market.
V Gayathri, chief executive officer, LabourNet Services India Pvt. Ltd.
FACT BOX
Number of centres: 75 in 14 states
Numbers trained in 2015: 30,000
Cost of training: Rs 10,000-15,000
Duration of training: 1 to 3 months
Total employees: 330
Trainees' placements:
IT/ITeS (Data entry operator and call centre agents) – Serco, Tata Business Support Solutions, Hinduja Global, etc
Retail: Shoppers Stop, The Mobile Store, Arvind Brands, Westside, etc
Banks: HDFC Bank, Kotak Mahindra Bank, etc
NBFCs: HDB Financials, Fullerton, Mahindra Finance, DHFL, etc
Hospitality: Café Coffee Day, KFC and so on
Others – Paytm