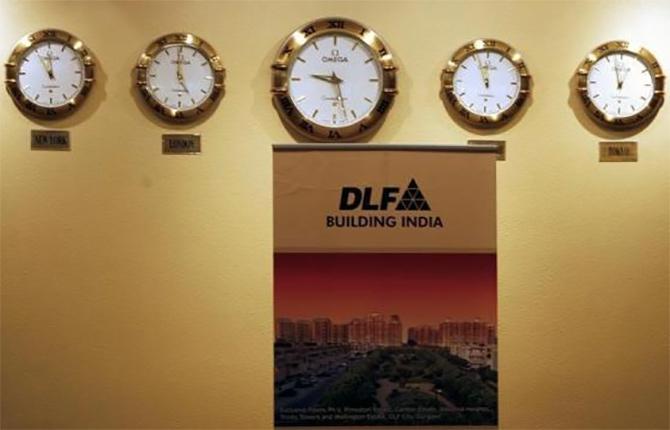 Image: A banner of real estate firm DLF seen during the listing ceremony at the Bombay Stock Exchange. Photograph: Arko Datta/Reuters
The Sebi order is vindication of Sinha's stand, but it has not brought him much relief as his money is still stuck. The legal team is hopeful that the order will be of great help in taking the recovery suit forward.

When Kimsuk Krishna Sinha, 49, zeroed in on a 40-odd-acre agricultural plot in Bandhwari village near Gurgaon and negotiated an agreement to buy it for Rs 6 crore (Rs 60 million) in 2006, he did not realise that he was getting into "a long and arduous" battle that would eventually lead to the Securities and Exchange Board of India, or Sebi, banning real estate developer DLF from accessing the capital markets for three years for engaging in fraud and unfair trade practices.
For Sinha, it started as a routine investment, something he often did because he dabbled in both the real estate and equity markets.
The investment looked set to turn around quickly as DLF showed interest in developing the land. Sinha, Sudipti Estates (SEPL), then an associate of DLF, and one Praveen Kumar sewed up a tripartite agreement to develop the land. Only that the deal soon soured and turned into a dispute.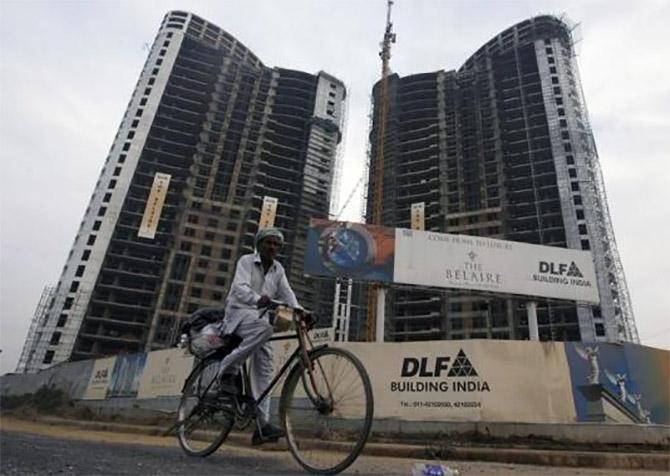 Image: A man cycles past the construction site of a residential apartment building by DLF in Gurgaon. Photograph: Adnan Abidi /Reuters
The exact details of the dispute are sketchy. Sinha declined to comment for this report citing the sub-judice nature of the affair. He also refused to share his picture citing security reasons.
Sources close to DLF suggest that Sinha did not want to pay the taxes that come with such transactions and things went downhill from there. Sinha's side contends that DLF was neither developing the property nor giving the investor his money back.
An order by the Delhi High Court in April 2010, directing Sebi to investigate the matter, describes some of the events.
"According to the petitioner, DLF and SEPL 'ensnared and cheated' him of a sum of Rs 31.09 crore towards sale proceeds of certain lands. An FIR was registered at the instance of the Petitioner against SEPL on 26 April 2007. The Petitioner addressed a letter on 4 June 2007 to Sebi in this regard. According to the Petitioner, he was dismayed by the response of Sebi dated 25 June 2007 in which it was stated that his letter had been forwarded to SEPL and DLF for their responses," it said.
The initial public offer of DLF opened on 11 June 2007, and closed three days later after raising Rs 9,187 crore (Rs 91.87 billion).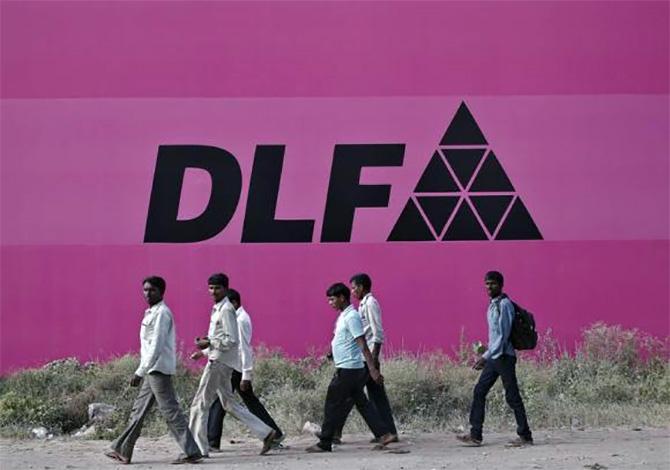 Image: DLF faces tough times. Photograph: Adnan Abidi /Reuters
While Sebi claimed that it received Sinha's complaint only on June 15 after the issue closed, Sinha's lawyer pointed out in court that there was no document to support such a claim. DLF listed on the stock markets on July 4.
Sinha's friends say despite the daunting task at hand, he was prepared to take on DLF.

His close friend and lawyer, Rajneesh Chopra, asked him, "Are you prepared to go all the way? It might take years."
Son of a Supreme Court lawyer and a British national, Sinha was determined to give it back. They have ruined me. Let me give them two blows at least," he is said to have told friends.
While DLF did not respond to an email seeking comments on its business relationship with Sinha, it had once called him an "extortionist".
The Delhi High Court order recorded that DLF's lawyer submitted "that the Petitioner was an extortionist and since he could not recover any amount from SEPL Respondent No. 2, he was seeking to proceed against Respondent No. 3 and was using this litigation for collateral purposes."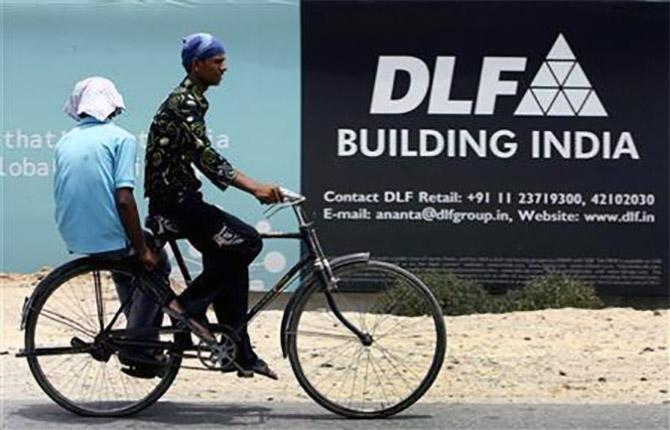 Image: Workers cycle past a billboard of DLF at Gurgaon on the outskirts of New Delhi. Photograph: Anindito Mukherjee/Reuters
It was three years after Sinha went to court that Sebi was directed to carry out an investigation into DLF. This week, Sebi decided that DLF had failed to make significant disclosures in its prospectus for the IPO in 2007.
Meanwhile, Sinha also filed a recovery suit for the money that had got stuck in the deal.
The court fee for such suits are set at 1 per cent of the amount recovered. Chopra, who is managing partner of legal firm C&C Associates, claims his client had to sell interests in tea gardens in Darjeeling to mobilise funds for the court fee and lawyer fees.
As DLF fielded legal luminaries such as Soli Sorabjee, Sinha also had to get the assistance of leading lawyers such as Amit Sibal.
The Sebi order is vindication of Sinha's stand, but it has not brought him much relief as his money is still stuck. The legal team is hopeful that the order will be of great help in taking the recovery suit forward.
Meanwhile, Sinha is busy planning his next move with his close friends and associates. He has reached one destination, and the next beckons.