Mittal would travel in trucks along with his consignments. Longer journeys were by train because he couldn't afford air tickets.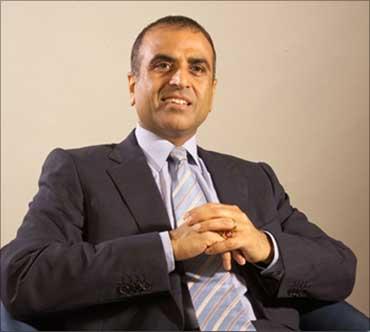 Image: Sunil Bharti Mittal. Photograph: Bharti Airtel
Sunil Mittal, the second son of Ludhiana politician Satpaul Mittal, went into business in 1976, at the age of 18, three years before he graduated from Punjab University in economics and political science.
The city had a strong culture of entrepreneurship. Every youngster dreamt of his own factory.

Mittal borrowed Rs 20,000 from his father and set up a unit to make cycle parts. Within three years, he had added two more units: one to make yarn and the other to make stainless steel sheets for use in surgical equipment.

Mittal would travel in trucks along with his consignments. Longer journeys were by train because he couldn't afford air tickets.

He worked 16 to 18 hours a day and stayed in inexpensive hotels when he travelled outside Ludhiana. But the payback wasn't great.
Mittal would visit Mumbai frequently in those days to find buyers for his stainless steel sheets.

He would sit on low stools inside small cubicles in Abdul Rehman Street and make his pitch to traders. The experiences led him to discover the salesman in him.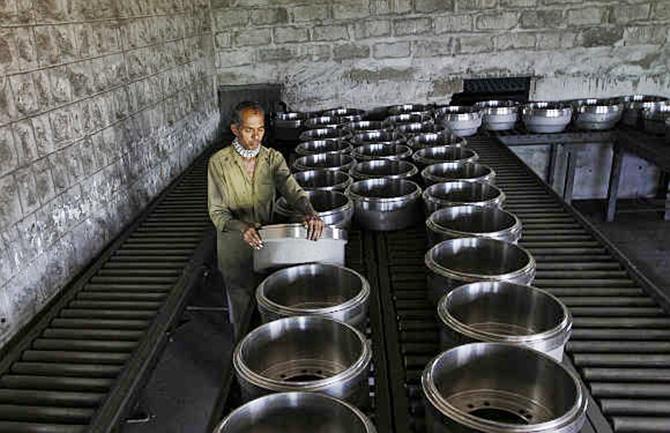 Image: Cycle parts, stainless steel sheets were Mittal's first businesses.
Photograph: Reuters
"I did pick up very early signs that I had a way to charm the lenders or partners to come and join hands; and whether it was a bank manager or a partner from abroad, I could generally seek a lot of credit from them," Mittal said in a 2005 interview.

In the interview he admitted that he often let his bank manager beat him in table tennis, though he was a ranked player in Punjab University, just to be in his good books.
The Mumbai exposure also taught him that if he wanted to do something big, he would have to move out of Ludhiana. In 1980, Mittal sold the cycle parts and yarn businesses, relocated to Mumbai and became a trader of imported stainless steel, brass, plastics and zip fasteners.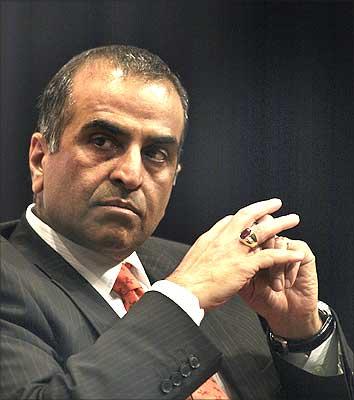 Image: Mittal saw an opportunity in generators. Photograph: Reuters
On a visit to Delhi, Mittal was in Bengali Market, a popular market for Indian street food, where he met a harried salesman for Suzuki's generator sets. He had been sent by the Japanese company to appoint dealers in India.

Suzuki had assumed that, like in Japan, people would buy its portable generators for use in ice-cream and hotdog vans and exhibition kiosks. The business case was totally hopeless. The salesman was tormented by the thought of going back empty handed.
Mittal saw an opportunity here. He knew that the buyers for these generators could be shops, small offices and even homes because of the frequent power cuts. He was soon appointed the first dealer of Suzuki's portable generators in the country.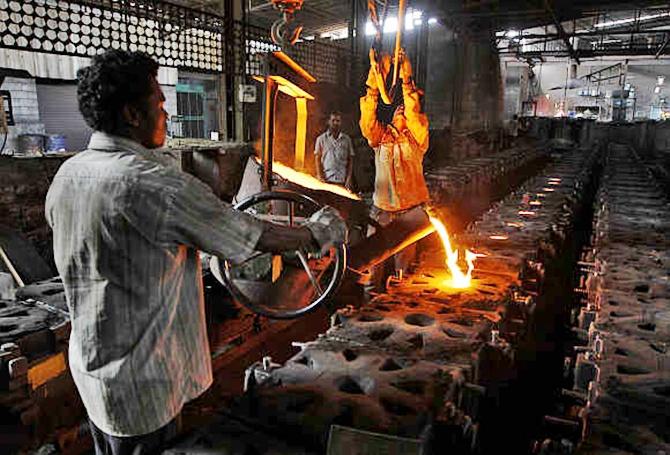 Image: portable generators became a huge hit with industries. Photograph: Reuters
The market loved the sleek and efficient generators. Sales were brisk and Mittal was soon selling throughout the country.

The high visibility of these generators caught the attention of big business houses, which lobbied the government for licences to make portable generators in the country.

In 1983, the government gave out two licences to make portable generators: one to the Birla family which tied up with Yamaha of Japan and the other to the Shriram family which collaborated with Honda of Japan.

Mittal's business came crashing down.
Suzuki, happy with what Mittal had done, offered to make him a dealer for its new small car made in the country in collaboration with the government: the Maruti 800.
The car went on to cause a revolution in the Indian automobile market. Still, Mittal did not get the dealership because all dealers were appointed on the basis of political influence.

"If they had made me a dealer, then I would have got rich and comfortable. Looking back, I think it was God's design that I should not get too comfortable. He had other plans for me," Mittal said in another 2005 interview.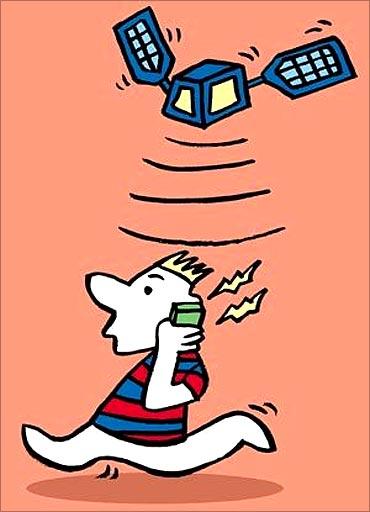 Illustration: Uttam Ghosh/Rediff.com. Photograph: Reuters
Left without a business, Mittal decided to go abroad and scout for opportunities. He ended up at a trade fair in Taiwan where for the first time in his life he saw push-button telephones. Indians were still using clunky phones that came with a rotary dial.

Within days, he had signed a contract with a Taiwanese supplier. But telephones were not on the government's priority list for imports. Mittal would import components through different ports and assemble the handsets at Ludhiana.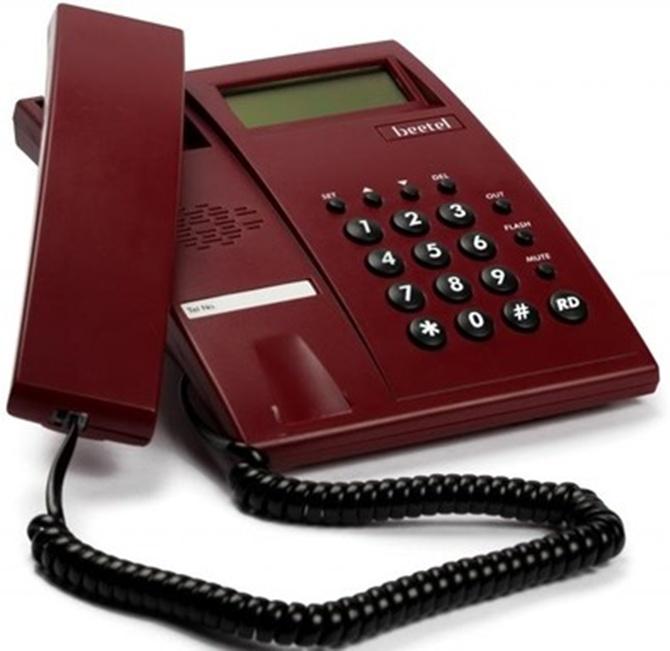 The brand he chose was the German-sounding Mittbrau. "All it meant was Mittal brothers, but I wanted to make it sound like a foreign brand name because I had learnt that Indian consumers don't like desi (homegrown) brands," he said in the interview.
Soon, the government opened up the industry and issued 52 licences to make telephones in the country.

Mittal secured one of them. He moved to a new brand called Beetel and soon diversified into EPABXs and fax machines. By the early 1990s, he was doing about Rs 25 crore (Rs 250 million) in annual sales, had bought his first Mercedes and moved into a spacious home.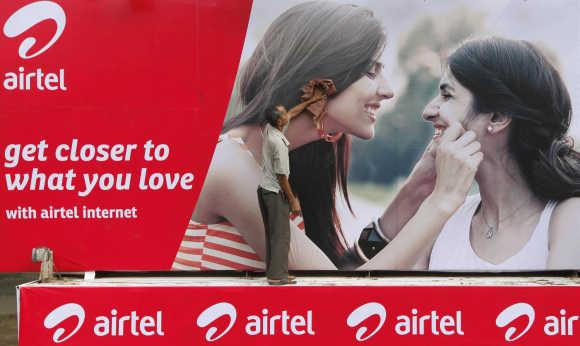 Image: Airtel became India's largest telecom service provider. Photograph: Reuters
The business required him to keep a close watch on what was happening in telecom the world over.

Towards the end of 1991, in Goa on vacation with his family, Mittal saw a newspaper advertisement which said the government had drawn up plans to induct the private sector into mobile telephony - something that was taking the West by storm.
Mittal sensed this was his moment, and decided, there and then, he would bid.
Mittal was awarded the Delhi circle and launched services in 1994 under the Airtel brand.

In a short span of time, he morphed into a national player, became the country's largest telecom service provider with over 200 million customers, and expanded his footprint to Sri Lanka, Bangladesh and even Africa.

Mittal became the poster boy of Indian telecom and fabulously rich: according to The Billionaire Club, Business Standard's annual list of the richest Indians, he was worth Rs 94,436 crore (Rs 944.36 billion) in January 2015.