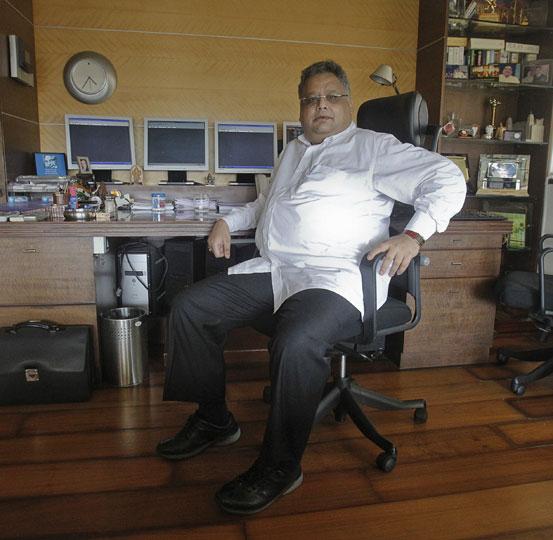 Image: Investor Rakesh Jhunjhunwala in his office in Mumbai. Photographs: Vivek Prakash/Reuters
Samvat 2070 was a great year for top Indian conglomerates in the stock markets. Backed by a pro-reform Narendra Modi government, the market value of Adani group companies grew the most (94 per cent) — beating the benchmark Sensex by a wide margin.

The Sensex grew 26.3 per cent in the year that ended on Wednesday.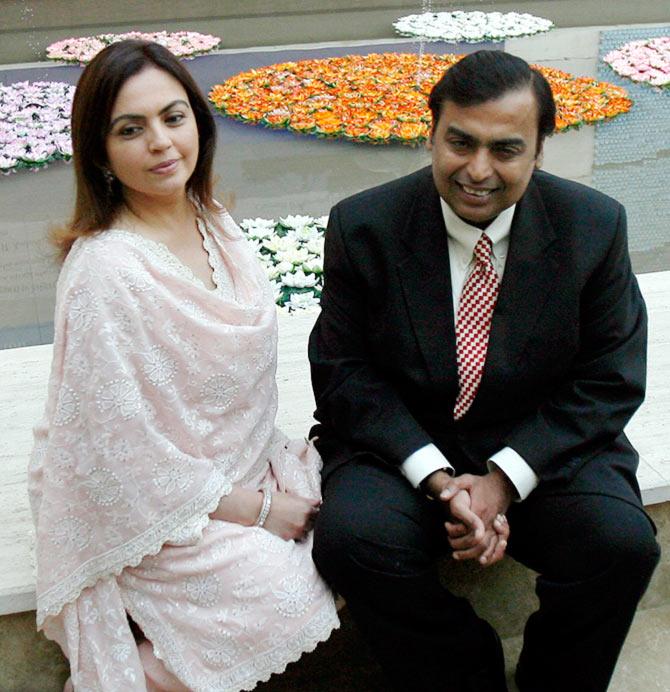 Image: Mukesh Ambani with wife Nita Ambani. Photograph: Reuters
The disappointment of the year was the Anil Ambani-controlled Reliance Group, which saw its market capitalisation falling marginally, by 2.7 per cent. His brother, Mukesh Ambani, did not fare too well, either — Reliance Industries shares rose at a slow pace of 5.2 per cent.

The brothers were among the bottom three (the third being Naveen Jindal) on the list of Indian conglomerates that created wealth for their shareholders.
"Last samvat was a good year for most groups, as they restructured their operations, sold assets and came out with good sets of numbers. The economy has also rebounded in the past three months, which has added to investor sentiment. The momentum will now pick up from here; we expect sharp growth in corporate profitability in two-three quarters, as the Modi government takes steps to open more opportunities for Indian companies," says Alex Mathews, head of research at Geojit BNP Paribas Financial Services.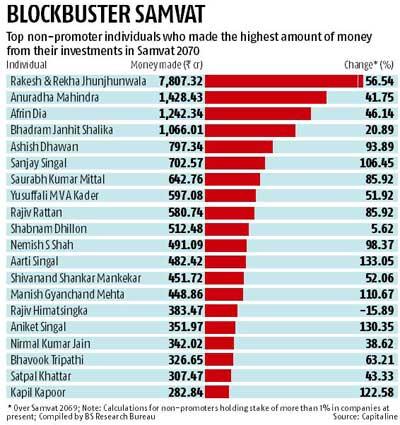 While investors are worried about the high debt of the companies of Anil Ambani's group, RIL's slow growth is attributed to a prolonged suspense over the price of gas from Krishna-Godavari basin.
RIL's massive investment of Rs 60,000 crore in telecom is another uncertainty that analysts blame for slow growth of its market value.
Samvat 2070 was a big disappointment for Naveen Jindal's JSPL, which lost 28 per cent of its market value after the company lost its coal and iron ore mines in Odisha.
Among the winners, the shares of Adani group have been going up since Modi was appointed the Bharatiya Janata Party's prime ministerial candidate late last year.


Image: Adani Group chairman Gautam Adani. Photograph: Reuters
Operationally, the group, owned by first-generation entrepreneur Gautam Adani, considered close to Modi, emerged as India's largest private-sector port operator and acquired L&T-Tata Steel's Dhamra Port for Rs 5,500 crore.

It followed up the acquisition by taking over Lanco's power project in Udupi for Rs 6,000 crore in August this year.
The market value of Tata group companies went up by Rs 1,63,400 crore in the Samvat gone by — thanks to 17 per cent growth in Tata Consultancy Services' market value. Tata Steel and Tata Motors also grew an average 35 per cent, lifting the group's overall market value.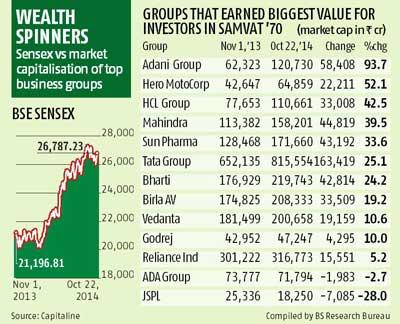 The Tata group's market value would have gone up more, but for a nine per cent drop in TCS shares in the past week, after the company disappointed investors in its profit growth for the September quarter.
The other two top performers during the year were Munjals' Hero MotoCorp, which grew 52 per cent and Shiv Nadar-owned HCL companies, whose market value grew by Rs 33,000 crore.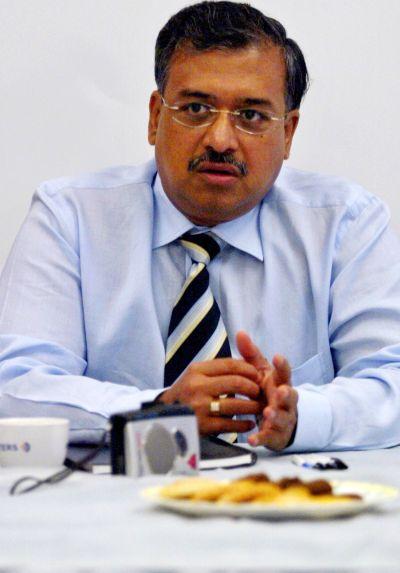 Image: Sun Pharmaceuticals' MD and chairman, Dilip Shanghvi. Photograph: Adeel Halim/Reuters
The Mahindra group and Dilip Shanghvi's Sun Pharma also beat the Sensex during the year, with Sun taking over Ranbaxy and Mahindras taking over French scooter firm, Peugeot.
Analysts say in the coming Samvat, investors should bet on the groups that have good quality management and high corporate governance practices. "I am bullish on the overall market but will buy only quality stocks, even if those are a little costly," says Motilal Oswal, chairman of Motilal Oswal Financial Services.