There are 90 Indians in the Forbes Rich List 2015.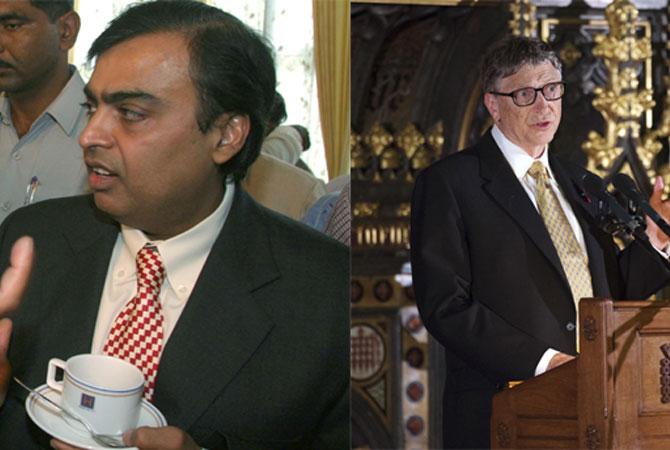 Image: Mukesh Ambani tops India's rich list while Bill Gates remains the world's richest man. Photograph: Reuters
Mukesh Ambani has retained his position as the richest Indian for the eighth year in a row with a net worth of $21 billion, while moving up one place on the global rich list that has been topped once again by software czar Bill Gates.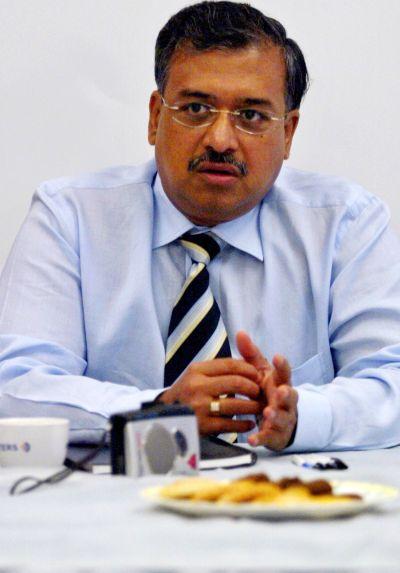 Image: Dilip Shanghvi bags the 44th rank globally and is India's 2nd richest man. Photograph: Reuters
Among the 90 Indians on the Forbes Rich List 2015, published on Monday, Ambani (39th globally) is closely followed by pharmaceuticals business tycoon Dilip Shanghvi (44th rank with networth of $ 20 billion) and Azim Premji (48th with $19.1 billion).
Gates with a networth $79.2 billion tops Forbes Rich List. This is for the 16th time in the past 21 years the software czar is topping the list.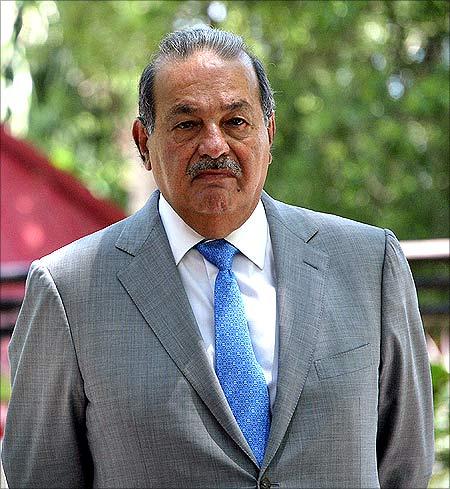 Image: Carlos Slim Helu is the world's 2nd richest man. Photograph: Reuters
He is followed by Mexico's Carlos Slim Helu at the second and legendary American investor Warren Buffett at the third place.
Announcing the list, Forbes said ranks of the world's wealthiest defied global economic turmoil and expanded yet again, yielding a record 1,826 billionaires with an aggregate networth of $7.05 trillion, up from $6.4 trillion a year ago.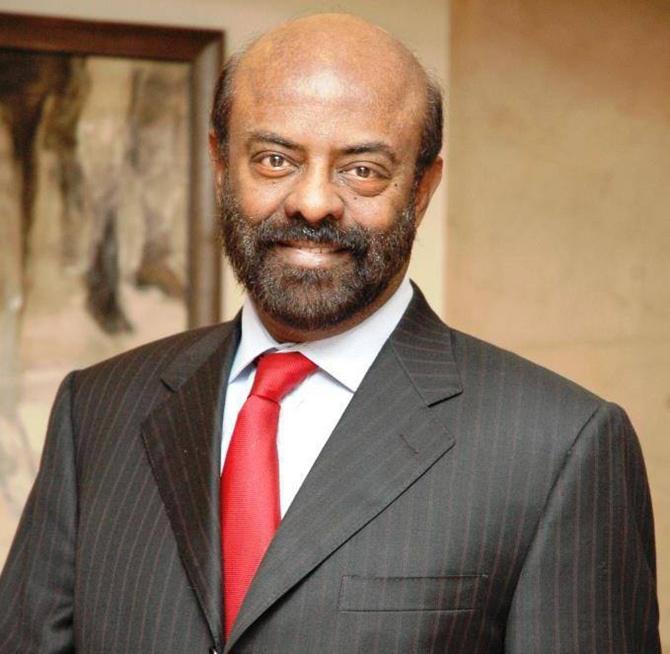 Image: Shiv Nadar is ranked 66th. Photograph, courtesy: HCL Tech
Indians on the list include Shiv Nadar (66th; $14.8 billion), Hinduja Brothers (69th; $14.5 billion) Lakshmi Mittal (82nd; $13.5 billion), Kumar Mangalam Birla (142nd; $9 billion), Uday Kotak (185th; $7.2 billion), Gautam Adani (208th; $ 6.6 billion), Sunil Mittal (208th; $ 6.6 billion) and Cyrus Poonawalla (208th; $ 6.6 billion).
Anil Ambani with a networth of $ 4 billion is ranked 418th in the list.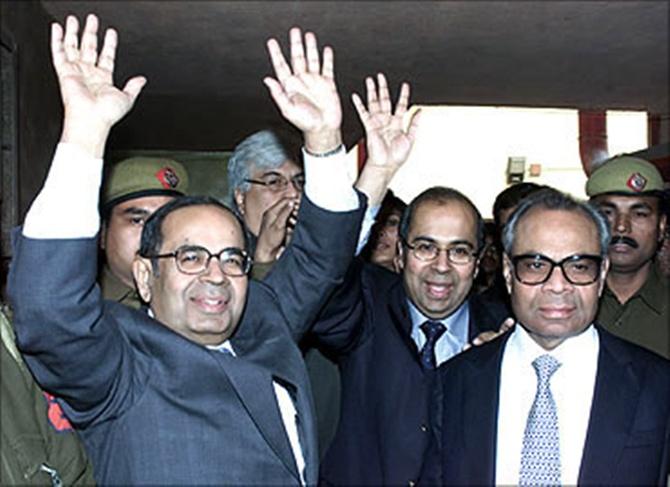 Image: Hinduja Brothers are ranked at 69th. Photograph: Reuters
"The total includes 290 newcomers, 71 of whom hail from China," Forbes said, while adding that the the number of those aged below 40 is on the rise and the average networth of billionaires has, however, fallen to $3.86 billion.
On the global list, Spain's Amancio Ortega has slipped to fourth place, while Facebook's Mark Zuckerberg has moved up 5 spots to number 16, ranking among the world's 20 richest for the first time.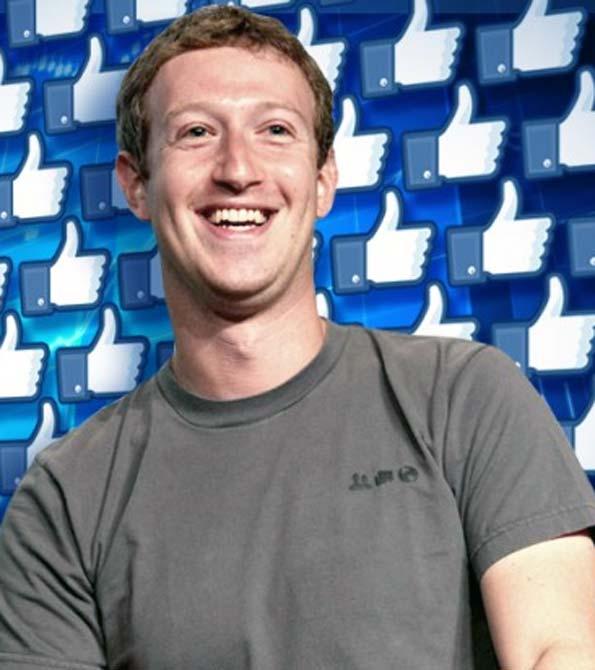 Image: Mark Zuckerberg has moved up 5 spots to number 16. Photograph: Reuters
Alibaba's Jack Ma and three other Chinese are among the the biggest gainers and figure among 50 richest on the list.
Other Indians on the list include Desh Bandhu Gupta ($5.8 billion), Savitri Jindal ($5.3 billion), Micky Jagtiani ($5.2 billion), Adi Godrej ($ 4.8 billion), Jamshyd Godrej ($4.8 billion), Shashi and Ravi Ruia ($4.5 billion), Subhash Chandra ($4.2 billion) and Benu Gopal Bangur ($4.1 billion).
Forbes said the entrepreneurship is thriving globally and 1,191 members of the list are self-made billionaires, while just 230 inherited their wealth. Another 405 inherited at least a portion but are still working to increase their fortunes.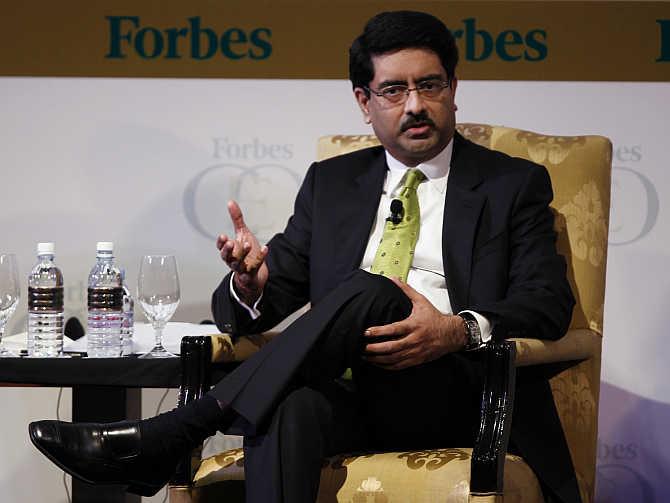 Image: Kumar Mangalam Birla is ranked at 142. Photograph: Reuters
The magazine said that the wealth has been calculated as per the share prices and exchange rates as on February 13 this year.
The richest 500 on the list collectively hold $4.7 billion of the total $7.05 trillion, thus translating into just over a quarter of billionaires accounting for two thirds of the wealth.
About its 29th annual Rich List, the magazine said the networth figures have taken into account the individuals' assets including stakes in public and private companies, real estate, yachts, art and cash–and take into account estimates of debt and it tried to vet the numbers with all billionaires.
In some cases, it has listed siblings together if the ownership breakdown was not clear and this includes Shashi and Ravi Ruia from India.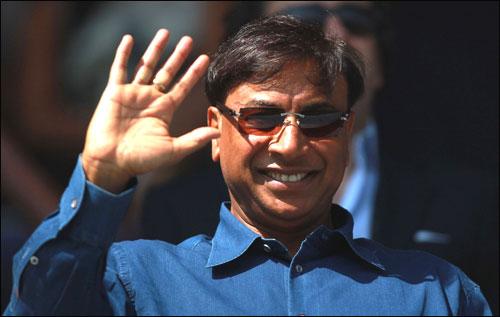 Image: Lakshmi Mittal is ranked at 82nd. Photograph: Reuters
The children are listed with their parents when one person is the founder and in control, while their fortunes are identified as "and family".
Forbes said it did not include royal family members or dictators who derive their fortunes "entirely as a result of their position of power".
Of a total 1,826 billionaires, 197 are women, up from 172 in 2014, but women still account for only a small percentage of the list at 11 per cent.
Christy Walton, who inherited a stake in retailer Wal-Mart, has retained the title of world's richest woman.
The biggest gainer in terms of wealth is Warren Buffett with an addition of over $14 billion to his wealth, taking his total to $ 72.7 billion. Larry Ellison, ranked 5th with networth of $54.3 billion, is another big winner.