Volkswagen mess costs Germany its strongest nation brand position.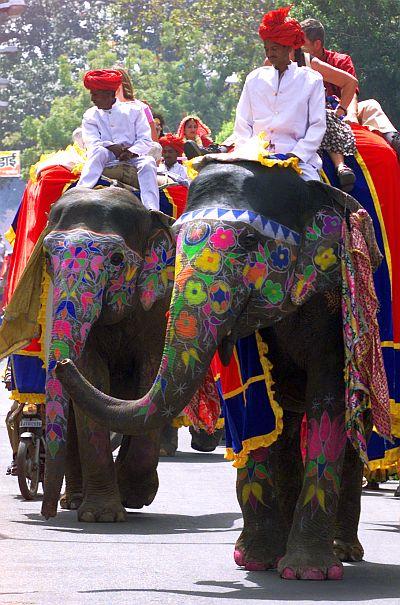 Image: India's brand value has zoomed. Photograph: Reuters
India's nation brand value has in 2015 increased by a whopping 32 per cent to $2.14 trillion, compared with $1.62 trillion last year, shows a report by London-based Brand Finance, a leading independent brand valuation and strategy consultancy.
Not only has India's rate of increase been the highest among the top 10 by brand value, it has also helped the country improve its global ranking by a notch to seventh.
Only three Asian nations - China, India and South Korea - figure among the top 20 most valuable nation brands.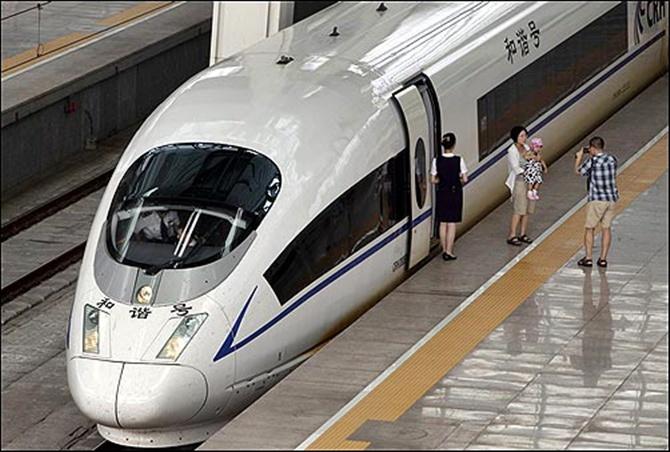 Image: China ranks 2nd in the list. Photograph: Reuters
Even as China has maintained its second position, it has lost one per cent of its value over a year to $6.3 trillion in 2015. South Korea has improved its ranking to 12th from 17th with a 10 per cent increase in value to $1.1 trillion.
Meanwhile, in a classic case of how one company's mess can hurt a country, the recent crisis faced by automaker Volkswagen has not only affected Germany's brand value but also cost it its position as the world's strongest nation brand.
In addition to a four per cent erosion in brand value to $4.2 trillion, Germany, the third-most-valuable nation brand, has been replaced in the strongest nation brand pecking order by Singapore.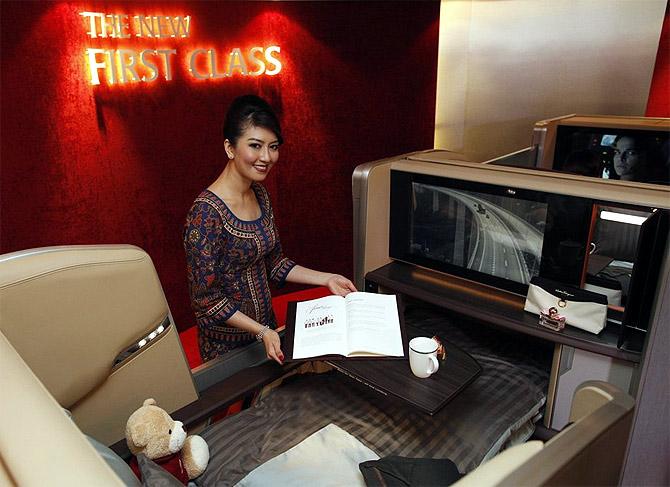 Image: Singapore ranks 3rd in the list. Photograph: Reuters
With its intolerance for corruption, generous wages for public officials to discourage graft, heavy tax on cars leading to less congestion and good public transport, and a high-quality education system, Singapore, which has a nation brand value of $412 billion, is now the strongest nation brand.
According to David Haigh, chief executive officer, Brand Finance, a nation brand is one of the most important assets for any state in a global marketplace, "encouraging inward investment, adding value to exports and attracting tourists".
Though the US remains the most valuable nation brand in Brand Finance's 2015 edition of Nation Brands report, the country's image as the 'Great Satan' in Iran will affect the ability of its firms to export into Iran.
The report says: "Those with a neutral and internationalist branding, such as Apple, should be largely unaffected. But the more 'all-American' brands like Coca-Cola might struggle to overcome negative perceptions."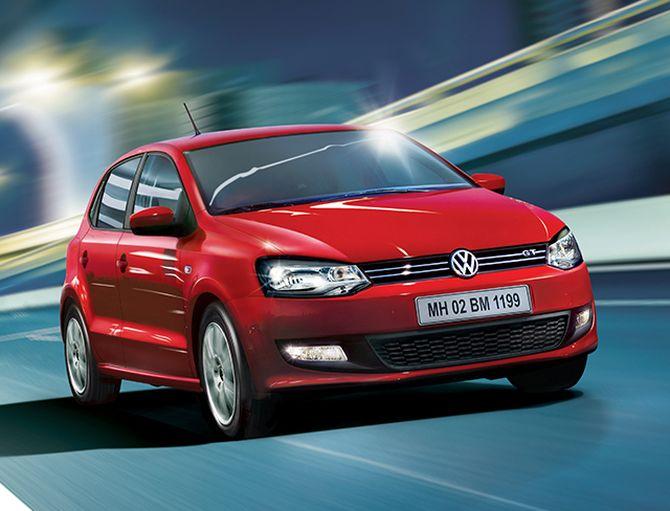 Image: Volkswagen crisis dents Germany's brand value. Photograph: Reuters
In the case of the UK, there are even stronger negative associations with Iranians, many of whom resent the UK's historical political interference in their country.
Germany and France, by contrast, were faster to reach out and had a more established presence in Iran before sanctions were imposed on that country.
"France's Peugeot was the market leader in the Iranian automobile market. However, its perceived abandonment of the country might mean other European firms are better placed to profit," says the report.
Brand Finance measures the strength and value of 100 countries using a method based on the royalty-relief mechanism employed to value large companies.
The five-step approach includes preparing a brand strength index on the basis of goods and services, investment and society. The first is sub-divided into governance, market and tourism (for investment, tourism is replaced by people and skills).
It emphasises a six-step approach by governments to improve the nation brand through appraisal, macro and micro image, consistent and focused vision, brand strategy, market strategy and execution.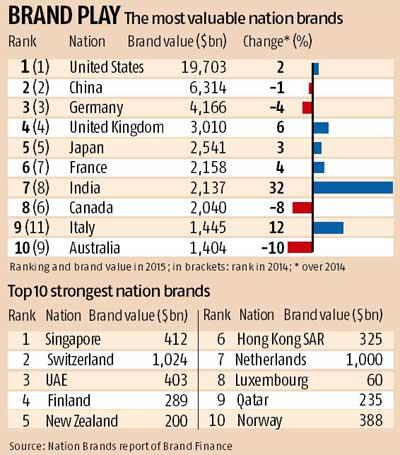 India's "Incredible India" slogan, used for tourism promotion, has worked well as "an umbrella brand", with more targeted and detailed campaigns appealing to the different audiences. "Who doesn't want to discover something incredible? An overarching slogan or campaign could be used across the board," says Courtney Fingar, editor-in-chief of fDi Magazine, which has partnered Brand Finance for this year's Nation Brands study.
The strength of Germany's nation brand has traditionally come from its manufacturing prowess.
However, recent revelations that Volkswagen might have fitted 11 million diesel vehicles with software designed to deceive emission testers, has dealt "a hammer blow" not only to the company's reputation but potentially also to Germany's nation brand.
The study says German industry is known for its efficiency and reliability, and its people are seen as hard-working, honest and law-abiding - the Angela Merkel government's approach to the Greek debt crisis has only intensified the perception.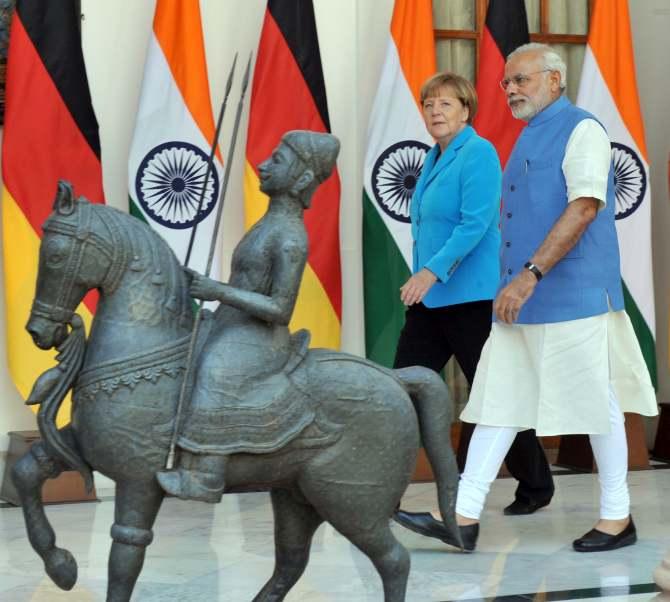 Image: Prime Minister Narendra Modi with the German Chancellor Angela Merkel in New Delhi. Photograph, courtesy: PIB
"This (Volkswagen) scandal threatens to undo decades of accumulated goodwill and cast aspersions over the practices of German industry, making the earlier Siemens bribery scandal appear less a one-off bad apple than evidence of a broader malaise.
Despite the vast scale of deception, other companies will need to be implicated before the damage to Germany's nation brand becomes critical."
Its receptivity to migrants from Syria will generate more than just goodwill for Germany's nation brand.
The influx of generally young people will provide a fillip to its labour force, especially since the country's birth rate has been flagging.
"The desire of migrants to reach Germany and to a less extent Sweden speaks to the existing strength of these powerful nation brands," says the report.
Interestingly, Iran tops the list of best-performing nation brands; the value of its nation brand value has increased 59 per cent over a year ago to $159 billion. Iran is followed by Cameroon, Tanzania, Kenya and Zambia in high rates of increase.
The report says Hassan Rouhani's moderate approach is slowly shifting the international perception of Iran's potential.
"The conflict on its doorstep and the Sunni-Shia divide will remain an impediment to trade and investment locally but with a market of 77 million people, vast hydrocarbon reserves and a highly educated population, Iran certainly has a receptive audience globally," says the report.
Ukraine and Russia, rivals in political arena, are together in the worst-performing nation brand category, at first and third spots, respectively. Russia's brand value, at $810 billion, is more than 60 per cent lower than India's.