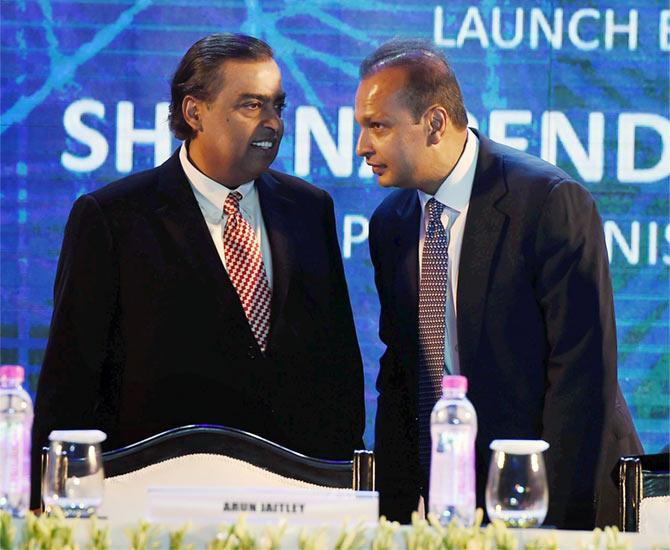 Image: Mukesh Ambani and Anil Ambani during the launch of Digital India Week in New Delhi. Photograph: Shirish Shete/PTI
Modi government's ambitious 'Digital India' campaign has been backed by companies in India and abroad.
With an aim to transform India into a digitally empowered knowledge economy with a focus on e-governance, electronics manufacturing, cyber security and financial inclusion, better telecommunication facilities and high-speed Internet, companies have committed to invest Rs 4.5 lakh crore.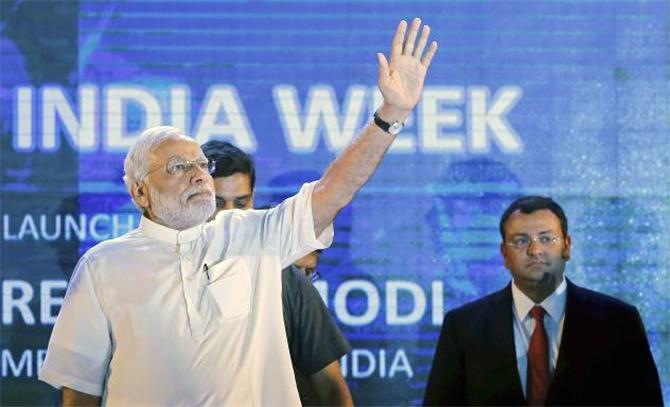 Image: Prime Minister Narendra Modi waves as Cyrus Mistry (R), chairman of Tata Group watches during the launch of "Digital India Week" in New Delhi. Photograph: Adnan Abidi/Reuters
Interestingly, more than half of the promised investments were announced by Mukesh Ambani, one of Narendra Modi's biggest supporters from the corporate world.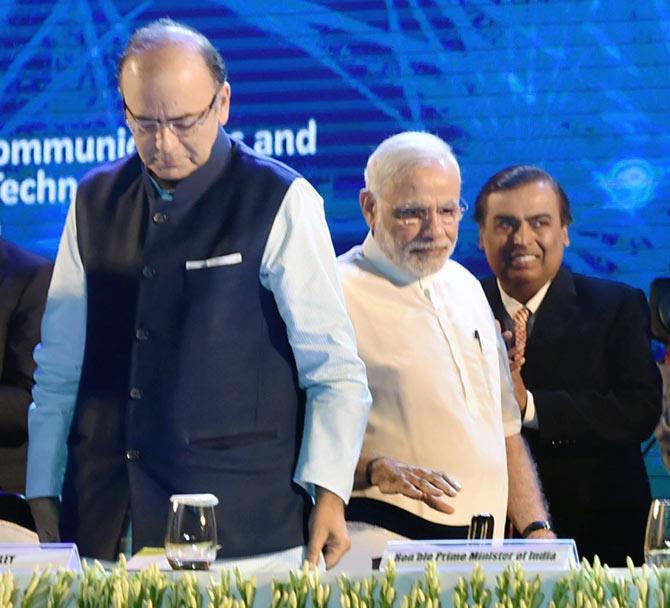 Image: Prime Minister Narendra Modi, Finance Minister Arun Jaitley and Reliance Industries Chairman Mukesh Ambani at the launch of Digital India Week in New. Photograph: Kamal Singh/PTI
Ambani said the Digital India initiative has the potential to transform the lives of 1.2 billion Indians.

The programme, which will be implemented in phases till 2018, is likely to create 18 lakh (1.8 million) jobs.
Take a look at the grand plans to make Digital India a success…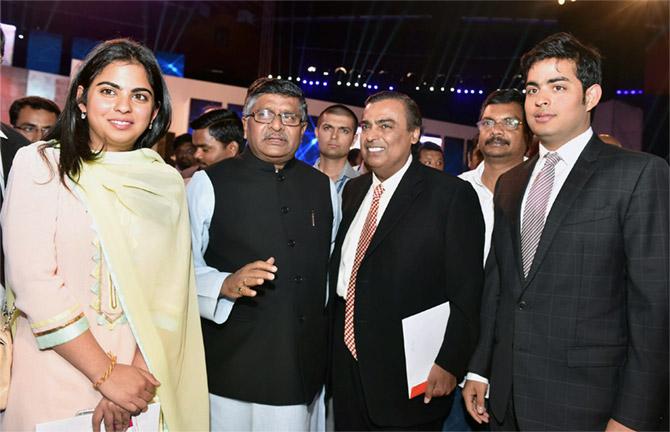 Image: Telecom Minister Ravishankar Prasad with RIL Chairman Mukesh Ambani, his son Akash Ambani and daughter Isha Ambani during the launch of Digital India Week in New Delhi.
Photograph: Kamal Singh/PTI
Reliance Industries

Investment: Rs 250,000 crore

Reliance Industries will invest in the digital space, including rollout of wireless broadband infrastructure and manufacturing of mobile handsets. Reliance Jio Infocomm Ltd is set to launch telephony and broadband services by December, said the firm's investments in digital space will create employment for over 500,000 people.
Mukesh Ambani said, the infrastructure for all-IP next-generation, wireless broadband infrastructure across all the 29 states in India is being laid.
Jio is also setting up a new nationwide distribution network that will enable over 150,000 small electronic retailers to sell and service smartphones and Internet devices.
The company is working with leading device manufacturers
to manufacture smartphones and internet devices at an affordable price in India.
A Jio Digital India Startup Fund will be created for entrepreneurship in cities and towns.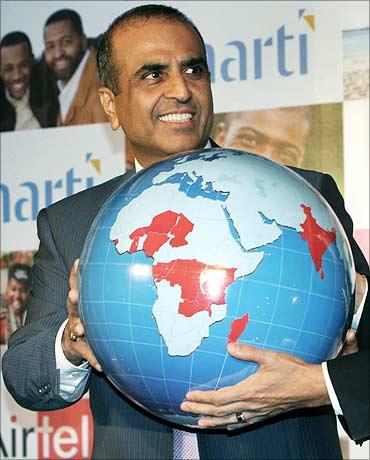 Image: Sunil Bharti Mittal, chairman of Bharti Airtel. Photograph: Reuters
Bharti Airtel

Investment: Rs 100,000 crore
Bharti group chief Sunil Mittal said in the next five years, the company will invest in networks and deeper infrastructure for taking 4G connectivity to the masses, e-health and taking e-education in every village.
The company will also collaborate with various manufacturers around the world to start manufacturing in the country to provide electronic products at affordable rates.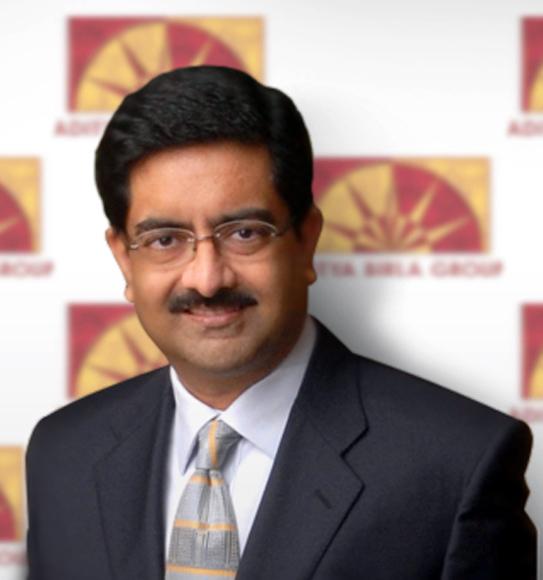 Image: Kumar Mangalam Birla, chairman, Birla group. Photograph, courtesy: Birla Group
Aditya Birla Group
Investment: Rs 56,700 crore

Aditya Birla group, which owns the country's third largest mobile operator Idea Cellular, will invest $7 billion over the next five years in network rollout, broadband and wi-fi deployment.

Kumar Mangalam Birla announced a $2 billion investment over the next five years for building the infrastructure for Digital India.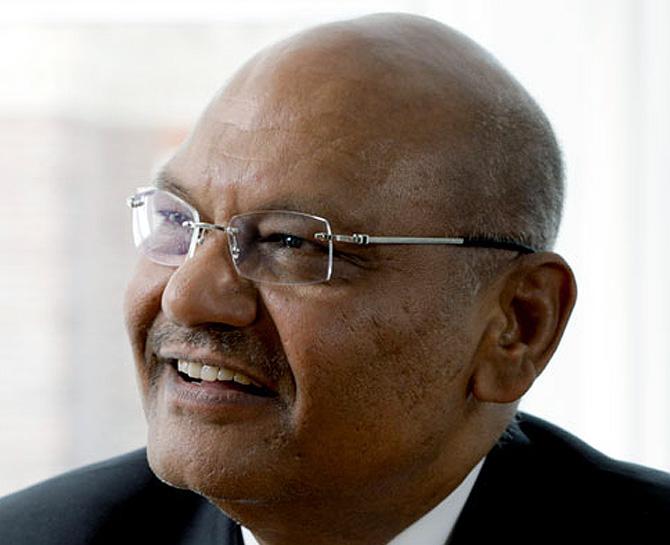 Image: Anil Agarwal. Photograph, courtesy: Vedanta
Sterlite Technologies
Investment: Rs 40,000 crore
Anil Agarwal-led Sterlite Technologies will set up a LCD panel manufacturing plant in India with an investment of Rs 40,000 crore, which will generate about 50,000 jobs.
The company is also working on a project to connect defence establishments through optical fibres in Jammu & Kashmir (J&K).
Image: Prime Minister Narendra Modi and Anil Ambani (L), chairman of the Reliance Anil Dhirubhai Ambani Group in New Delhi. Photograph: Adnan Abidi/Reuters
Anil Dhirubhai Ambani Group
Investment: Rs 10,000 crore

Chairman of ADAG, Anil Ambani announced plans to expand businesses across digital, cloud and telecom space.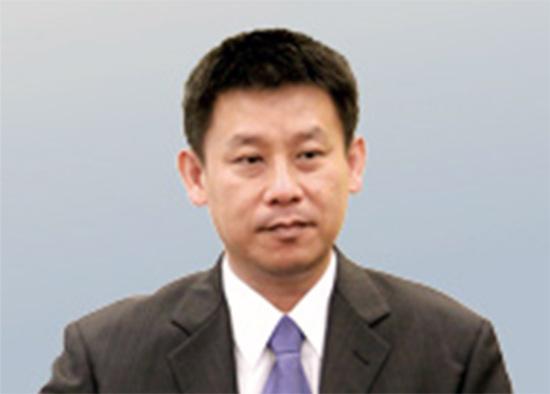 Image: Delta Electronics CEO Ping Cheng spoke about the company's plans. Photograph, courtesy: Delta
Delta Electronics

Investment: Rs 3,150 crore
Taiwan-based Delta Electronics, which deals in energy products, announced to invest $500 million over next 10 years with the hope that this investment will create 20,000 new jobs in the country.
(Inputs: PTI)