BKC-based Como Stocks & Properties is into property development, construction.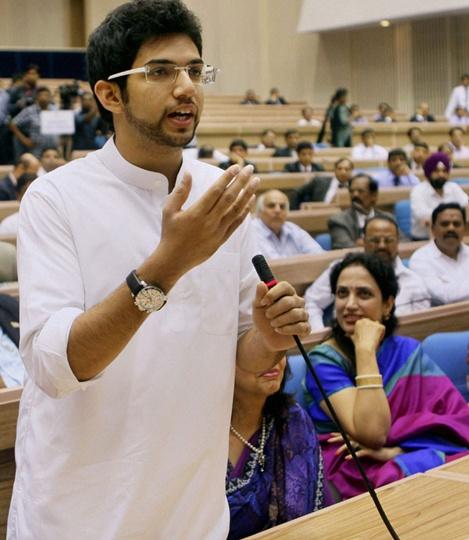 Image: Aditya Thackeray. Photograph: PTI
Aditya Thackeray, 24, the son of Shiv Sena chief Uddhav Thackeray, and his recent efforts to bring nightlife back in Mumbai are well known.
What is less known is his interest in business. Thackeray junior, whose Twitter handle describes him as "President, Yuva Sena" and lists poems, photography and 'voicing youth' as his passions, seems to have been bitten by the entrepreneurial bug, of late.

In March last year, months before he got busy with back-to-back election campaigns to the Centre and Maharashtra Assembly, Thackeray incorporated a Limited Liability Partnership called Como Stocks & Properties LLP.

Documents filed with the ministry of corporate affairs (MCA), reviewed by Business Standard, listed business activities to be carried out by Como as "property developers, construction, buying and selling of properties, property rights and development rights, dealing of transfer of development rights, building development activities and any other related infrastructural activities".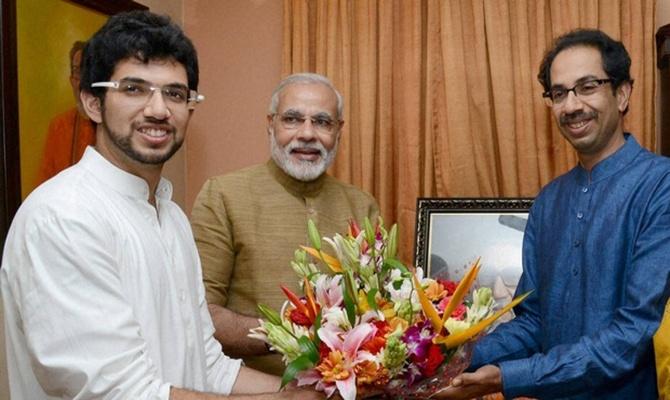 Image: Prime Minister Narendra Modi with Shiv Sena chief Uddhav Thackeray and Aditya Thackeray. Photograph: PTI
Elsewhere, the firm listed 'construction' as the main business activity. Como is yet to file its first annual accounts. At incorporation, it had funds of Rs 5 lakh, contributed equally by Aditya and his mother Rashmi Uddhav Thackeray.
The Thackerays listed their occupation as 'business' and declared Matoshree as their residential address. However, Como's registered office was situated in Vaibhav Chambers in Bandra Kurla Complex (BKC).

Incidentally, BKC is one of the five 'nightlife' areas suggested by Aditya in his famous letter on Monday to Maharashtra Chief Minister Devendra Fadnavis. "Areas like Kala Ghoda, Nariman Point, Bandra Kurla Complex and parts of Marine Drive and Carter Road could be areas in Mumbai that could be open all night," Aditya Thackeray said in his letter.
He did not respond to Business Standard emails sent on Wednesday, seeking comments on his new venture, its business plans and investments and the potential conflict of interest it might have with his political life.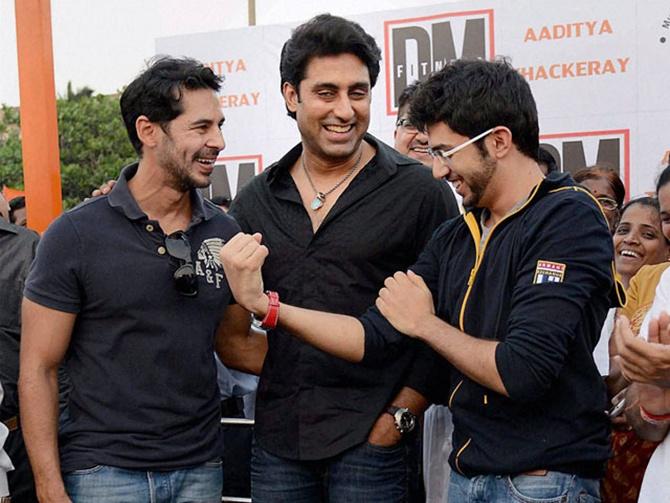 Image: Aditya Thackeray with actors Abhishek Bachchan & Dino Morea. Photograph: PTI
In the emails, sent to two of his email addresses declared in MCA documents and on his Facebook page, Business Standard had also asked if Como had any plans to bring nightlife to the BKC. A text message sent to Thackeray's mobile phone on Thursday also went without any response.
The new business district has seen significant development of office space and residential complexes that have brought a lot of young crowd to the erstwhile swamps, in the past few years. But, BKC is yet to have any popular outlets for public entertainment or malls, certainly nowhere close vibrant South Mumbai. Como seems ideally placed to bridge the gap.
In the letter to the chief minister, he described how his proposal had cruised through various local bodies, controlled by his father's party, rather smoothly. "On my request to the honourable Mayor of Mumbai and BMC (sic) had passed a resolution seeking vibrant nightlife for Mumbai.
The proposal was further sent to the state government to further amend the relevant Acts pertaining to this proposal. I write to you in order to take this forward." He said the proposal would open up vast opportunities and would give impetus to business.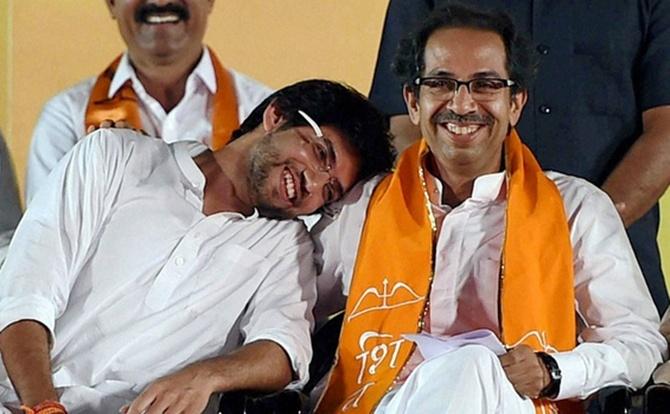 Image: Uddhav Thackeray with son Aditya Thackeray during a rally in Mumbai . Photograph: PTI
Soon after meeting Fadnavis, he declared the chief minister had agreed to the proposal on Twitter. The hospitality industry has welcomed the move as a big growth opportunity. While Aditya Thackeray's plunge into real estate is recent, the Thackeray family's interests in the sector are not.
Como Stock's filings showed the Fastgrowth Properties has allowed it to use its premises in BKC's Vaibhav Chambers. Fastgrowth is one of the five companies in which Rashmi Thackeray was a director, according to Como's filings.

Other companies are Sanjivani Developers, Prabodhan Prakashan, Dev Trading and Samved Real Estate. Last year, the mother-son duo also picked 2.4 per cent stakes each in a listed stock broking entity, CNI Research. At current prices, the holding would be worth about Rs 5 crore.
Breaking Fresh Ground
Name: Como Stocks & Properties LLP
Designated partners: Aditya Thackeray, Rashmi Uddhav Thackeray
Contribution of partners: Rs 2.5 lakh each
Incorporation: March 2014
Registered address: Vaibhav Chambers, Bandra Kurla Complex (BKC), Mumbai
Owner of BKC premises: Fastgrowth Properties
Entities in which Rashmi Thackeray is a director: Fastgrowth Properties, Sanjivani Developers, Prabodhan Prakashan, Dev Trading and Samved Real Estate