Within the next 3 months, most brokers will enable you to intelligently invest via mobiles in MFs, FDs, and IPOs.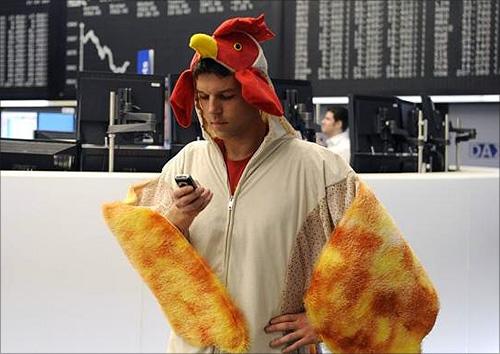 Image: Brokerages are working to improving their mobile app offerings.
Photograph: Reuters
You log on to a stock broker's mobile trading app to check market movement. A notification pops up and recommends companies you might like to buy.

All the information you need to make the investment decision is right there - fundamentals, technicals, charts and recent news.

The best part is, these could be the actual stocks you have been studying for some time.
All this could soon be possible, as brokerages are working to improving their mobile app offerings.

Some of these companies are already studying customer data and establishing patterns based on the latter's trading history.
This is a far cry from two years earlier. Then, brokerages were trying to squeeze in the most important features available on a computer screen into a mobile that had limited display size.

For example, if they wanted to include fundamentals, they would use only a few ratios, as the average display size was four to five inches.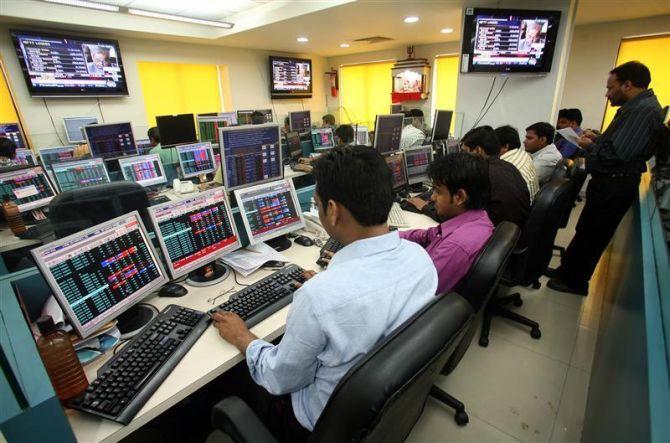 Image: Mobile can be a more powerful platform than their desktop and web-based offerings. Photograph: Reuters
Today, they have realised the mobile can be a more powerful platform than their desktop and web-based offerings, as it can be personalised to the actual needs of consumers.
"When we initially started looking at a mobile app, the data speed and computing power limited us to giving the same offerings as desktop. The way mobiles have evolved in the past three years, it allows us to offer features that are better than the desktop," says Vinay Agrawal, chief executive officer, Angel Broking.
Brokers have even built teams of app developers to exclusively focus on these. Some such as IIFL have a separate team for each platform - Android, Apple and Windows.

Most brokerages give app access only to clients but IIFL, Edelweiss, HDFC, and Kotak allow everyone to use most features of their apps.
"We saw that users first use the app only for information. Later, they make small trades and once confident, start using it regularly," says Riyaz Ladiwala, business head-online, Edelweiss Financial Services.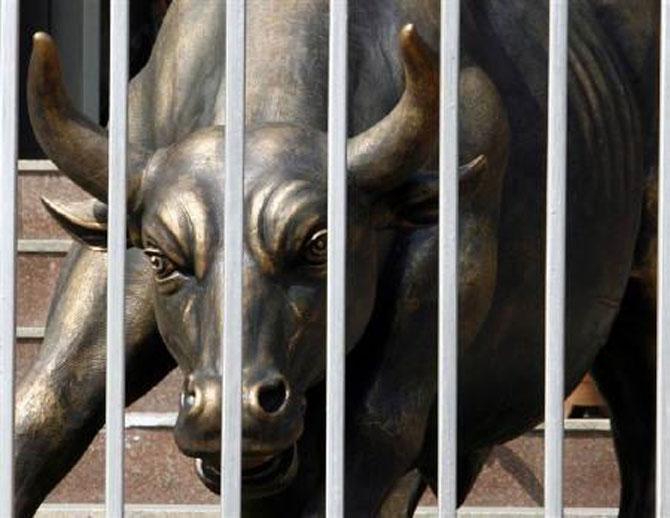 Image: Brokerages now offer customers live quotes without any lag. . Photograph: Reuters
On offer today
Buying and selling on mobiles was always possible. With wider implementation of third-generation service (3G) networks by telecom companies, brokerages now offer customers live quotes without any lag.

If a person is connected on WiFi or a 3G network that offers a connection of 1-2 mbps speed, you can expect to get price changes without delays.
The interface has gone through a tremendous change, too. From the basic information about the movements of indices and stock price, most now offer information on most traded stocks by volumes, stocks that hit the circuits, bulk and block deals, foreign institutional investor activity in equity and debt.

In the derivatives segment, a user can get details of the premiums, discounts, rollover and delivery. Then, there are the latest research reports, stock ideas and important news concerning stocks.
"As technology improved, so did our capability to give more information. Earlier, we gave only numbers. Now, there are charts for every data point and customers can view the data across different periods," says Jyotheesh Kumar, executive vice-president, marketing, distribution & products, at HDFC Securities.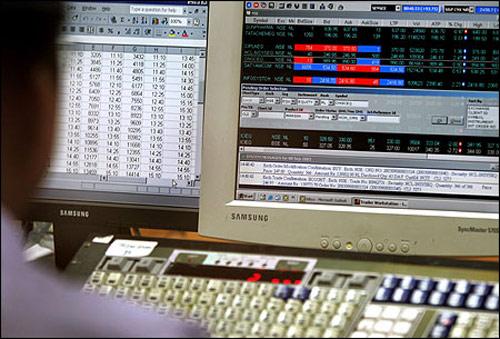 Image: Apps also have the same security features as desktop and web-based software. Photograph: Reuters
The feature benefiting customers the most is customisation. "Anything a customer can imagine can be tailored. He or she can even follow multiple assets in a single list. To their watch list they can add commodities, futures and options, currency and stock," says Aniruddha Dange, president, IIFL. Individuals can even set alerts on stock price movements.
These apps also have the same security features as desktop and web-based software. There's two-way authentication to access the app and before the order is placed, there's a pop-up that asks for confirmation of the orders. Some have built additional safeguards.
For example, Motilal Oswal allows customers to restrict the amount they can utilise in a single trade. If a customer mentions that he doesn't want trade over Rs 1 lakh to be executed on a mobile, the app won't allow it.

This helps to control orders punched by mistake. Angel Broking doesn't allow placements to illiquid stocks on phone. A pop-up asks customers to get in touch with the customer care department in case he tries to execute such orders.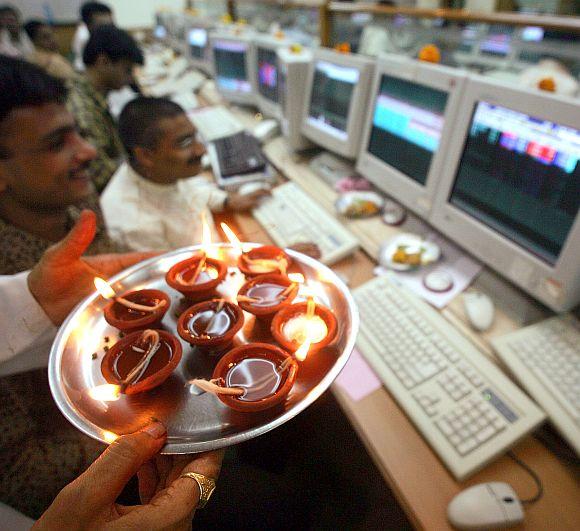 Image: Most brokers are in the process of launching a completely revamped version of their app. Photograph: Reuters
Next releases
Most brokers Business Standard spoke to are in the process of launching a completely revamped version of their app within the next three months.

They say these will be able to replace the desktop in terms of features a person requires to transact.
The soon-to-be launched versions will let customers subscribe for initial public offerings, invest in mutual fund and fixed rate instruments such as non-convertible debentures and company deposits, and allow systematic investment plans into stocks.
Users will also be able to place after-market orders. Most are also planning to add a summary page that will give simplified information of customers' recent trades, transactions, cash flow, margin statement, profit and loss for the day and for the entire portfolio, in one place.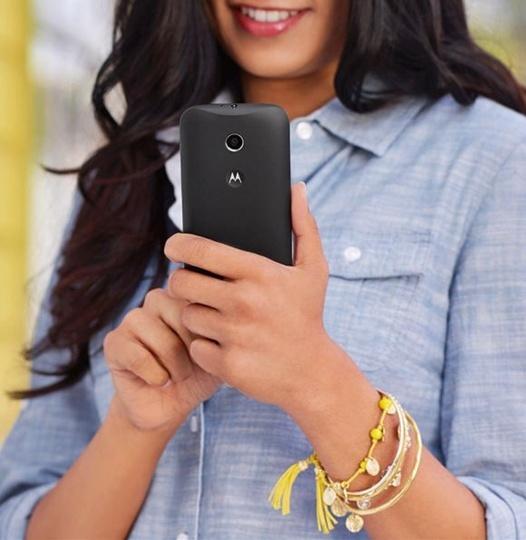 Image: App can act as a customised wealth managers.
In the future
Brokers say the future of mobile apps is personalisation. In the next two-three years, as the majority of trades shift to mobiles, the apps will become more intuitive. The delivery of information will be highly targeted.
For example, from the trading patterns of the customer, they will be able to gauge if he or she is a trader, momentum investor or holds stocks for the long term.

Based on this, the calls and research will be personalised. The notifications will be directed only at the time a person usually accesses the app.
Brokers are also looking at ways to explore the other hardware of the phone, to enhance the app experience.
Angel Broking, for example, is working on image recognition. This will allow individuals to click photographs of a brand through the app and the entire information about the company that owns it and its financials will appear, with recommendations and news.
"It is very much possible that in two-three years, your app emerges as a customised wealth manager that advises you on every aspect of financial planning," says Arun Chaudhry, vice-president, business solutions and customer engagement, Motilal Oswal Securities.