Gujarat is the best place in India country to do business, says the World Bank's ranking on ease of doing business in states, a list that has BJP-ruled states occupying four of the top five slots.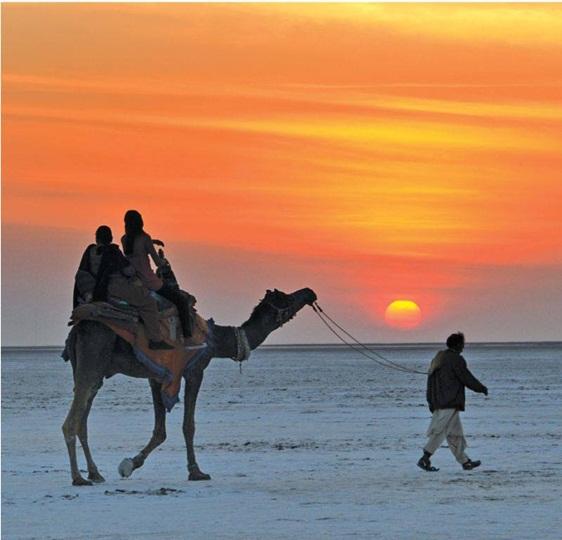 Image: Gujarat leads in ease of doing business index, according to a latest survePhotograph: Courtesy, Gujarat Tourism
While Gujarat scored 100 per cent in obtaining environment clearances, Punjab emerged as the best state in terms of 'setting up a business'.

By 2020, India will be home to 1.35 billion people, of whom 906 million will be of working age. India needs to sustain growth and offer jobs to this growing population by boosting manufacturing and service sectors in India. "But attracting investment means that the environment for investment must be made friendly," says the World Bank report, prepared in association with the department of industrial policy and promotion (DIPP).
"Many reforms have been implemented only very recently - between March and June 2015 - so the private sector might not be aware of those. We urge states to undertake a detailed communication campaign to ensure businesses are aware of the improvement in the regulatory environment," the World Bank report said.
The eight most important parameters on which states were evaluated were: Setting up a business, allotment of land and obtaining construction permit, complying with environment procedure, complying with labour regulations, obtaining infrastructure-related utilities, registering and complying with tax procedures, carrying out inspections and enforcing contracts.
States with an overall implementation status between 50- 75 per cent are considered 'Aspiring Leaders'.
At the bottom of the ladder in terms of ease of doing business are Mizoram, Jammu and Kashmir, Meghalaya, Nagaland and Arunachal Pradesh.
Take a look at the 10 most business-friendly states in India...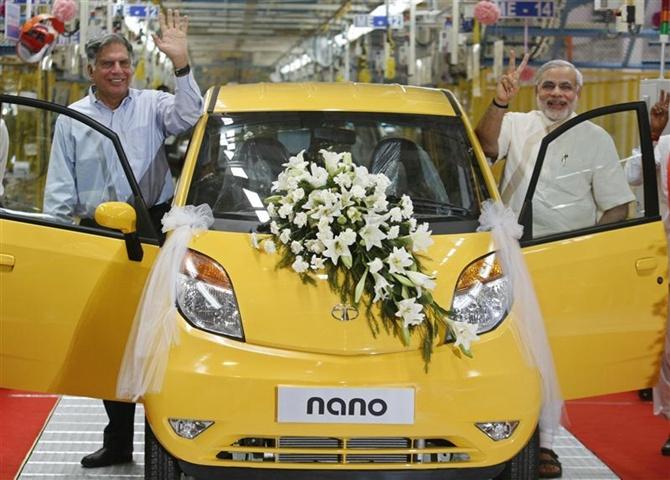 Image: Ratan Tata (L) with Narendra Modi when he was Gujarat's chief minister at the Tata Nano car plant in Sanand. Photograph: Amit Dave/Reuters
Gujarat

Rank 1:

Score: 71.4 per cent
Key initiatives
Single window: An investor facilitation portal provides details and timelines for various services across government departments
Labour: An online workflow-based web application for applying for registrations and renewals
Environment: Implemented an end-to-end online system for consents and authorisations with fee calculation
Taxes: Institutionalised an online system for Value Added Tax, Central Sales Tax and Professional Tax related services. Issuance of VAT and Professional Tax registration certificates takes place in one working day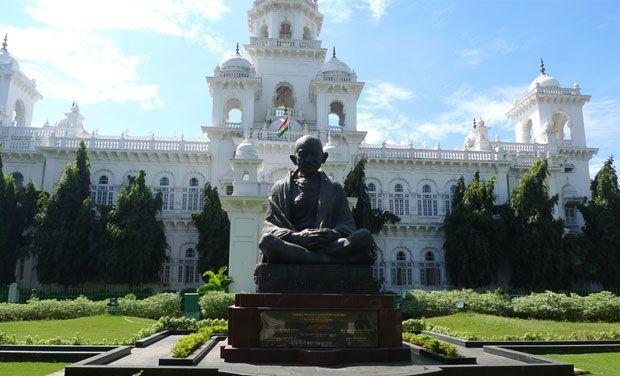 Image: Legislative Assembly Building. Photograph: Reuters
Andhra Pradesh
Rank: 2
Score: 70.12 per cent

Key Initiatives
Single window: Offers an online single window portal with clearly defined timelines for application filing, tracking and approvals.
Registration: Issue spot approvals for various registrations with only scrutiny of basic documents.
Labour: Deemed approval for factory registration upon Self Certification.
Land: Implemented an advanced query- and layer-based web system to identify industrial land, connectivity & infrastructure;
Taxes: Implemented an online system for registrations and return filing under VAT and other state taxes.
Image: A boy carries coal at an open cast coal field at Dhanbad district in Jharkhand. Photograph: Ahmad Masood /Reuters
Jharkhand
Rank: 3
Score: 63.09 per cent
Key Initiatives
Property Registration: Automated property registration through the Jharkhand Automated Registration System' (JARS) which includes e-registration and e-stamping.
Environment: Implemented a dedicated online consent management system for the key statutory clearances related to the State Pollution Control Board. 58 types of industries have also been exempted from the requirement of pollution control board clearances;
Taxes: Computerised the Department of Commercial Taxes to allow e-registration of VAT and CST, and e-payment and efilling of returns for VAT, CST, Professional Tax and Entertainment Tax, and e-Waybill;
Land: Institutionalised an objective assessment framework for land allocation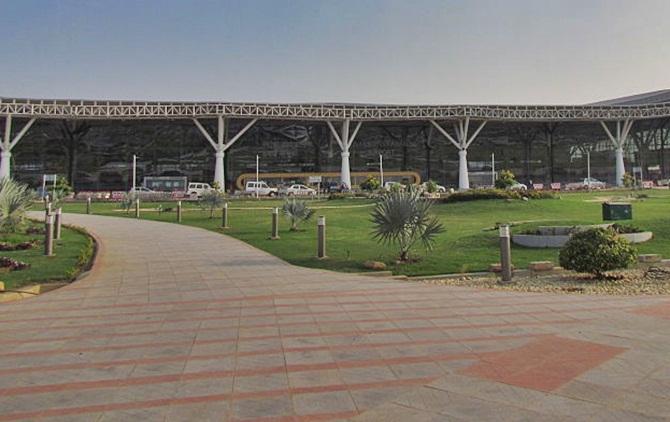 Image: Swami Vivekananda Airport Terminal Building, Raipur. Photograph: Theasg sap/Wikimedia Commons
Chattisgarh
Rank 4:
Score: 62.45 per cent
Key Initiatives
Construction Permits: Implemented an online mechanism to assess Building Plans
Taxes: Mandated online payment and same-day registration for VAT
Labour: Implemented an online system to allocate inspectors and requires submission of inspection reports within 72 hours;
Labour: Introduced an integrated inspection procedure for entities registered under Voluntary Compliance Scheme for various labour laws- inspections will be carried out once every 5 years with prior notice
Environment: Developed an online consent management system for all environment related consents
Enforcing contracts: Filled up more than 80% of vacancies for judges in district courts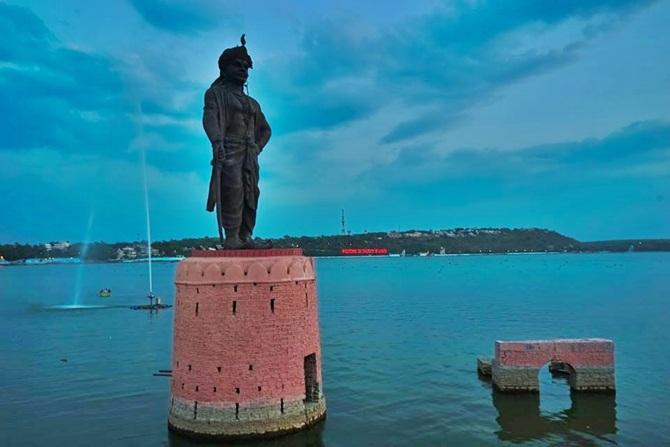 Image: Bhopal, the capital city of Madhya Pradesh. Photograph, courtesy: Madhya Pradesh Tourism
Madhya Pradesh
Rank: 5
Score: 62 per cent
Key Initiatives
Single Window: A single window clearance mechanism with a centralised helpline
Construction Permits: Introduced a Comprehensive Automated Building Plan Approval System (ABPAS) that allows online application, status tracking, scrutiny of drawings, uploading remarks/reports/photographs via mobile during site inspections, calculation of fees & online payment, issuance of final certificate

Environment: Over 540 industries have been identified to receive streamlined PCB clearance procedures, introduced an online system for consents/authorizations which allows fee calculation, online payment and downloading digitally signed certificates
Infrastructure: Only 2 documents are required for electricity connections. Pollution control certificates are not required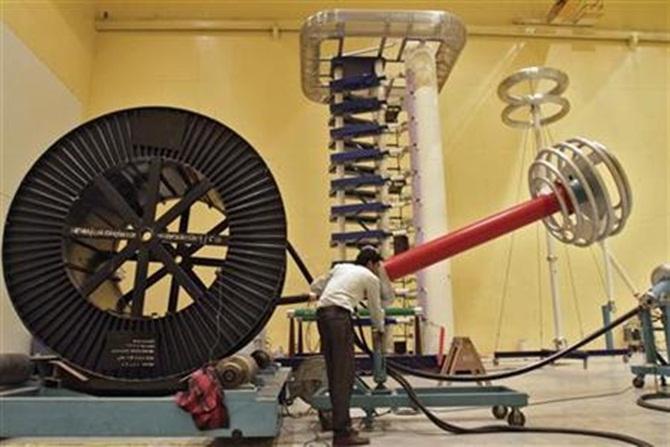 Image: An employee works inside the power cable testing laboratory for insulation at the Kei Industries in Bhiwadi, in Rajasthan. Photograph: B Mathur/Reuters
Rajasthan
Rank: 6
Score: 61.02 per cent
Key Initiatives
Single Window: Constituted a Single Window Clearance mechanism to provide information on procedures, checklists and timelines across various government departments
Starting a Business: Mandated time-bound delivery of services through legislation, and defined punitive provisions for non-compliance
Environment: Implemented an online consent management system for clearances and authorizations
Labour: Automated registrations/renewals services of the labour department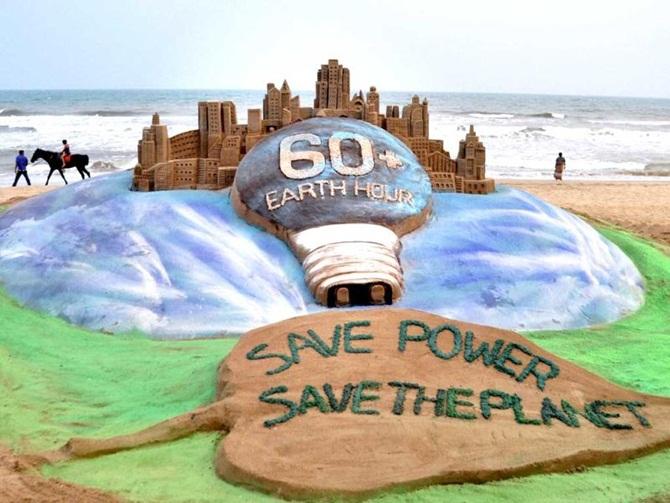 Image: Sand artist Sudarsan Pattnaik creates sculpture on the Puri Beach in Odisha to create public awareness about Earth Hour. Photograph: PTI
Odisha
Rank: 7
Score: 52.12 per cent
Key Initiatives
Labour: Implemented a Voluntary Compliance Scheme for industries and commercial establishments under 18 labour acts and reduced inspection frequency to once every 3 years.
Taxes: Computerised the services of Department of Commercial Taxes to allow e-registration of VAT and CST as well as e-payment and efilling of returns for VAT, CST, Professional Tax and Entry Tax.
Labour: Allows self-certification under various labour laws
Environment: Implemented an online consent management system for approvals and authorisation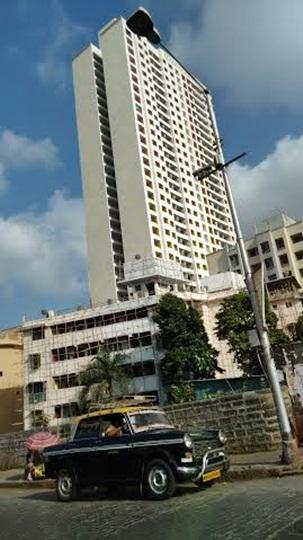 Image: Maharashtra is among the top ten states where doing business is easy. Photograph: Rediff archives
Maharashtra
Rank: 8
Score: 49.43 per cent
Key Initiatives
Single Window: Commissioned a dedicated team to address queries
Land: Published procedures and timelines for land allotment. Comprehensively digitised all land banks in the state, and has been indexed at all the levels of administrative setup
Construction Permits: Mandated a single joint inspection by various departments
Labour: Harmonised provisions for self-certification under a number of labour Acts
Infrastructure: Provided detailed information on procedure and timelines for obtaining various infrastructure connections
Tax: Implemented an online system for tax related processes
Enforcing Contracts: Introduced eGovernance initiatives in law and judiciary department and created specialised courts relating to commercial disputes.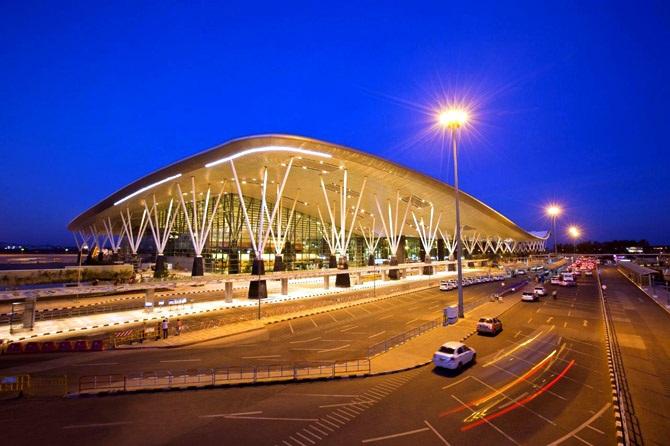 Image: New terminal at Kempegowda International Airport, Bangalore. Photograph, courtesy: BIAL
Karnataka
Rank: 9
Score: 48.50 per cent
Key Initiatives
Single Window: Constituted a single window clearance mechanism as per Karnataka Industries (Facilitation) Act, 2002 for approvals of investment proposals in the state
Environment: Implemented an online Consent Management System of the KSPCB with provision for calculation and payment of fees
Labour: Developed the eKarmika portal for all services eliminating all physical touch points
Construction Permits: Introduced online approval and verification of building plans
Taxes: Introduced an online platform for registration, filing and payment under various state taxes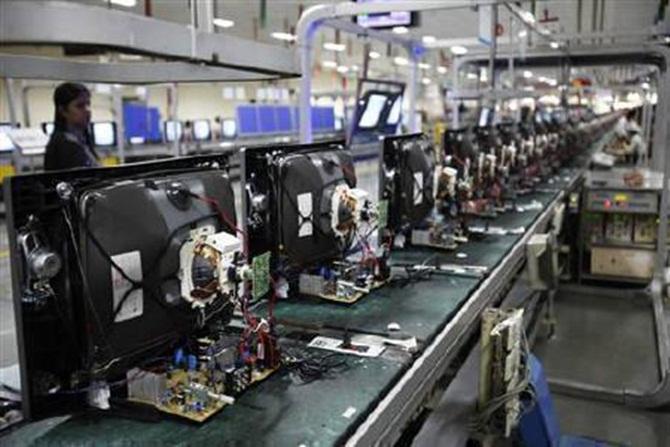 Image: A worker at LG Electronics India Pvt Ltd. checks television sets on an assemble line inside a factory at Greater Noida in Uttar Pradesh. Photograph: B Mathur/Reuters
Uttar Pradesh
Rank: 10
Score: 47.37 per cent
Key Initiatives
Single Window: Implemented a single window system with a common application form for various clearances. Enforces time-bound delivery for the services under the single window system
Infrastructure: Reduced the required documents for electricity connections to 2
Environment: Implemented an online consent management system for application filing and payment eliminating physical touch points;
Taxes: Department of Commercial Taxes allows e-registration, e-payment and e-filing of returns for VAT and CST
Enforcing Contracts: Publishes e-cause list for commercial disputes.
Labour: Allows self-certification under various laws.