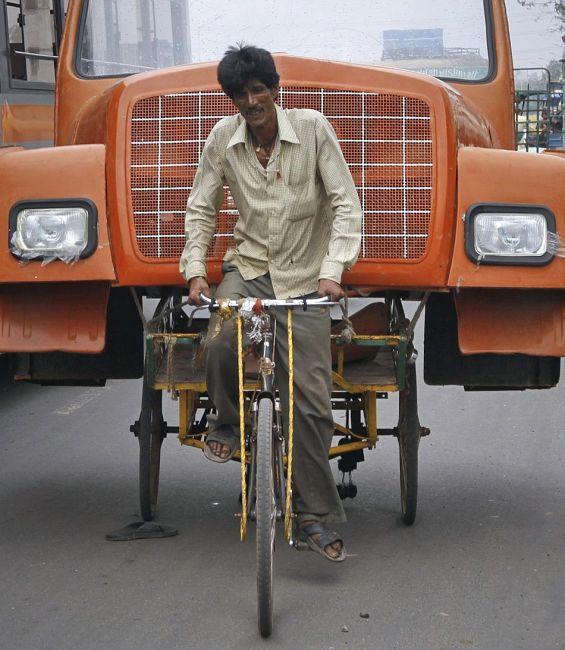 Image: Economic growth revived to 5.7 per cent in the first quarter of 2014-15. Photograph: Reuters
The fiscal deficit of the Centre remains a worry, running at over 6.5 per cent of GDP in April-September 2014, mainly because of revenue shortfalls from exaggerated projections in the government's July Budget, says Shankar Acharya.
In the coming fortnight the Narendra Modi-led National Democratic Alliance government will complete six months in power, a good time for a preliminary stocktaking.

What have been the notable economic and financial developments in these six months? What are the emerging policy priorities and initiatives of the new government?

Are they well-crafted to deliver good results in terms of the objectives of strong, sustainable growth of output and employment, curbing inflation, alleviating poverty and strengthening India's external finances?
Before trying to answer these questions, it is important to recall the main features of the exceptionally weak economic legacy bequeathed by a decade of United Progressive Alliance governance.

This included: overall economic growth having collapsed to below five per cent for two successive years of 2012-13 and 2013-14, for the first time in a quarter century; industrial growth hovering near zero for over two years; employment stagnant; consumer inflation averaging 10 per cent for a record six years; external finances still vulnerable; major infrastructure sectors reeling from the backwash of massive scams in telecom and coal; public sector banks under serious stress; widespread policy paralysis and malfeasance across government; and the heavy burden of populist legislation (such as for rural employment guarantee, food security and land acquisition).

To use Finance Minister Arun Jaitley's oft-repeated understatement, the legacy was certainly "challenging"!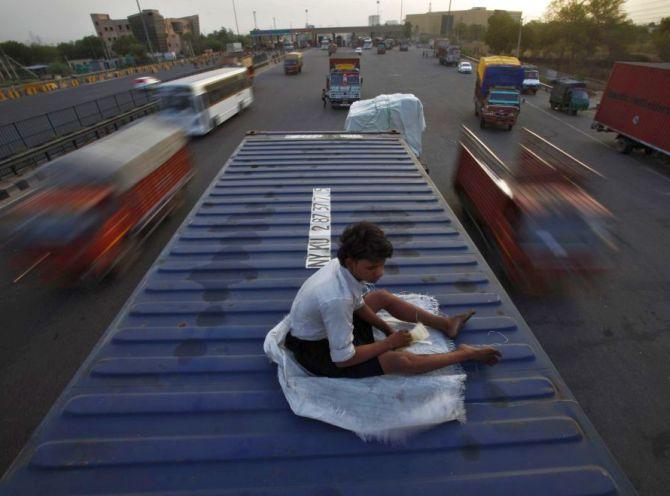 Image: Industrial growth rose to 4.2 per cent in the April-June quarter. Photograph: Reuters
Recent economic data
The official data that have emerged over the last six months are subject to three caveats: all data come with a lag of typically one or two months; most of this data get revised later; and finally, since policies influence economic outcomes with lags (variable and uncertain), much of the recently available information reflects, predominantly, the policies of the previous government.

That said, here's what we know:
Economic growth (in gross domestic product or GDP) revived to 5.7 per cent in the first quarter of 2014-15, mainly because of an uptick in industrial production, exports and government-expenditure-driven services.
Since all three elements have slowed in subsequent months and agriculture will be damped by the sub-par monsoon, GDP growth may well have slowed to five per cent or lower in the July-September quarter.
Industrial growth (the focus of "Make in India") rose to 4.2 per cent in the April-June quarter, but has subsided since, with all indications pointing to industrial production showing less than two per cent expansion in July-September 2014.
Inflation in consumer prices (Consumer Price Index) is at last abating, from 10 per cent at the beginning of the calendar year to 5.5 per cent in October, below the Reserve Bank of India's target of six per cent by January 2016.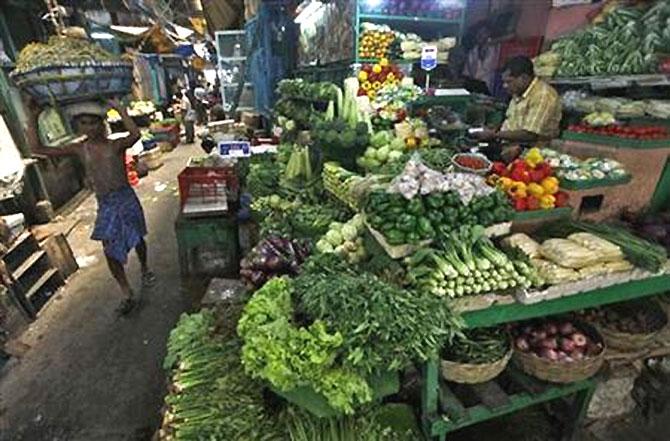 Image: Inflation in consumer prices has fallen. Photograph: Reuters
Policy factors (such as conservative monetary policy, restraint on food procurement prices and offloading of excess public food grain stocks) have combined with good luck (the recent crash in international oil and other commodity prices) to bring about this healthy trend.
External finances have improved, mainly because of sharply lower international oil and commodity prices and surging inflows of foreign portfolio investment into India's booming stock market. For medium-term strength, more rapid export growth remains necessary.
Business expectations and stock markets have certainly soared since May but such buoyancy has yet to reflect in indicators of real investment.
The fiscal deficit of the Centre remains a worry, running at over 6.5 per cent of GDP in April-September 2014, mainly because of revenue shortfalls from exaggerated projections in the government's July Budget and despite the relief on subsidies from lower oil prices.
Possible additional borrowing could put upward pressure on interest rates.
In short, the economic situation remains "challenging".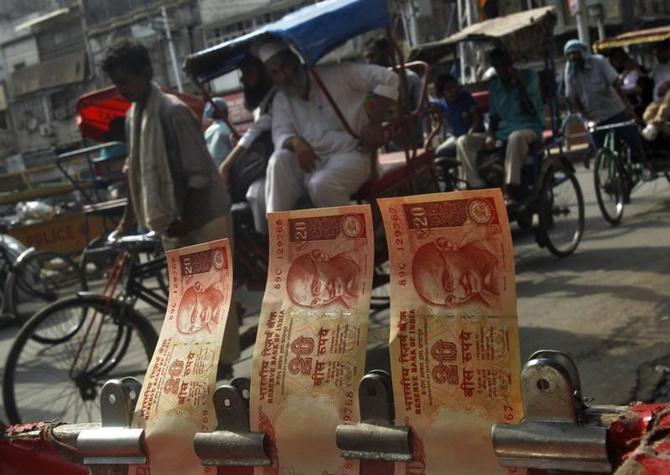 Economic policy initiatives
Both the July Budget and subsequent developments have made plain this government's aversion to attempting "big bang reforms" through legislative amendments to populist entitlement laws (rural employment, food security, education), the onerous new land acquisition act, the Indira Gandhi vintage, job-destroying central labour laws or even the notorious, retrospective "Vodafone amendment".
However, since the disappointing July Budget, clear signs of a pragmatic, incremental approach to policy improvements have emerged. Several strands of this broad strategy can be discerned and exemplified:
Streamline, energise and improve governance and implementation. Examples include: the abolition of the numerous Groups of Ministers of dubious utility, the obvious strengthening of the Prime Minister's Office, dominated by a politically powerful and energetic prime minister; focusing on rapid resolution of governmental bottlenecks, such as environmental clearances, to implementation of backlogged projects; and responding swiftly to fresh challenges, such as the Supreme Court's cancellation of coal block allocations.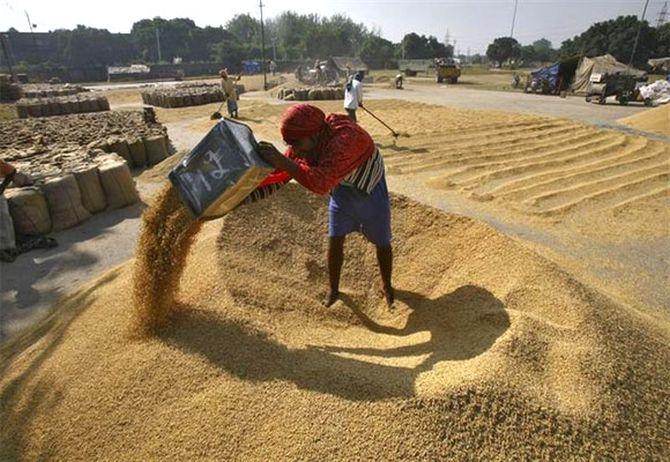 Rein in unsustainable fiscal populism. Here the examples include: the moderation of minimum support price increases for kharif crops to two-three per cent and limiting procurement from states that offer bonuses; raising of rail passenger fares by 15 per cent (after a decade of irresponsible non-adjustment); seizing the opportunity of lower international oil prices to deregulate diesel prices and cap cooking gas subsidy; and adjusting some parameters of the national rural employment guarantee scheme to reduce bogus claims and moderate expenditures.
Push ahead with reforms where possible. These include: the diesel price deregulation; the enabling ordinance to conduct e-auction of coal blocks for designated uses, with a possibility of commercial mining; the renewed (and likely successful) push to obtain agreement with states on implementing the goods and services tax; the raising of the foreign direct investment cap in defence industries to 49 per cent; and the path-breaking central government support (and consequential presidential assent) to the modest but significant labour law reforms by the Rajasthan government.
Undertake social and economic mobilisation. Two prominent examples of this are the Swachh Bharat programme and the Jan Dhan Yojana.

The former commits long overdue political attention and capital to grave problems of basic cleanliness, sanitation and public health, although its programmatic and policy content remain to be defined.

The latter, in concert with the reenergised Aadhaar programme, could, potentially, transform India's massive, inefficient and corruption-ridden subsidy programmes into far more efficient direct cash benefit transfers.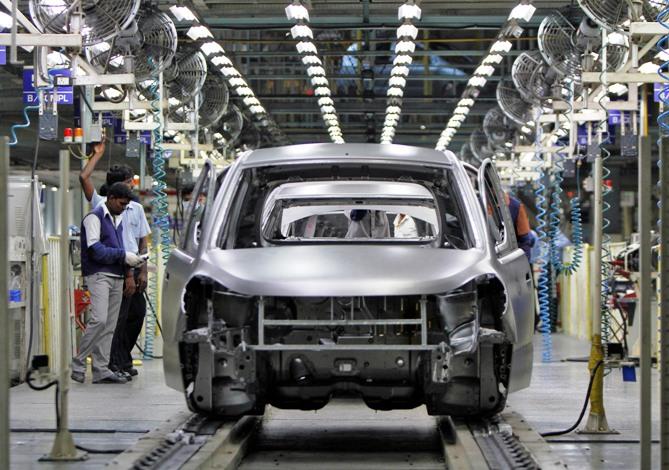 Will incrementalism work?
That's the big question. As Zhou Enlai reportedly said about the success of the French Revolution, it's too early to tell.

One has also to ask whether there really is an alternative? The so-called "big bang reforms" of the early 1990s relied more on administrative measures (within the framework of extant legal authority) than on legislative changes.

The latter are always more challenging for a government, especially when the ruling party is far short of a majority in the Rajya Sabha.

One can also take hope from Mr Jaitley's recent reported statements that where legislative amendments are deemed essential (as perhaps in the case of the land acquisition act), they will be vigorously pursued.
My guess is that this multi-strand, incrementalist approach could achieve quite a lot.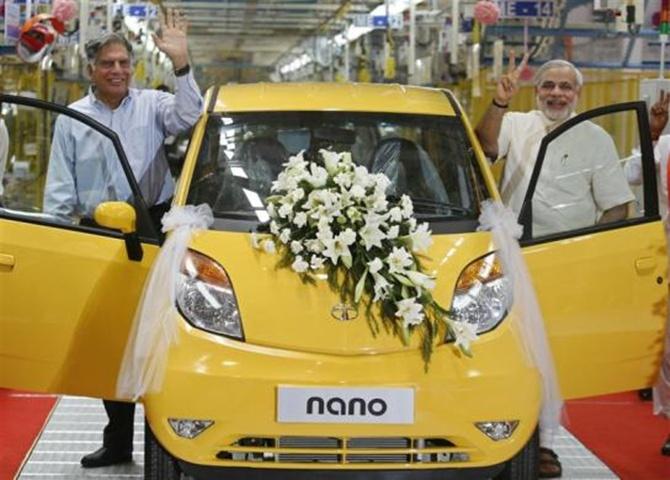 Image: C

hairman Emeritus of

Tata

Sons,

Ratan Tata with Prime Minister Narendra Modi. Photograph: Reuters.
Economic growth may rise from 5-5.5 per cent this year to 6-6.5 per cent in 2015-16 and perhaps cross seven per cent by 2016-17.

But such improvement will not yield the pace of job creation that the "youth bulge" requires.

For that we need a more urgent and focused dismantling of constraints to labour-intensive manufacturing, whether they be labour laws, infrastructure deficiencies, foreign trade restrictions or skill shortages.
The author is honorary professor at ICRIER and former chief economic adviser to the government. These views are his own.