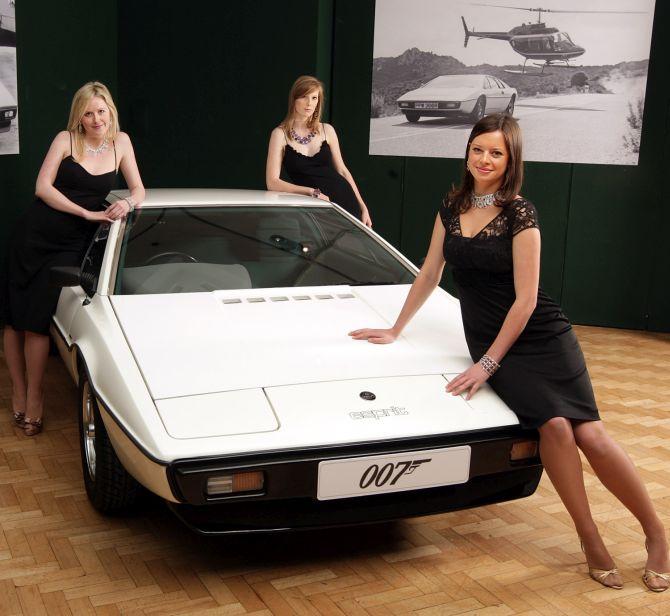 Image: Staff of an auction house dressed as characters from a James Bond film pose with the 1976 Lotus Esprit. Photograph: Scarff/Getty Images
None of the James Bond movies are complete without beautiful women, hi-tech gadgets and of course gorgeous cars.
There have been many amazing cars used in Bond films since the first release in 1962. Automotive website Edmunds.com has compiled a list of best Bond cars of all time. Read on to know them.
---
Aston Martin DB 5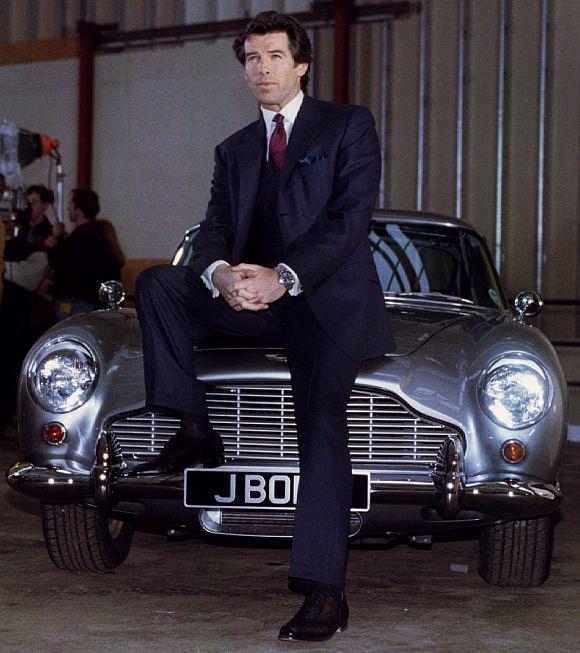 Image: Pierce Brosnan, who has played Bond, poses for pictures while sitting on an Aston Martin. Photograph: Russell Boyce/Reuters
Movies: Goldfinger, Thunderball, GoldenEye, Tomorrow Never Dies, Casino Royale, and Skyfall
Rank: 1
This vehicle started it all. It was after DB 5 that cars became an important part of James Bond movies. DB 5 got so famous that it's now called as the James Bond car.
The car was in production from 1962 to 1965 and was succeeded by DB6. It came fitted with 3,995 cc engine and could touch a top speed of 230 kmph.
---
Lotus Esprit S1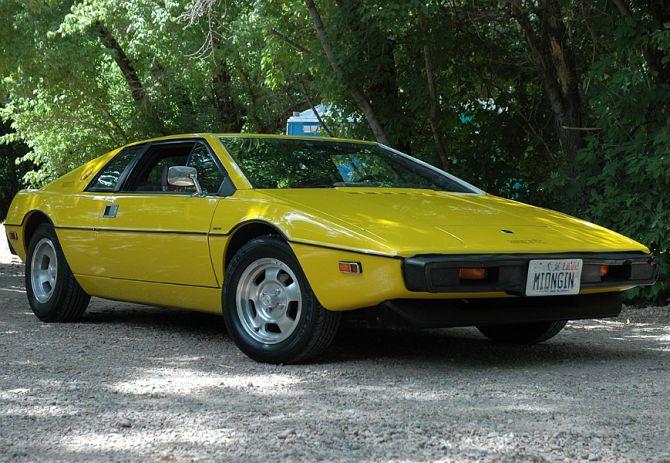 Photograph: Jeff Greenland/Wikimedia Common
Movies: The Spy Who Loved Me
Rank: 2
It's difficult for a James Bond fan to forget this car. After getting submerged in water, Esprit S1 transforms into a submarine.
The underwater sequence was achieved by actually custom-building a submarine with Lotus Esprit's body.
The car was produced from 1976 until 1979. It had a 2.0 litre engine that as capable of touching 222 kmph.
Tesla Motors founder Elon Musk bought the submarine at an auction for £650,000 in 2013. Musk plans to install a Tesla electric powertrain in it and transform into a road-going car, according to Wikipeda.
---
Aston Martin V8 Vantage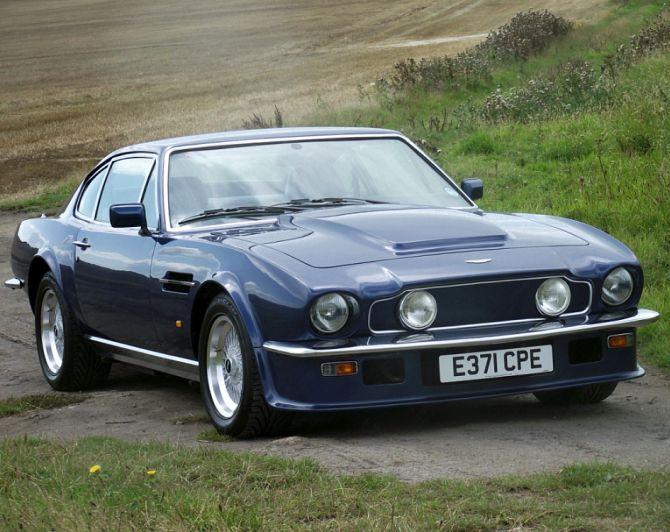 Photograph: Beltane43/Wikimedia Commons
Movie: The Living Daylights
Rank: 3
After the Astom Martin's first appearance in 1964 James Bond film Goldfinger, the company had a hiatus of more than 20 years before being a Bond car.
In 1987 Timothy Dalton debuted as Bond and Aston Martin V8 Vantage accompanied him in the movie.
The car was supplied to the producers personally by Aston Martin Chairman Victor Gauntlett, the film featured both volante and coupe versions, customised with obligatory gadgets.
The car was produced from 1977 to 1989 and was hailed as 'Britain's First Supercar' for its 270 kmph top speed.
---
BMW 750iL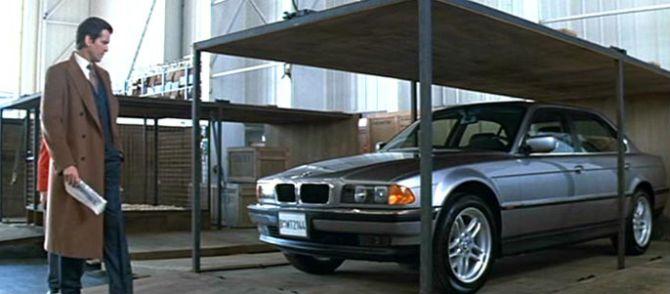 Image: Still from the movie Tomorrow Never Dies
Movie: Tomorrow Never Dies
Rank: 4
The car shown in the movie had amazing gadgets ranging from missiles to re-inflating tyres. The feature that stood out was the ability to drive the car using a remote control.
7 Series is BMW's flagship car and the company introduces its break though technologies in this model first.
The 750 model, a variation of 7 Series, has conventionally been used by VIPs as it offers security features such as bullet proof body and ballistic protection. Even Prime Minister Narendra Modi uses the newer version of BMW 750 as his official car.
---
Mercury Cougar XR-7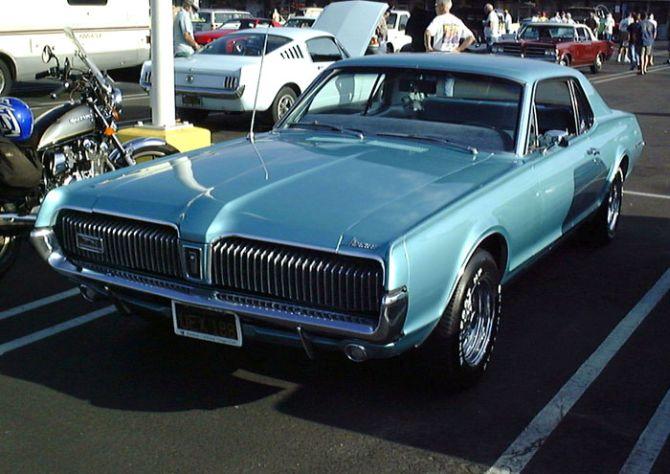 Photograph: Morven/Wikimedia Commons
Movie: On Her Majesty's Secret Service
Rank: 5
The gadgetry on this model was limited in the film. The crew, however, compensated that with breath-taking car chase sequence, driven my Mrs Bond (character name Tracy Di Vecenzo played by actor Diana Rigg).
Mercury was a division of Ford Motor Company. The Cougar model was in production from 1967 to 2002.
---
Lotus Esprit Turbo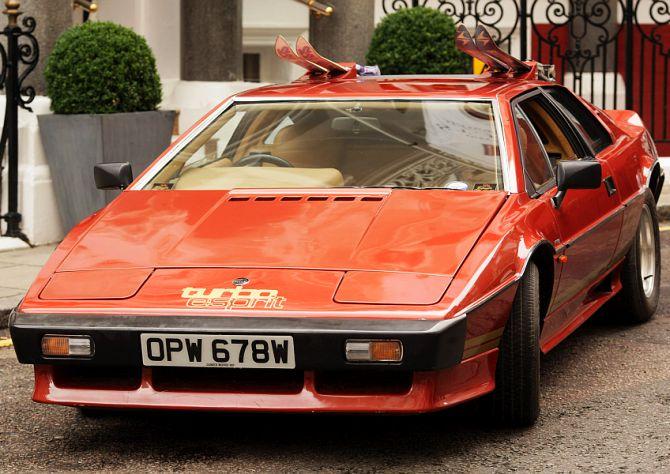 Image: A Lotus Turbo Esprit car from the 1981 James Bond film 'For Your Eyes Only' is displayed for sale. Photograph: Peter Macdiarmid/Getty Images
Movie: For Your Eyes Only
Rank: 6
This car neither has great gadgetry or chase sequence. Rather, it is shown in the movie only twice. First time it automatically blows up when bad guys try to break in. The second time, Roger Moore (Bond) is seen driving it in one of the shot.
Edmunds included this in the list as it feels that there is something 'really cool' about the car that makes it very appealing.
This car, too, was sold in an auction for a handsome price.
This was the third generation of Lotus Esprit that was in production from 1980 until 1987. It came fitted with 2.2-litre turbo engine.
---
Toyota 2000GT Roadster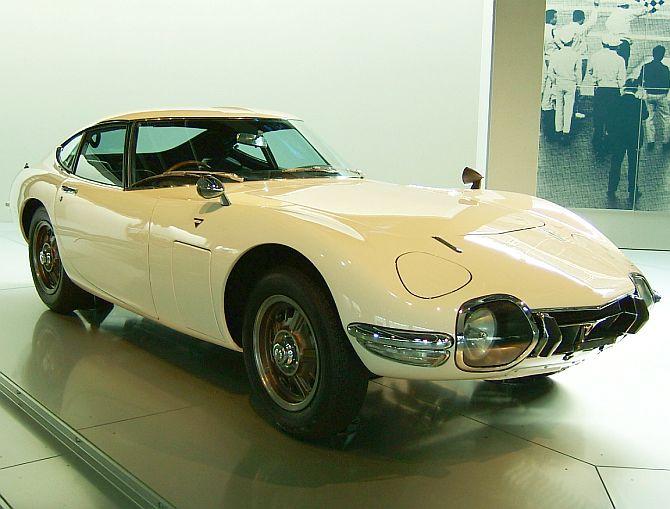 Photograph: Gnsin/Wikipedia Commons
Movie: You Only Live Twice
Rank: 7
In the midst of the 'swinging Sixties', You Only Live Twice featured Sean Connery in a new Bond car, the Toyota 2000GT.
But this was chiefly driven by the main Bond girl Akiko 'Aki' Wakabayashi who played the role of a Japanese S.I.S. agent.
Sean Connery was too tall to comfortably fit in the car and filming of the interior shots proved tricky.
This was a limited production car. From 1967 to 1970 only 531 units were made. The car was designed by Toyota in collaboration with Yamaha and showed the world that even Japanese companies can produce sports cars.
---
Ford Mustang Mach 1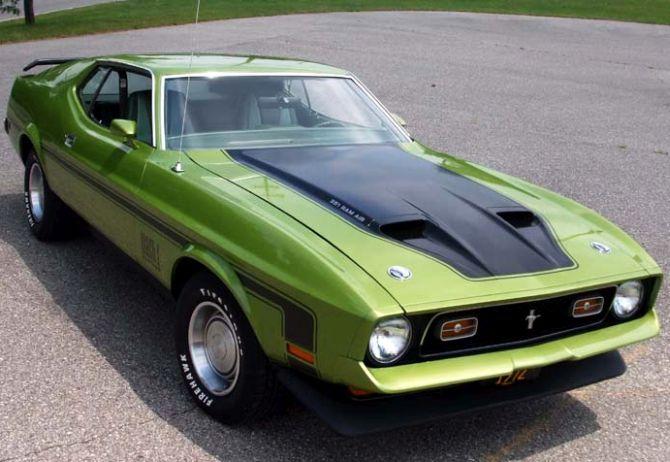 Photograph: Toni V/Wikimedia Commons
Movie: Diamonds Are Forever
Rank: 8
Yes, there's a thrilling car chase sequence with this car in the movie. The Mach 1 in the film has a red exterior and black and red leather interior.
The Ford Mustang Mach 1 was actually a performance-oriented option package for the Ford Mustang that was introduced in 1969. The model featured in the movie came with a 7-litre engine.
---
BMW Z8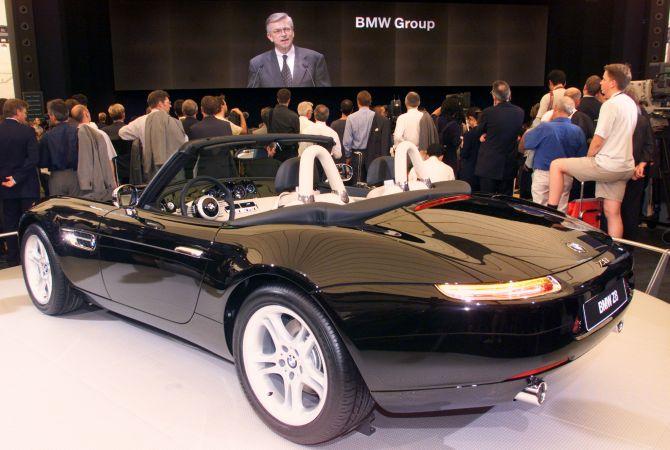 Image: Joachim Milberg, CEO of German car manufacturer BMW is seen on a large video screen during the introduction of BMW Z 8 roadster at the Frankfurt car show in 1999. Photograph: Kai Pfaffenbach/Reuters
Movie: The World Is Not Enough
Rank: 9
The wonderfully styled BMW Z8, produced by BMW from 1999 to 2003, features Pierce Brosnan behind the wheel.
This car in the film had its share of gadgets including missiles, remote control driving, and an infra-red tracking system.
The 4,941 cc engine took the production model from 0-100 kmph in 4.7 seconds with the top speed of 250 kmph.
---
Aston Martin DBS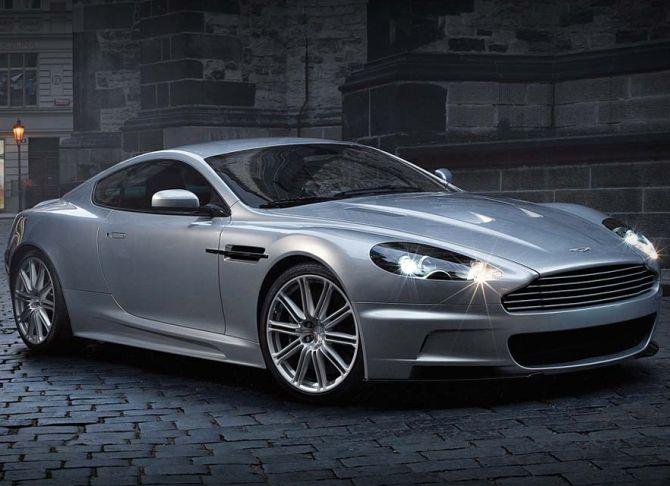 Photograph: Courtesy, Aston martin
Movies: Casino Royale and Quantum of Solace
Rank: 10
Following on from the high speed action sequence in 'Casino Royale', Daniel Craig's second Bond appearance in 'Quantum of Solace' saw the Aston Martin DBS return at the opening of the film in a high-speed chase.
According to Wikipedia, the car was in production from 2007 until 2012. It came with a powerful 5,935cc V12 engine.
---
Aston Martin Vanquish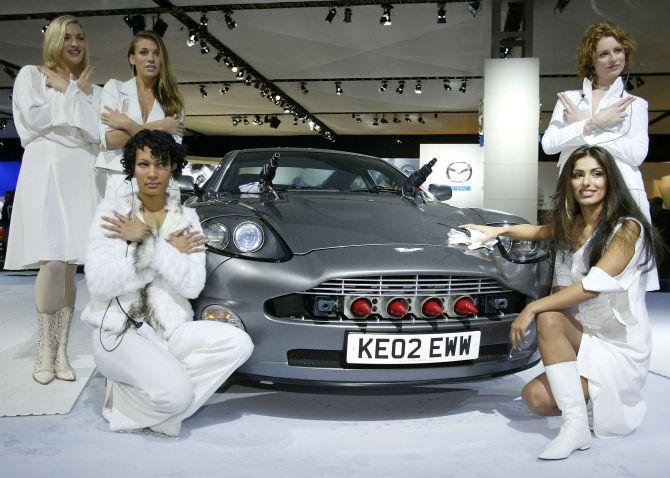 Image: Models pose with Aston Martin Vanquish from the James Bond film 'Die Another Day'. Photograph: Bryn Lennon/Getty Images
Movie: Die Another Day
Rank: 11
After a brief flirtation with BMW, the film industry's most enduring partnership - James Bond and Aston Martin reunited in the twentieth film Die Another Day.
According to the website jamesbondlifestyle.com, the car is a proper homage to the original Aston Martin DB5 used by Sean Connery. "It's fitted with many gadgets and the Tungsten Silver coachwork and charcoal leather exactly matches the silver DB5 first driven by 007 in the 1964 film, Goldfinger, states the website.
The car is still in production. The model featured in the film came with 5,935cc V12 engine.